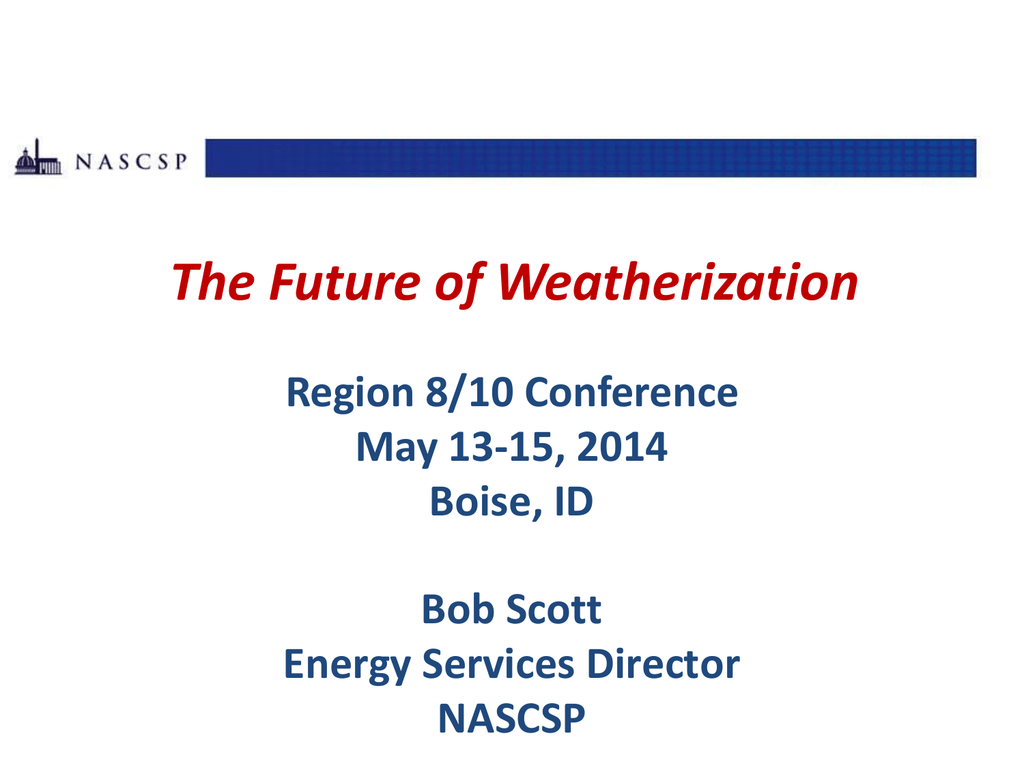 The Future of Weatherization
Region 8/10 Conference
May 13-15, 2014
Boise, ID
Bob Scott
Energy Services Director
NASCSP
What We Will Be Discussing
•
•
•
•
•
A little about WAP pre-ARRA
How ARRA changed WAP
Legislative Update
WAP Advocacy
DOE WAP Updates and Program Direction
– Quality Work Plan
– Quality Management Plan
• Other as per Group Interest
Weatherization Assistance Program (WAP)
• Long time and sustaining operational structure for the
residential energy efficiency
• Has spurred home performance
• Catalyst for the industry
– Promoting building science
– Developing diagnostic procedures and installation
techniques
– Raising awareness and protocols for health and safety
– Largely created the market for supply chain businesses for
the industry
WAP Evolution
From insulation, storm windows, outside caulk, etc.
to:
• Cost-effective measures as per energy audit
• Highly trained workforce
• Analyzing IAQ and health and safety
• Quality tools and equipment
• Best installation techniques
WAP Evolution
From
To
Pre-ARRA WAP
• WAP - America's Best Kept Secret
• Bi-partisan support
• Kind of low-profile, under the radar
ARRA changed all that
7
What Happened during ARRA?
•
•
•
•
Political target for President's opposition
Slow start
Negative Press
IG reports
What Happened during ARRA?
Resounding success by these measures
• Weatherized more that 800,000 homes
• 150,000 + > projected
• Maintained about 15,000 ARRA jobs
• Typically 7th or 8th on list of projects
Deadlocked?
What's Happened Since ARRA?
• 2012 - $68 Million
– <30% pre-ARRA
– Perception (Reality) of unspent funds available to network
• 2013 - $139 Million
– CR of $68 M – sequestration
– DOE supplemented WAP by > $70M
• 2014 - $174.3 Million
– Good level under the circumstances but
– Still below pre-ARRA
What is the Outlook for FY 2015?
Optimistic because –
• Presidents budget was $227 M
• Senate support letter @ $230 M
• House support letter @ $227 M
Not so optimistic because –
• FY 2014 budget deal was a two-year agreement
• November mid-year elections
• Still a lot of gridlock
What is the Outlook Beyond FY 2015?
Optimistic because –
• The trend is in the right direction
• The ARRA hangover is wearing off
Not so optimistic because –
• Congress is still not in a spending mood
• Hard to predict sentiment of the country as 2016
elections approach
Can We Influence WAP Funding Levels?
A few things about how Congress works
and
The role of local advocacy
What is "Regular Order"
• Regular Appropriations bills with twelve
appropriations subcommittees – should be
reported from Committee by late spring
• Omnibus Appropriations bills
• Continuing Resolutions
• Supplemental Appropriations
Annual Appropriations Cycle
•
•
•
•
•
•
•
•
President submits budget first Monday in February
Congress adopts Budget Resolution in April
Timetable for Appropriations bills
House & Senate Committee markups in May/June
House & Senate floor action should occur in summer
House & Senate Conference Action
Presidential Action
All bills are supposed to be enacted before 9/30,
which is the end of the federal fiscal year
7 Guidelines to Effective Advocacy
1
7
1.
2.
3.
4.
Do your homework
"All Politics Is Local" (Tip O'Neill)
Grass roots advocacy is best
Speak for no more than 3-4 minutes at the most;
keep your arguments brief
5. Don't be surprised if you get a negative
response or lack of interest; keep trying & be
appreciative of time
6. Be clear about your "ask"
7. Above all: make your "why" clear
Bi-Partisan Approach is Key
• WAP's poor funding years have always been
when the program became politicized
• By its nature, WAP can appeal to both sides of
the aisle
• Job creation, adding new tax revenue, and role
of private business resonate well these days
Effective Advocacy Approaches
•
•
•
•
Letters were the standard but …
Office visits
Emails and phone calls
Social media, particularly Twitter – Real Time
Advocacy
• WAP events
Effective Advocacy Approaches
Another key is to be ready to act
• Idaho CAP advocacy in December 2013
was critical in WAP funding increase!
WAP Public Information Campaign
• Major section on WAPTAC
• Manuals –
– Weatherization Day Planning Kit
– Site Demonstration Planning Kit
– Social Media Guide
– WAP Story Telling Guide
WAP Site Demonstrations
Great way to showcase WAP
• Needs careful planning
• One key is targeting critical attendees
WAP Site Demonstrations
I've heard many times –
"I had no idea you did all this"
and
"How can I get this done on my house?"
Real Time Advocacy - Twitter
24
Programmatic Changes in WAP
Web-Based Weatherization Assistant
•
•
•
•
Multifamily Tool for Energy Audits (MulTEA)
Health and Safety Audit Tool
National Energy Audit Tool (NEAT) – Single-family
Manufactured Home Energy Audit (MHEA)
Programmatic Changes in WAP
Increased Emphasis on Multi-Family
• Standard Work Specifications for Multifamily Energy
Upgrades
• Multifamily Job Task Analyses (JTA)
Coming Soon!
• Multifamily Tool for Energy Audits (MulTEA)
• Technical Guidelines for Multifamily Building Energy
Audits
– The Technical Guidelines tell the energy auditor what the datagathering and energy-auditing process should entail.
– The guidelines facilitate uniformity in multifamily energy audit
methods, to lead to more accurate predictions of energy and
cost savings.
Programmatic Changes in WAP
DOE Quality Work Plan
• Based on Guidelines for Home Energy Professionals
initiative
• Intent to demonstrate quality and accountability of WAP
• Help ensure long term sustainability of WAP as a leader
and foundation of the home performance industry
DOE Quality Work Plan
Core Components
• Revised / updated Field Standards and Field Guides
based on the Standard Work Specifications
• Training Program accreditation
• Home Energy Professional certifications
DOE Quality Work Plan
Field Standards and Field Guides
• WAP measures must meet minimum outcomes and
specifications outlined in SWS
• WAP Grantees must update / revise their documents and
make them available
DOE Quality Work Plan
Quality Control Inspections
• 100% of homes are inspected to comply with SWS
• Homes must be inspected by a certified QCI
– New testing protocols – not the more conventional BPI
certifications
DOE Quality Work Plan
Training Requirements
• Grantee Training Plans must include comprehensive training for all
WAP workers that is aligned with the NREL Job Task Analysis (JTA)
for the position in which the worker is employed.
• Training Plans must address two distinct categories:
– Tier 1 Training: Comprehensive, occupation-specific training
which follows a curriculum aligned with the JTA for that
occupation. Tier 1 training must be administered by, or in
collaboration with, a training program that is accredited by IREC
for the JTA being taught.
– Tier 2 Training: Single issue, short-term, training to address
acute deficiencies in the field including dense packing,
crawlspace, ASHRAE, etc. Conference trainings are included in
this category.
DOE Quality Work Plan
State Implementation Issues
• Aggressive plan and timeline - many changes quickly
• More information, tools, resources becoming available
• Some debate on applying DOE QWP requirements to
other funding sources weatherization programs
• Affordability and cash flow
DOE Quality Management Plan
• Discussed at the 2013 Denver Meeting
• Again moving via QMP Working Group
• Key Components –
– Core Competencies for Common Job Classifications
• Grantee
• Subgrantee
– Recordkeeping and Reporting Consistency
Core Competencies
• Developed by Trainers Consortium in 2007
– Did more on technical positions
– WAPTAC – Training Resources \ Training Tools
• Working Group is focusing on management
positions
Core Competencies
Key Definitions
• Competency -minimum level of knowledge and proficiency
required to collect appropriate information, make informed
decisions, and physically take the needed actions to deliver
the high-quality weatherization service in question.
• Possess a working knowledge - Know how a particular topic
impacts the weatherization process; Have the relevant
information committed to memory or be able to locate it in
readily available sources; and Use the knowledge to make
informed decisions and guide weatherization work.
• Demonstrate the ability to - Physically conduct a test,
procedure, or technique on an actual house, a prop, or in a
training lab in the presence of someone qualified to assess
the particular competency.
Core Competencies Example (2007)
Program Manager
Possess a working knowledge of:
• Enabling legislation governing the U.S. Department of Energy's (DOE's)
Weatherization Assistance Program;
• DOE program regulations 10 C.F.R. 440;
• DOE program guidance and policy issued via Weatherization Program
Notice or memoranda;
• Federal, state, and local budget process;
• Federal financial assistance regulations 10 C.F.R. 600 and relevant OMB
circulars;
• Applicable state procurement regulations;
• State and local approaches to monitoring, training, and technical
assistance;
• Applicable computer databases and tracking systems and the importance
that they remain up-to-date, are secured and backed-up, and are used
effectively to manage the program; and
• Building science principles.
Core Competencies Example (2007)
Program Manager – Local Weatherization Coordinator
Demonstrate the ability to:
• Effectively communicate and manage weatherization staff and subcontractors;
• Prepare and track a budget for implementing a local weatherization program;
• Maintain a purchase order system to track contracted services and materials
and tool requisitions;
• Maintain a coding system to assure expenditures are charged to the correct
budget category;
• Maintain inventory tracking system for materials, tools, and equipment;
• Submit accurate financial and production reports in a timely manner;
• Comply with federal limits on administrative expenses;
• Manage a small construction/production-focused operation;
• Ensure rigorous, unbiased, and accurate final inspection of all completed units;
• Provide adequate technical training for auditors, technicians, and inspectors
directly employed by the local agency, and ensure that subcontractors receive
appropriate technical training;
• Ensure that weatherization work complies with state technical program
standards;
• Coordinate resources; and
• Develop and implement innovative leveraging strategies.
Quality Management Plan
Recordkeeping and Reporting Consistency
• List of required documents for every client file
• Clear documentation of location of items and how it is
accessed– in paper file, electronically filed
Quality Management Plan
• Still no timetable – Denver draft
obviously not happening
• Operators seem less apprehensive than
QWP
• Some real benefits
Some Other Issues
• Change in Cost per Unit to $6500
– Needed but results in fewer units
• Better quality buildings since 1990 evaluation
– Reduced savings potential
• DOE focus on energy savings
• Prioritize high users – what about others?
• An aging network (with some new rising young
stars)
DOE Focus on Energy Savings
No one disagrees except:
• Still a lot of work related to Health and Safety
and substandard housing issues
• Some dialogue about only weatherizing best
candidates in terms of energy savings
The delivery network is basically a social services
organization network
What's It All Mean and Where Are We Going?
• WAP is continuing to evolve and raise the bar to a more
standardized approach
• Funding levels need to get back to at least pre-ARRA
levels
• Doubtful DOE funds will ever be sufficient to meet the
need
• WAP operators need to find additional resources and
develop additional partnerships to weatherize more
homes and do more on the homes
Additional WAP Resources
•
•
•
•
•
LIHEAP funds
Utility funds
Fee for service
Multifamily
Weatherization Plus Health
– Affordable Care Act opportunities
• Other?