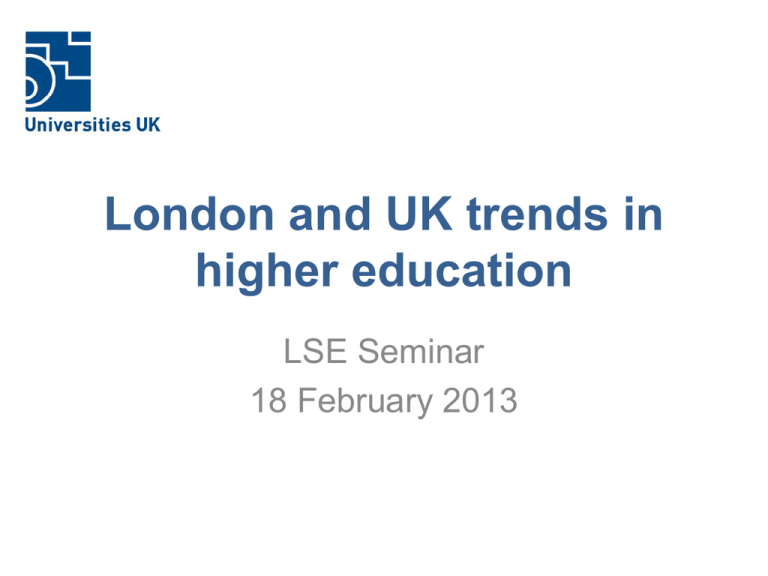 London and UK trends in
higher education
LSE Seminar
18 February 2013
Presentation overview
• UK higher education
• Current trends – participation rates, student
demographics
• UK's global position
• London as a higher education hub
• Particular focus on international students
and competition - why so important?
NATIONAL OVERVIEW
UK HEIs
Student numbers
Course level
Number of students enrolled 2011/12
Undergraduate
1,928,140
Postgraduate
568,505
TOTAL
2,496,645
Students by domicile
Domicile
2010/11
2011/12
% change
UK
2,073,070
2,061,410
-0.6%
Other EU
130,120
132,550
1.9%
Non-EU
298,110
302,680
1.5%
TOTAL
2,501,295
2 ,496,645
-0.2%
Participation rates
UK's global standing
(OECD)
Non-EU students – course type
International students
LONDON
London as an education hub
• Educate 426,000 students from the UK and
overseas
• 30,000 undergraduate and postgraduate
courses on offer
• 101,000 academic and non-academic staff
Economic impact
• London HEIs generate £12 billion each
year
• £4.85 billion in direct economic impact
• £6.7 billion in secondary, or indirect,
activities
• £820 million from international students in
London
Source: Making an economic impact: Higher education and the English regions. Research Report,
Universities UK. June 2010.
Skills
• Jobs
• Training of high skilled staff – five medical
schools in London plus dentists and allied
health workers
• Start-ups
• Provision of CPD
Partnerships
• Over 3 million people attend events
organised by London HEIs each year
• School based outreach activities
• Widening participation
• Business and community partnerships
• Teaching training
• Volunteering & fundraising (RAG week)
Innovation
• £300 million Research Council grants
• £470 million of research funding from
HEFCE
• Inward investment from research funding
Culture
• 20 HEIs providing arts and humanities
teaching and research
• Community and cultural activities
• 250 spin-offs with a revenue of £8 million
• Contributing the equivalent of £2 million in
staff time for free performances (2007/8
figure)
Showcasing the UK
• London Olympics & Paralympics
• Accommodation for games' officials
• Hosting national teams e.g. Team USA
trained at University of East London
• Games' makers
Workforce impact
Highly skilled migration
LONDON AS AN
INTERNATIONAL HUB
International student enrolments
by region/ home nation
International student enrolments by
region/ home nation 2011/12
Regional/ home nation split between
UK, EU and non-EU students 2011/12
London's global standing
• 2nd in QS Best Student Cities 2012
• Scored highly on student mix, rankings,
employer activity
• Paris top, Boston 3rd
• Two Australian cities in the top 10 (Sydney
& Melbourne)
Why so popular?
•
•
•
•
43 HEFCE funded bodies
Students from 200 countries
21% of Londoners are not UK nationals
Over 300 languages spoken
But competition looms....
• At a national level
• At a city level
National strategies
Australia, Canada, USA, New Zealand, Germany and France
Increasing number of courses taught in English in Europe
Some negative signs.....
Agent barometer
Source: 2012 Agent Barometer, i-Graduate
International city welcome: Brisbane
www.studybrisbane.com.au
Melbourne/ Perth
Wellington – New York – Osaka –
Auckland
To conclude....
• Higher education is an integral part of
London
• It contributes a huge amount to London's
prosperity, innovation, economy, culture
• London is one of the most attractive
destinations for international students
• But it faces increasing competition....!