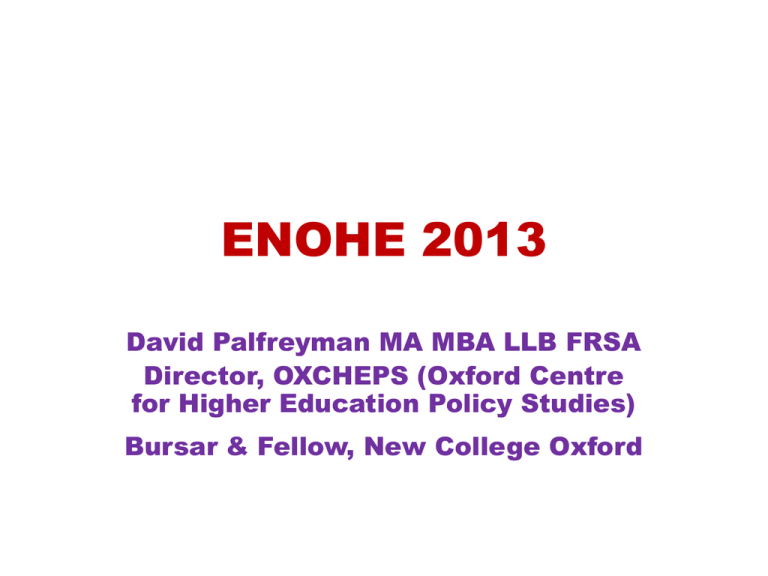 ENOHE 2013
David Palfreyman MA MBA LLB FRSA
Director, OXCHEPS (Oxford Centre
for Higher Education Policy Studies)
Bursar & Fellow, New College Oxford
REFERENCES
• Farrington & Palfreyman, The Law of Higher
Education (Oxford University Press, 2012)
• Kandiko & Weyers, The Global Student
Experience: An International Comparative
Analysis (Routledge, 2013 – volume 14 of the
25 volume International Studies in Higher
Education series)
• Tapper & Palfreyman, Restructuring English
Higher Education: The Rise of the Regulated
Market (Oxford University Press, 2014
forthcoming)
DRIVERS OF CHANGE
• COMMODIFICATION, COMMERCIALISATION,
AND MARKETISATION AS THE NEOLIBERAL
AGENDA – almost everywhere?
• AUSTERITY – US, UK, Eurozone
• DEMOGRAPHICS – EU, Japan
• TAXPAYER-RETREAT – except?
• COST-SHARING – except?
• PRIVATE BENEFIT TRUMPS PUBLIC GOOD
• DIGITAL-LEARNING & MOOCs
• ???
POLICY-MAKING RESULTS
AWAY FROM WELFARISM & STATISM
ACCOUNTABILITY
INSTRUMENTALITY/EMPLOYABILITY
COST-CONSTRAINTS
COST-REDUCTION
MARKET COMPETITION & FORPROFITS
• TUITION FEES (£1000 - £3000 £9000 IN THE ENGLISH POLICY
EXPERIMENT, 2012/13 ONWARDS)
•
•
•
•
•
•
IMPACT ON STUDENTS & HEIs: the
English example
• THE STUDENT AS CONSUMER – key skills
• THE STUDENT:HEI CONTRACT-TO-EDUCATE AS
B2C – a formal detailed written contract?
• RESIDUAL ROLE OF GOVERNMENT IN CONSUMER
PROTECTION
• CREATION OF A REGULATOR FOR HE-FE ('OFTE')?
• ENTRY OF CONSUMER BODIES (eg Which?)
• RISK OF MISREPRESENTATION
• SUSTAINABILITY OF JUDICIAL DEFERENCE TO
EXERCISE OF EXPERT ACADEMIC JUDGEMENT?
• ROLE OF MEDIATION & OIA ( + OMBUDS?)
• CLARITY RE COMPENSATION LEVELS – especially
damages for disappointment/anxiety/hassle!
HE MARKETS MERGE? – a global
business, a global market?
HOME UG – f/t & p/t
OVERSEAS UG – UKBA & LMU
PGT – HOME & O/S
PGR – HOME & OS
ALL MERGE INTO THE HEI's NEED
TO OFFER A COMPETITIVE & VfM
'GLOBAL STUDENT EXPERIENCE'
• A GLOBALISED STUDENT-CENTRED
SKILLS CURRICULUM? - DELIVERED
IN ENGLISH!
•
•
•
•
•
'THE GLOBAL STUDENT
EXPERIENCE' – regulation of?
• Over 4m internationally mobile
students, and growing
• Mainly from China & India
• Mainly to USA, UK, Australia, Fr, Gy
• More US public/state HEIs entering the
market
• More provision by US & UK HEIs in
China, Singapore, and Middle East
• Global for-profit & MOOCs players?