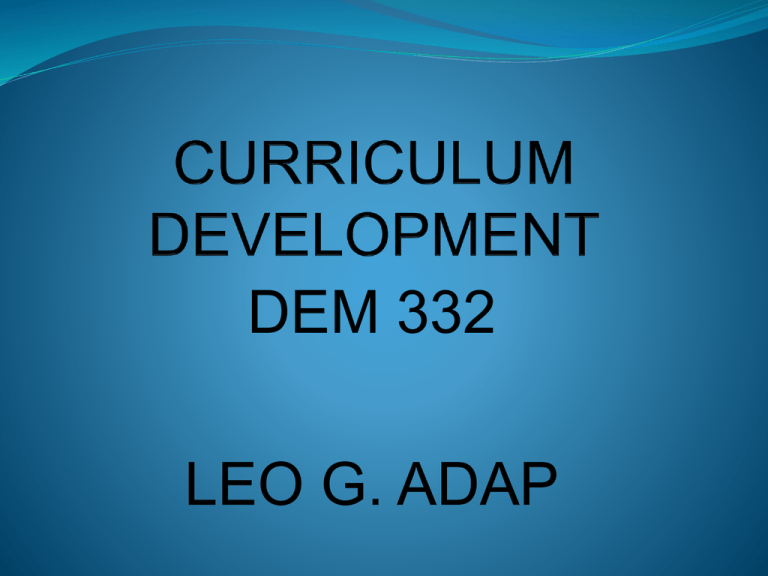 DEM 332
LEO G. ADAP
The Higher Education's
Vision, Mission,
Philosophy and Goals
Vision
The Commission on Higher Education –
CHED is the key leader of the Philippine
higher education system effectively working in
partnership with other major higher education
stakeholders in building the country's human
capital and innovation capacity towards the
development of a Filipino nation as a
responsible member of the international
community.
Mission
Higher education shall be geared toward
the pursuit of better quality of life for all Filipinos
by emphasizing the acquisition of knowledge
and information of those skills necessary to
make the individual a productive member of
society. It shall accelerate the development of
high levels professional who will search for new
knowledge, provide leadership in various
disciplines required by a dynamic and selfsustaining economy. Higher education shall
likewise be used to harness the productive
capacity of the country's human resource base
towards international competitiveness.
Philosophy
The higher education philosophy states that in the
environment of freedom, excellence and relevance it
seeks to harness, develop and catalyze the constructive
and productive use of the full potential and capabilities of
Filipino man and woman into becoming creative, decisive,
competitive, critically thinking and acting individuals who
contribute to i) the realization of Filipino identity and strong
sense of national pride; ii) the cultivation and inculcation of
moral and spiritual foundation; iii) the attainment of
political maturity, economic stability and equitable social
progress; and iv) the preservation and enrichment of the
historical and cultural heritage of the Filipinos, as a people
and a nation
Goals
The goals of higher education is
ensuring
the
attainment
of
empowered
and
globally
competitive Filipinos via i) quality
and excellence; ii) relevance and
responsiveness; iii) access and
equity;
and
efficiency
and
effectiveness.
TERTIARY-LEVEL
PROGRAM
1. Rationalization of HEI and programs
The objective is to lay the foundation for a more efficient
and effective system in delivering quality public higher education
services and for a more flexible regulatory framework for private
higher education provision. The project components of the program
include the following:
1.1. Aligning HEI programs with national development goals;

Job-Skills Matching Project
 Relevant and Responsive Research, Development Extension
(RDE)
 Gender and Development (GAD) Program
1.2. Typology and Mapping of HEIs and Programs
A system of classifying HEIs is being
designed based on their mandates and
functions vis-a-vis national development
goals. This typology will be harmonized
with quality assurance criteria to allow
HEIs to focus and excel within their
respective
classifications
and
be
recognized for such excellence.
1.3. Amalgamation of HEIs and Programs
The objective of this program is to
restructure the higher education system
specifically
the
public
component
consisting of SUCs/Local Universities and
Colleges (LUCs), and other government
schools to improve efficiency in the
delivery of quality programs, minimize
duplication and promote complementation
between and among public and private
HEIs.
2. Quality and Standards
2.1. Quality Assurance Projects
These projects include the setting and
enforcement of Policies, Standards and
Guidelines (PSGs) for academic programs,
monitoring of compliance and phase
out/closure of non-compliant programs,
Institutional Quality Assurance Monitoring and
Evaluation (IQuAME), and accreditation.
Policies Standards and Guidelines (PSGs)
formulation and Enforcement
 Program Monitoring: closure/phase-out of noncompliant programs
Institutional Quality Assurance Monitoring and
Evaluation (IQuAME)
 Accreditation
 Compliance with International Standards
2.2. Quality Improvement Projects
Faculty Development Program
 HEI Management Development Program
 Establishment of Research & Development (R&D) Centers
Center of Excellence (COEs) / Centers of Development
(CODs)
 National Universities and Colleges for Agriculture and
Fisheries (NUCAFs) / Provincial Institutes of Agriculture and
Fisheries (PIAFs)
 Contributions to K-12
3. Access to Quality Higher Education
3.1. Student Financial and Assistance Programs
(STUFAPs)
Aimed at providing access to quality higher
education among poor but deserving students,
STUFAPs consist of:
(1) Scholarships - including the Full Merit, OneTown-One-Scholar (OTOS) and Half Merit
programs, the beneficiaries of which are selected
on the basis of their performance in qualifying
examinations
(2) Grants-in-Aid-Tulong-Dunong including: Study
Grant Program for Solo Parents and their
Dependents, DND-CHED-PASUC Study Grant,
OPAPP-CHED Study Grant Program for Rebel
Returnees, and CHED Special Study Grant
Programs
for
Senate
and
House
of
Representatives, which are meant for the
students from poor families, indigenous
communities, and persons with disabilities; and
(3) Student loans for the needy but deserving
students.
3.2. Promoting Alternative System
(ALS)
Expanded
Tertiary
Education
Equivalency
and
Accreditation
Program (ETEEAP)
 Ladderized
(LEP)
Education
Program
KEY ISSUES IN THE
PHILIPPINE TERTIARY
EDUCATION
Quality of Education
Affordability of Education
 Government Budget for
Education
 Education Mismatch
The following
proposed:
are
some
of
the
reforms
Upgrade the teachers' salary
scale. Teachers have been
underpaid; thus there is very
little incentive for most of them
to take up advanced trainings.
Amend
the current system of
budgeting for education across
regions,
which
is
based
on
participation rates and units costs.
This clearly favors the more
developed regions. There is a need to
provide more allocation to lagging
regions to narrow the disparity across
regions.
Stop the current practice of
subsidizing state universities and
colleges to enhance access. This
may not be the best way to
promote equity. An expanded
scholarship program, giving more
focus and priority to the poor,
maybe more equitable.
Get all the leaders in business and
industry to become actively involved
in higher education; this is aimed at
addressing the mismatch problem. In
addition, carry out a selective
admission policy, i.e., installing
mechanisms to reduce enrollment in
oversubscribed
courses
and
promoting
enrollment
in
undersubscribed ones.
Develop
a
rationalized
apprenticeship program with heavy
inputs from the private sector.
Furthermore, transfer the control of
technical training to industry groups
which are more attuned to the
needs of business and industry.