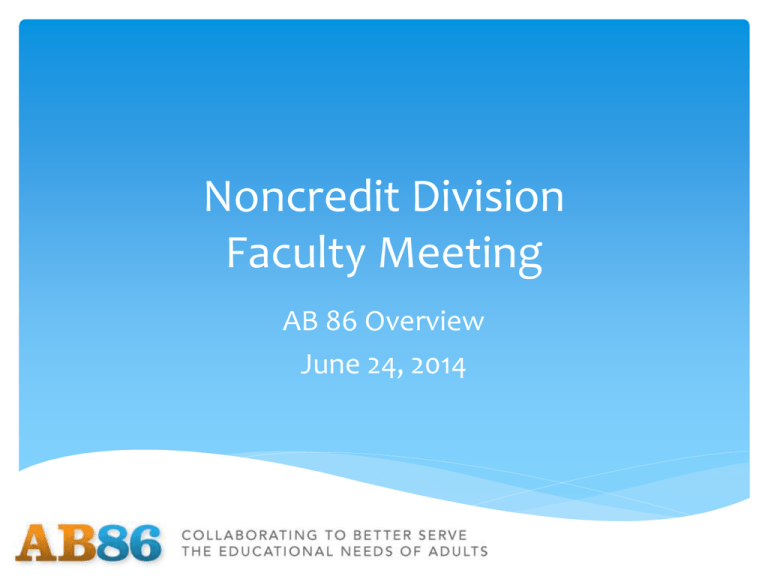 Noncredit Division
Faculty Meeting
AB 86 Overview
June 24, 2014
AB 86 Overview
 $25 million to provide two year planning and
implementation grants
 Regional consortia of community colleges and school
districts
 Develop regional plans to better serve the
educational needs of adults
AB 86 Priorities
 Elementary and secondary basic skills, including classes
required for a high school diploma or high school
equivalency certificate.
 Classes and courses for immigrants eligible for educational
services in citizenship and English as a second language,
and workforce preparation classes in basic skills.
 Education programs for adults with disabilities.
 Short-term career technical education programs with high
employment potential.
 Programs for apprentices.
Grant Requirements





Evaluation of current programs and needs
Plans for partners to integrate existing programs
Create seamless transitions
Plans to identify gaps
Plans to utilize best practices to accelerate student
progress
 Professional Development Collaborations
 Leverage existing regional structures
Legislative Outcomes
 Develop common policies related to adult education
 Review policies on fees and funding levels
 Recommendation to change funding of noncredit
enhanced FTES funding to credit levels
 Credit $4,564.83
 Noncredit Enhanced:$3,254.04
 Noncredit Non enhanced: $2,763.62
Pasadena Area Regional Consortium
 Pasadena Area Community College District
(fiscal agent)
 Pasadena Unified School District
Tentative Grant Goals
 Transition from High School Diploma (Noncompleters) to PCC Adult High School Diploma
Program
 Transition from High School Career Pathways to
noncredit short-term CTE, credit CTE programs or
employment
 Transition from noncredit Adult Secondary Education
Programs to college credit programs
Tentative Goals (cont'd)
 Transition from noncredit ESL to Adult Basic
Education, Adult Secondary Education Noncredit
programs and to Credit programs
 Transition from noncredit programs to employment
(career pathways)
 Transition from noncredit short-term CTE to credit
CTE or academic programs
 Development and integration of apprenticeship
concepts into the curriculum for all Adult Education
program areas.
Imagine the Possibilities
ESL




ESL Job Success: English to Succeed at a Job
ESL Parent Involvement in K-12
English for Written Driver's Test
ESL Work Readiness
VESL
 Business Information Technology-VESL
 Family Day Care-VESL
 Food Services Worker-VESL
 Hospitality-VESL
 Landscaping-VESL
CTE
The occupations with the most openings:
 Personal Care Aides
 Office Clerks, General
 Nursing Aides, Orderlies and Attendants
 Teacher Assistants
 Receptionists
 Information Clerks
 Home Health Aides
 Housekeeping
 Landscaping
 Medical Assistants
 Medical Administrative Assistants
Elementary and Secondary Basic
Skills
ABE Certificate of Completion
 ABE Mathematics
 ABE Language Arts
GED Certificate of Completion
Adults with Disabilities
Workplace Preparation for Adults with Disabilities
 Introduction to Banking
 Exploring Occupational Paths
 Work Attitudes and Employer Expectations
 Paying Bills
 Landing a Job
 Budgeting for Living Expenses
We Need Your Expertise
 Curriculum Development
 Planning Meetings with PUSD/Others
 Enhancement of Student Services
 Professional Development Suggestions
Curriculum Development Process
 Application Process
 Application Requirements
 Rubric for Selection
QUESTIONS?
Thank you for your interest!