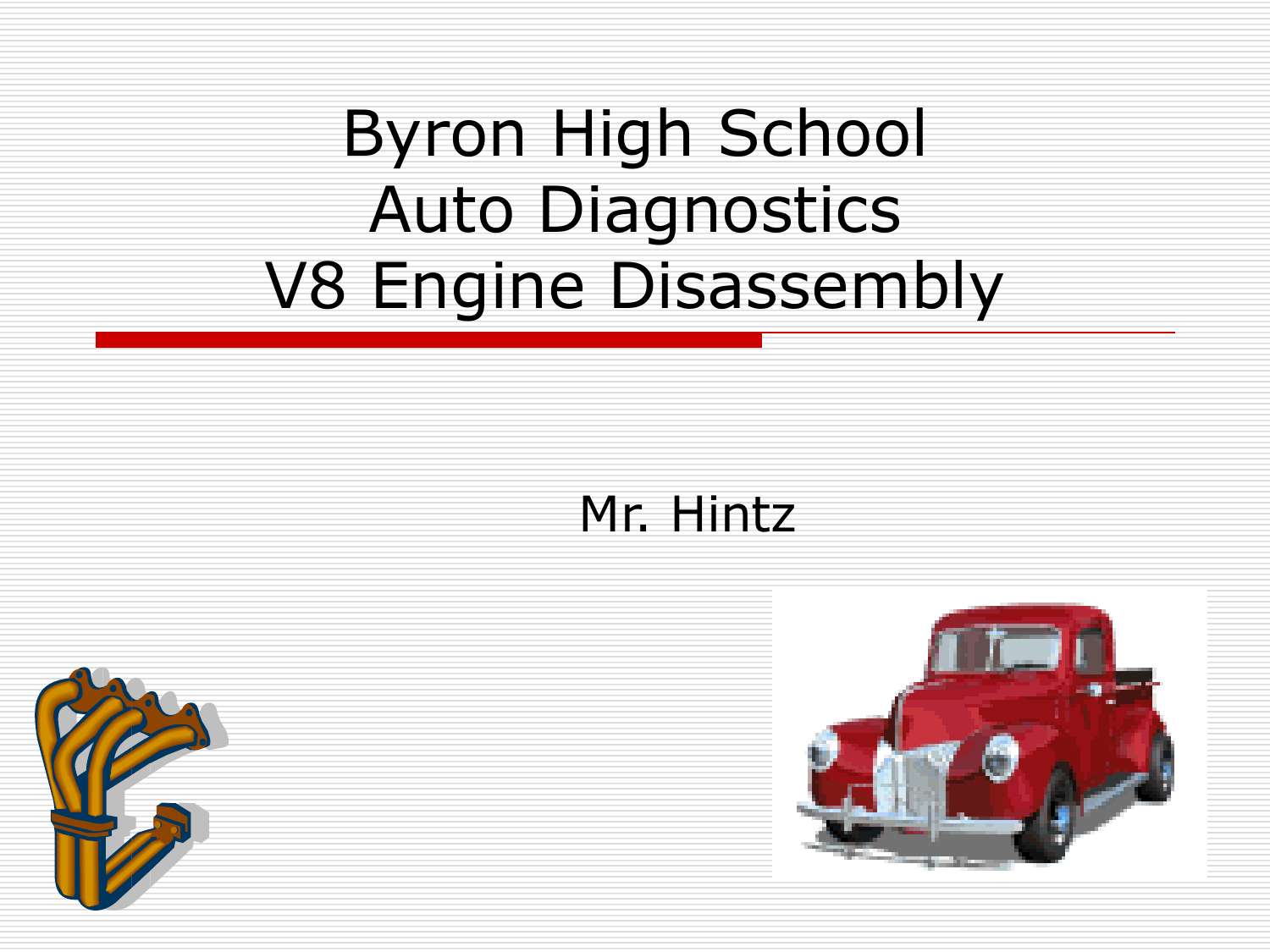 Byron High School
Auto Diagnostics
V8 Engine Disassembly
Mr. Hintz
First Remove the CARBURETOR
Next is the DISTRIBUTOR Pull
straight out so you don't nick the
CAMSHAFT
Remove the VALVE COVERS
After Removing the VALVE COVER
The VALVE COVERS protect the
VALVE TRAIN
After removing the VALVE COVERS,
the INTAKE MANIFOLD is next
Pull the INTAKE MANIFOLD straight
off
The Underside of the INTAKE
MANIFOLD
PUSHRODS, CAMSHAFT, and
LIFTERS
The HEAD forms the structure for
the VALVE TRAIN
Loosen bolts, and remove the
HEAD
Carefully remove and watch your
toes
The underside of the HEAD. Note
VALVES and HEAD GASKET
Note the COMBUSTION CHAMBER
and the top of the PISTONS
Location of the mechanical FUEL
PUMP
HARMONIC BALANCER TOOL
Removing the WATER PUMP
Removing the TIMING CHAIN
COVER
TIMING CHAIN and SPROCKETS
TIMING CHAIN
Flip it over, remove the OILPAN
The OILPAN protects the lower half
of the engine components
OIL PUMP
ROD CAPS, MAINCAPS, and
CRANKSHAFT
Loosen the MAIN CAPS
Remove the CONNECTING ROD
CAPS
Carefully remove the PISTONS
Fasten all Bolts
Remove MAIN CAPS
Remove MAIN BEARINGS
Lift out CRANKSHAFT
Carefully Slide out the CAMSHAFT
Bare BLOCK
Any Questions????