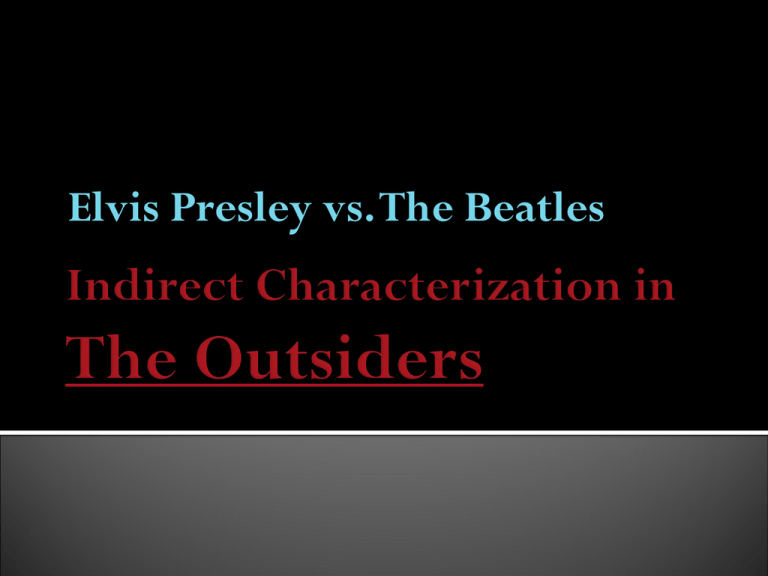 Elvis Presley vs. The Beatles
"If I could find a white man who had the Negro
sound and the Negro feel, I could make a billion
dollars." – Sam Phillips
In August 1953, 18-year-old Elvis Presley walked
into Sun Records in Memphis, Tennessee. According
to legend, he intended to make a record that he could
give to his mother. Sam Phillips, owner of Sun
Records, found the singer he had been looking for.
Elvis Presley
In July, 1954, Elvis
recorded his first single,
"That's All Right."
Country and Western
radio stations refused to
play the song because
Elvis sounded too much
like a black artist.
Rhythm and Blues radio
stations refused to play the
song because he sounded
too much like a "hillbilly."
A new style of music was
born.
By blending two racially segregated musical forms, Elvis
recorded black music that was fast, sexy, and catchy. It was
music that could be danced to easily and with excitement.
As white, middle-class teenagers began listening to these
"race" records, horrified adults – particularly parents –
tried to stop the music from growing in popularity.
Teenagers who listened to Rock and Roll were labeled
juvenile delinquents and "greasers."
10 WEEKS AT NUMBER ONE

RCA Victor released Presley's
self-titled debut album in
March, 1956.

The album featured the
rockabilly anthem "Blue Suede
Shoes" and the moody, unusual
"Heartbreak Hotel"
Elvis Presley
On June 5, 1956, Elvis
performed his new single,
"Hound Dog," on the
Milton Berle Show.
During the performance,
Presley abruptly halted an
uptempo rendition of the
song with a wave of his
arm and launched into a
slow, grinding version
accentuated with
energetic, exaggerated
body movements.
His performance created a
storm of controversy.
"Mr. Presley has no discernible singing ability. ... His one
specialty is an accented movement of the body ... primarily
identified with the repertoire of the blond bombshells of the
burlesque runway." (The New York Times)
"Popular music has reached its lowest depths in the 'grunt and
groin' antics of one Elvis Presley. ... Elvis, who rotates his pelvis
... gave an exhibition that was suggestive and vulgar, tinged
with the kind of animalism that should be confined to dives
and bordellos." (The New York Daily News)
Ed Sullivan, whose own variety show was the nation's most
popular, declared him "unfit for family viewing."
The "bad boy" image of Elvis
Presley became synonymous
with rock and roll music
itself. Religious groups
across the nation tried in
earnest to censor the music.
Juvenile Delinquency,
Reverend Jimmy Snow
As Elvis became more popular, the entertainment industry
quickly cashed in on his celebrity status.
 Although Ed Sullivan swore he would never have Elvis on
his show, he changed his mind after The Steve Allen Show
earned higher ratings with Elvis as guest.
 On September 9, 1956, Elvis made his debut on The Ed
Sullivan Show.
 60 million viewers tuned in, but they did not see a repeat
of Elvis's "obscene" gyrations. Sullivan's film crew was
ordered to film him only from the waist up.





Hollywood came next.
In November, 1956, Elvis made his big-screen debut
with the musical western Love Me Tender. The
original title—The Reno Brothers – was changed to
capitalize on the advanced sales of the title song
"Love Me Tender".
Three more films – LovingYou, Jailhouse Rock, and
Kid Creole – followed.
The iconic dance sequence to Jailhouse Rock is
usually cited as his greatest moment on screen.
Elvis Presley
On December 20, 1957,
Elvis Presley received his
draft notice.
On March 24, 1958,
Presley was inducted
into the U.S. Army as a
private at Ford Chaffee,
near Fort Smith,
Arkansas.
Presley announced that
he was looking forward
to his military stint,
saying he did not want to
be treated any differently
from anyone else: "The
Army can do anything it
wants with me."
Elvis Presley
Elvis received his military
haircut, and just like that,
his pompadour was gone.
There would be no more
grease for two years.
Elvis's two years of military
service did not end his
musical career, but it did
remove him from the
spotlight.
When he returned home in
1960, rock and roll music
had changed considerably.
Imagine a football team winning the Super Bowl one year, and then losing to injury, free
agency, or retirement its starting quarterback, and its best receiver, running back, defensive
lineman, and cornerback, as well as its coach and half the front office, all over the course of the
next season. Not likely to win another championship, or even a game, for quite some time.
By 1959 this was what had happened to rock and roll. The iconic figures that had shaped this
new musical genre – including Elvis who was stationed in Germany while serving in the army
– were gone.
When Elvis returned to the states in 1960, rock and roll had become a genre of teen idols.
Rock and roll was no longer sexy, rebellious, or dangerous. Now, it was whitewashed, cute
and nonthreatening.

When Elvis returned, his primary focus was no
longer on music, but film.

His movies were family-friendly, and like the teen
idols holding the top spots on Billboard's charts,
Elvis had lost the "bad boy" image that had defined
him five years earlier.

Naturally, the older generation let down its guard,
thinking "Thank goodness that's over with!"
Following the assassination of President Kennedy,
American teenagers were looking for someone or
something to believe in.
Four young men crossing the Atlantic on Pan Am
Flight 101 were about to breathe new life into a
defeated youth culture.
The Beatles
Before touching down on
American soil, the
Beatles were already the
nation's number one
musical group.
Unprecedented hysteria
filled John F. Kennedy
Airport, the Plaza Hotel,
and the streets of New
York City, surrounding
the Beatles' every move.
Beatlemania had swept
the nation.
The Beatles
The Beatles performed on
The Ed Sullivan Show on
February 9, 1964.
It remains one of the
highest-rated nonsports
programs of all time.
Nielsen estimates 45
percent of the country
watched the show -- more
than 73 million people
then.
Apocryphal tales maintain
that not a single crime was
committed in New York
during the Sullivan hour.
They were witty, cocky, and youthful, and they appeared more
intelligent than earlier rock and rollers had been. But mostly, they
were a lot of fun.
Adults did not seem to object to their sound, only their trademark
moptop hairdos . But even these were forgiven once the Beatles had
charmed American audiences.
Even Ed Sullivan, no fan of rock and roll, could not hide his admiration
for the four boys from Liverpool. Sullivan – who had labeled Elvis
Presley obscene and vulgar in 1956 – praised them as "four of the
nicest youngsters we've ever had on our stage."

On July 29, 1966, Datebook, a popular teen
magazine printed a quote by John Lennon.

"We're more popular than Jesus now; I don't
know which will go first - rock 'n' roll or
Christianity."

The quote, which was taken out of context,
brought the Beatles their first bout of controversy.
The Beatles
John was not comparing the
Beatles to Jesus. In context, he
was describing the mass
hysteria of Beatlemania.
Still, radio stations in the south
banned Beatles music.
Churches held bonfires where
Beatles albums were burnt and
teenage boys and girls were
encouraged to smash their
Beatles records.
John recieved death threats.
And the Ku Klux Klan made
headlines when they protested
a Beatle concert in Alabama.
The Beatles
By 1967, the controversy
had subsided.
The Beatles had
stopped touring.
In their attempts to
push musical
boundaries, they were
less interested in hit
singles. Instead, they
began working on
concept albums.
They were still the most
popular rock band in the
world.
1968
The creative differences
between John Lennon and Paul
McCartney were beginning to
tear the band apart.
George Harrison felt restricted
in his contributions to each
new album.
And Yoko Ono – John's wife –
was a frustrating presence in
the recording studio.
This was the beginning of the
end of the Beatles….
… And Elvis Presley was about
to stage a record comeback.
Having learned about Elvis Presley
and the Beatles, what can we infer
about greasers and socs based on
their tastes in music?