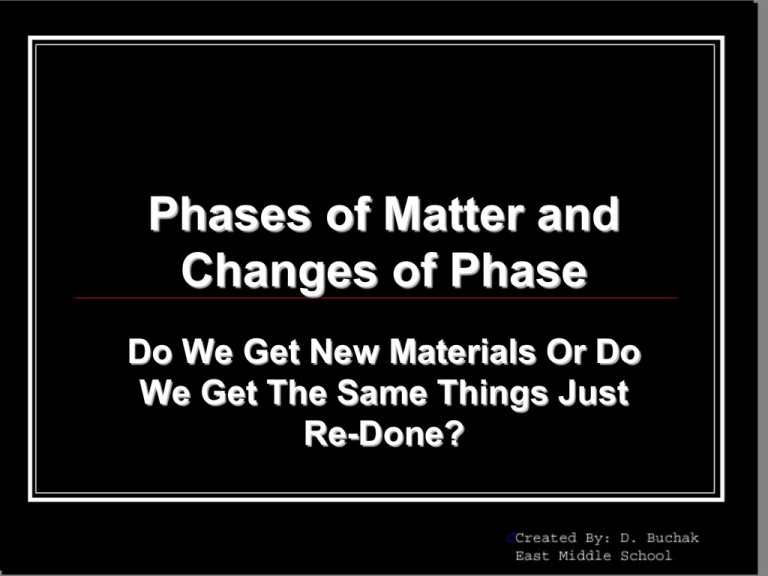 Phases of Matter and
Changes of Phase
Do We Get New Materials Or Do
We Get The Same Things Just
Re-Done?
What Are Phases of Matter?
• The physical forms in which a
substance can exist
Solids
Gases
Liquids
Plasma
Solids
• Phase of matter in which matter has a
definite shape and volume
Molecules (small
round objects)
are arranged and
organized in
"tightly packed"
order
Liquids
• Phase of matter in which matter takes
the shape of its container and has
definite volume
Molecules are
moving slowly;
not fast enough
to overcome the
attractions
between them
Gases
• Phase in which matter changes in both
volume and shape
Molecules move
very quickly and
are able to break
apart from one
another
Plasma
• Phase of matter that does not have a
definite shape or volume and whose
particles have broken apart
Can be found in
lightning, fire,
and the Aurora
Borealis
Why Do Different Phases
Exist?
• Behavior of Molecules
…but they are
always in
motion,
constantly
bumping into
one another
So How Do We Classify
Them?
• How fast the molecules move!!!
Solids
Liquids
Molecules
Move
move slow faster than
and vibrate solids and
in place
overcome
some
attraction
Gases
Plasmas
Move fast
Move
and
incredibly
overcome
fast but
all of
break apart
attraction
5 Major Changes of State
• Freezing
• Melting
• Boiling
• Evaporation
• Sublimation
Freezing
• Freezing: The change of state from
liquid to solid
As liquids cool their
particles begin to slow,
bringing them closer
together forming crystals
Melting
• Melting: The change of state from solid
to liquid
As a substance
absorbs heat energy
the objects particles
begin to heat up
and move faster and
farther away from one
another
Boiling
• Boiling: process that occurs when
vaporization takes place inside a liquid
as well as on the surface
Dependant on how
strongly the
particles in an
object are held
together
Evaporation
• Evaporation:
occurs when a
liquid acquires
enough energy to
become a gas
only on the
surface of the
liquid
Condensation
• Condensation: Occurs when a gas loses
enough thermal energy to become a liquid
Particles in a gas
lose energy and
begin to move slower,
coming closer
together
Sublimation
• Sublimation: occurs when the surface
particles of a solid gain enough energy
to become a gas
What happens when things melt,
boil, etc. ?
• During a phase change, Thermal
Energy is either absorbed or released
Solid to Liquid
Liquid to Gas
Gas to Liquid
Liquid to Solid
What happens to substances
when they are heated or cooled?
• When objects are heated...they
• When objects are cooled...they
***Water is the only exception...it actually
expands as it cools
Change of State Graph
What changes occur as you slowly heat a beaker
of ice from – 10 to 110 degrees Celsius?