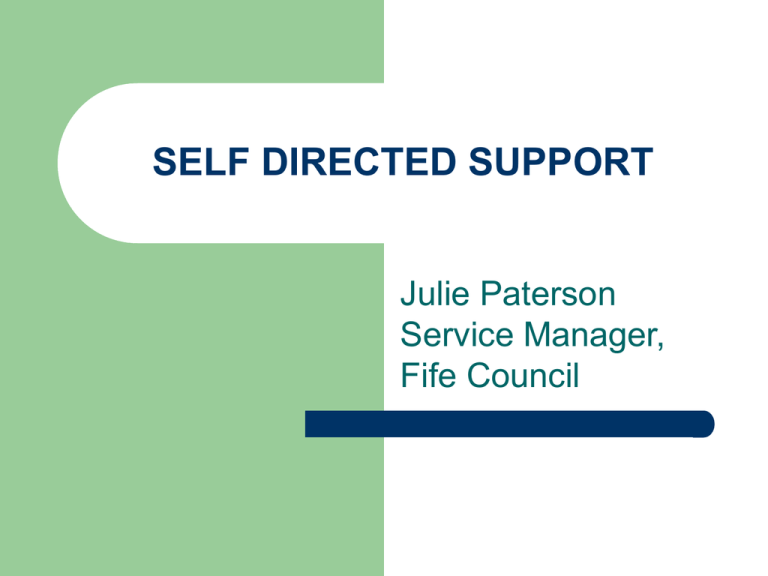 SELF DIRECTED SUPPORT
Julie Paterson
Service Manager,
Fife Council
Definition of Self Directed Support



Self Directed Support means starting with the individual as
a person and considering their strengths, needs and
preferences.
It's also about recognising that the individual is best
placed to know what they need and how those needs can
be best met.
Self Directed Support recognises that with the right
support, advice and information people can make their
own decisions about what they require to meet their needs
and to achieve their goals.
Self Directed Support: The National
Context
£1.5 million invested in three Local Authority
test sites
 The three test sites operated from January
2009-March 2011
 Dumfries and Galloway: 35
Glasgow: 57
Highland:40
Total: 132

Self Directed Support in Fife





SDS Implementation Board
Service user/carer reference group
Governance arrangements
Test sites x4
Appointment of a full time SDS Project
Manager
SDS Test Sites in Fife




Those currently in receipt of Direct Payments
Young people in transition
Those attending building based day care
services in Kirkcaldy
Fife Council/NHS Fife test site working with
people diagnosed with acquired brain injury and
in contact with the Sir George Sharp Unit at
Cameron Hospital
Test Sites (cont.)


Alternative to home care service
Proposal with Barony Housing Association
Joint learning as we go along……..
Fife Council/NHS Test Site





"…Nine months ago I was in a rut - I now have a focus and
function…"
" …I can relate to what I have been through now. I feel
mentally better…"
"…I have noticed a big difference in his mood …. "
" …I now realise I need help but was in denial before…"
"… I could not have afforded this myself…'
There's more!




Transformational change: continued
investment in training.
Development of a Resource Allocation
System
Active participation in the consultation
process in relation to the SDS Bill
Absolutely committed to driving the
personalisation agenda forward.
Care Providers
–We
Need You!