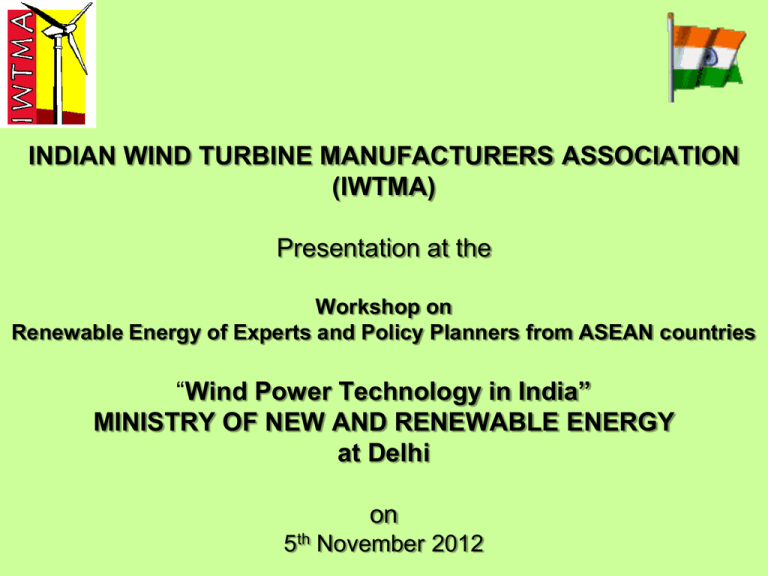 INDIAN WIND TURBINE MANUFACTURERS ASSOCIATION
(IWTMA)
Presentation at the
Workshop on
Renewable Energy of Experts and Policy Planners from ASEAN countries
"Wind Power Technology in India"
MINISTRY OF NEW AND RENEWABLE ENERGY
at Delhi
on
5th November 2012
Introduction
• Only country to have a dedicated Ministry for New and Renewable
Energy.
• Potential 100,000 MW – can go up to 200,000 MW
• Investment friendly policies of MNRE and financial arm of IREDA
• Capacity addition in the next 5 years – 15,000 MW and can go up to
25,000 MW
IWTMA
•
IWTMA – Association of Technology Providers – Turnkey
solution – Key drivers of the wind market.
•
We thank the support of MNRE, C-WET, IREDA, Regulatory
Authorities and State Nodal Agencies.
•
IWTMA is recognized in policy discussion and intervention
for a sustainable growth.
•
The manufacturing capacity (IWTMA Members + Others) is
around 10,000 MW per annum.
•
The range of turbines is a small from 250 KW to 2.5 MW.
•
The manufacturing companies in India are Indian Companies
with Technology transfer, wholly owned subsidiaries, Joint
Venture Partnership and license for Global exploitation.
Technology
• The technology covers from Stall Turbines (fixed speed) to
Pitch, Doubly Fed Induction Generators (DFIG), Direct Drive
with Electro Magnetic Generators and Permanent Magnetic
Generators.
• Turbines are suitable for Class-II and Class-III wind sites and
currently for low wind regimes.
• Hug heights up to 100 Meters and Blade Diameter up to 100
Meters have been achieved.
• Achievement of rated wind power from the old 18 mtrs. per
second is now 10.5 to 11 mtrs. per second
• Accent on localization of components suitable for Indian grid
and climatic condition. In-house manufacture – eg. Blades,
Towers, Direct Drive Generators and Converters.
• Complimenting C-WET in Wind Resource Assessment
Programme and creation of power evacuation and
infrastructure to help state transmission companies.
Recent Happenings
• Technology of turbines to harness energy at sites having a wind
power density below 200 Watts / M2
• Co-operation with National and State Load Despatch Centres in
short term forecasting and scheduling.
• Repowering – Utilization of best land for maximising generation.
• Refurbished old turbines for exports to countries with wind power
start up programmes.
• Integration of Southern Grid with National Grid by 2014
• Integration of wind and solar project of 200 MW with evacuation of
150 MW.
Future……..
• Staggering bills of Oil, Coal and Gas – Wind is certainly an
answer.
• Judicious mix of wind and other renewables will help the
country towards energy security.
• NAPCC target of 15% by 2020 require over 7500 MW per
annum.
• 7000 Kms of coastal line – opportunity for exploiting offshore – activities taken by C-WET
• Storage solution to energy
Conclusion
• Wind is recognized today as an integral part of energy
solution.
• Predominantly in rural areas it has changed the socio
economic fabric of the society.
• Creation of rural employment – a potential in all wind states
• India can offer rich experience of wind energy programmes
to Asean countries inclusive of technology transfer.
• Request all guests to be a part of Wind Power India 2012
happening at Chennai showcasing technology and a high
power conference on various opportunities and challenges
to the stakeholders.
Thank you !!