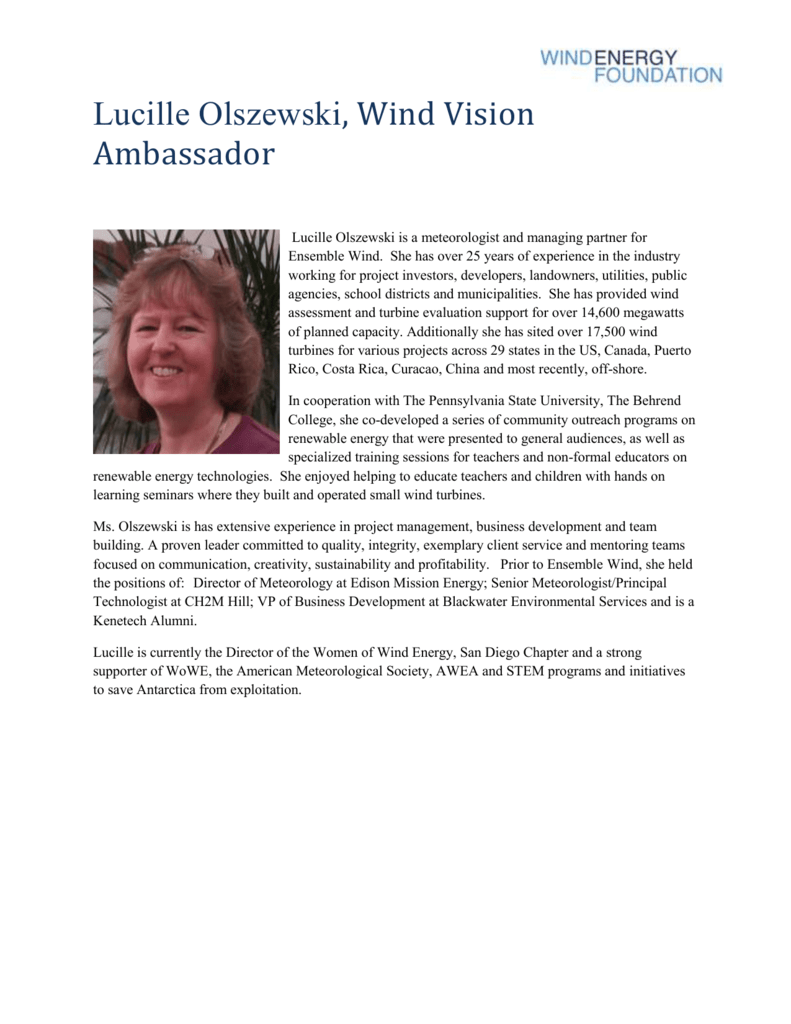 Lucille Olszewski, Wind Vision
Ambassador
Lucille Olszewski is a meteorologist and managing partner for
Ensemble Wind. She has over 25 years of experience in the industry
working for project investors, developers, landowners, utilities, public
agencies, school districts and municipalities. She has provided wind
assessment and turbine evaluation support for over 14,600 megawatts
of planned capacity. Additionally she has sited over 17,500 wind
turbines for various projects across 29 states in the US, Canada, Puerto
Rico, Costa Rica, Curacao, China and most recently, off-shore.
In cooperation with The Pennsylvania State University, The Behrend
College, she co-developed a series of community outreach programs on
renewable energy that were presented to general audiences, as well as
specialized training sessions for teachers and non-formal educators on
renewable energy technologies. She enjoyed helping to educate teachers and children with hands on
learning seminars where they built and operated small wind turbines.
Ms. Olszewski is has extensive experience in project management, business development and team
building. A proven leader committed to quality, integrity, exemplary client service and mentoring teams
focused on communication, creativity, sustainability and profitability. Prior to Ensemble Wind, she held
the positions of: Director of Meteorology at Edison Mission Energy; Senior Meteorologist/Principal
Technologist at CH2M Hill; VP of Business Development at Blackwater Environmental Services and is a
Kenetech Alumni.
Lucille is currently the Director of the Women of Wind Energy, San Diego Chapter and a strong
supporter of WoWE, the American Meteorological Society, AWEA and STEM programs and initiatives
to save Antarctica from exploitation.