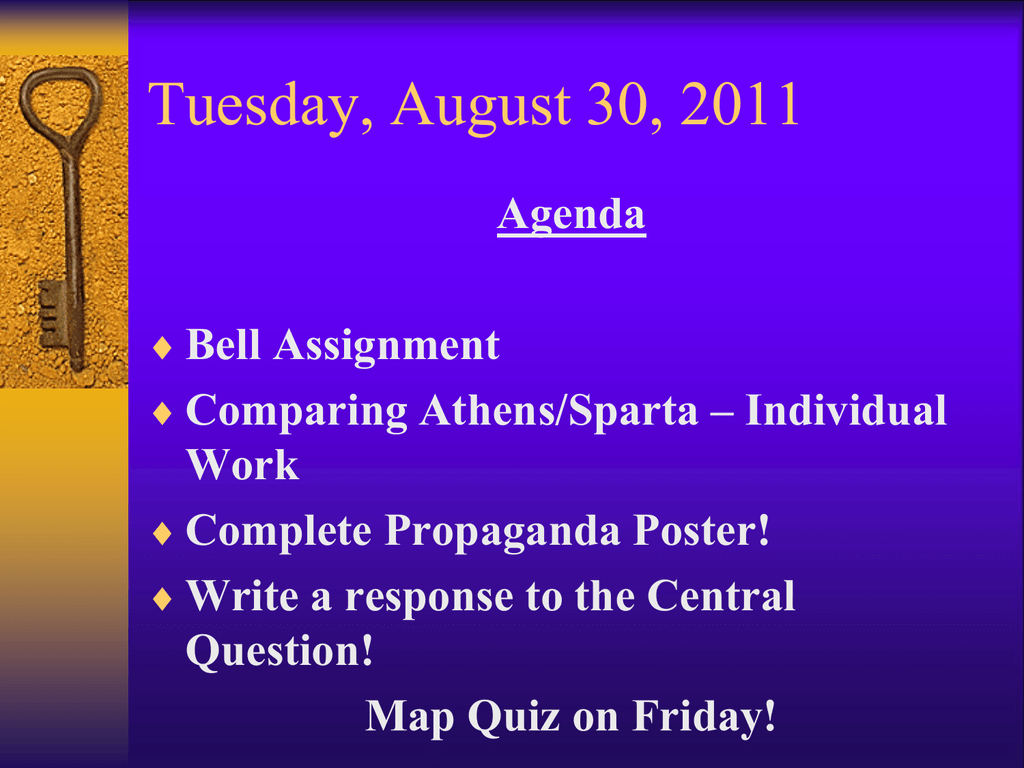 Tuesday, August 30, 2011
Agenda
 Bell Assignment
 Comparing Athens/Sparta – Individual
Work
 Complete Propaganda Poster!
 Write a response to the Central
Question!
Map Quiz on Friday!
Bell Assignment
Geography of Greece
 Geography of Greece
is very different from
the geography of the
river civilizations.
– Greece does not have a
major river.
– Greece is covered by
mountains and hills
– The soil is very dry
and rocky in most
places
Influence of Geography
 Because of the unique geographical
landscape, Greece was influenced in the
following ways:
– The Greeks became dependent upon trading
with civilizations, such as Egypt.
– The Greeks became great sailors.
– Greek city states were isolated from each other.
This led to lots of fighting between the Greeks.
They were never unified.
Greek Polis
 A Greek polis is a
Greek city-state.
There were several of
them. Each city state
was surrounded by
low lying mountains
and were built around
a large low lying
mountain called an
acropolis.
Greek Government
 Each city state developed its own system of
government:
–
–
–
–
Monarchy
Aristocracy
Oligarchy
Democracy
Central Question
 Which city state, Athens or Sparta, has
the best approach for protecting the
welfare and security of the community?
Comparing Athens and Sparta
What did you discover?
Athens vs Sparta
Athens
Sparta
Athens government was a Sparta's government was
democracy
an oligarchy
Athens, economy was
based on trade, foreign
trade was especially
important. It allowed
Athens to get the
necessary items needed to
support the population.
Sparta's economy was
based on farming and
conquering. Sparta
discouragd foreign trade.
Spartan leaders thought
interaction with outsiders
would weaken Sparta.
Athens vs Sparta
Athens
Athens had a superior
navy, which was needed
to protect their trade
network.
Athens was a
cultural/educational
center. Athens believed
that education was key to
the survival of a
democratic society.
Sparta
Sparta had a superior
land army, which was
needed to patrol the local
area and impose the strict
laws on helots.
Sparta's education
focused on preparing
young men for the army.
Reading and writing was
not a requirement.
Athens vs Sparta
Athens
Sparta
Athens has become a
naval and economic
powerhouse after the
Persian Wars.
Sparta remains focused
on their military society,
but they are threatened by
Athens' new found power
and wealth.