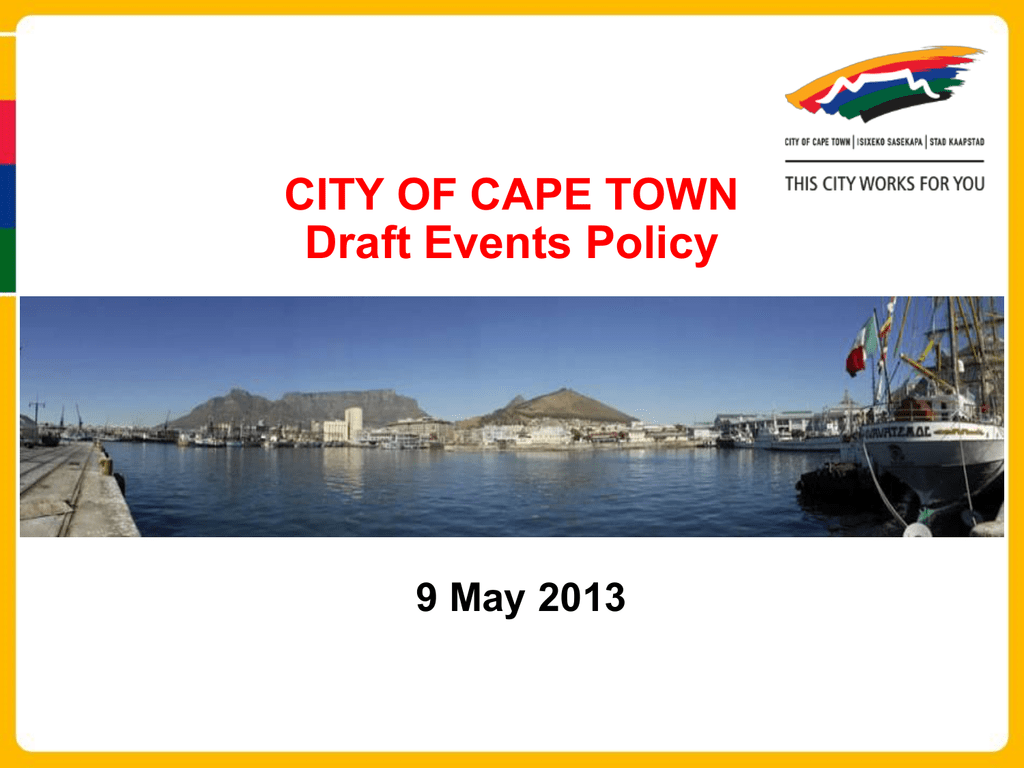 CITY OF CAPE TOWN
Draft Events Policy
9 May 2013
Agenda
Welcome
B. Shafer
Introduction
A. Groenewald
Events Policy Presentation
T. Cullen
Questions and Answers
All
Events and the City
IDP strategic objective.
Strong track record and global
brand in events
Events destination of choice
Improve business perceptions
Fine-tune permitting of Events
Event platform to catalyse
Economic growth,
Job creation,
Social inclusivity and
Environmental goals.
Strategy into Action
Various tools to implement
Staffing –
On-going
Systems –
Special Events
Committee March
2013
Budget –
Approval May 2013
Events By-Law –
Policy –
Review June 2013
Target Adoption
May 2013
Strategy –
IDP, IES, City's TEAM Strategy
Desired Outcomes
The Events Policy aims to:
•
Create mutually beneficial
outcomes for Cape Town
residents, businesses and visitors
•
Guide the City in managing event
related activities in an efficient and
effective manner
•
Create an enabling mechanism for
new approaches to event initiatives
•
Create stability in the events
Calendar and hosting great events
IDP Alignment
1
2
Cape Town
according to the
IDP
Mandate
3
4
5
Purpose of the Policy
Alignment to:
the new Directorate: TEAM
The IDP
Sports and Recreation Act
Promote collaboration &
cooperation between internal
& external stakeholders
Defines how the City will work
This policy applies to
Events where City services
are required
Events where city
certification is required
Cultural, Business and
Sporting Events of Strategic
significance
This policy does not apply to
Workshops organised by
City departments
Gatherings, as defined in
the Gatherings Act
Private or community
function which do not
require certification or the
services of the City
Policy Directive
1. Classification of Events
2. Events Calendar
3. Event Support
4. Event Bidding
5. Event Permits
6. Inter governmental Coordination
Policy Directive
7. Hospitality
8. Guest list Management
9. Ticket Distribution
10. Event Marketing
11. Event Services
12. Role of City Structures
Classification of Events
* This classification
does not take into
consideration SAPS
Risk classification,
which forms part of the
Permitting process
Bidding
(future)
International Events
(attracts tourists &
marketing)
CT Iconic Events (attracts
tourists and marketing
potential)
Incubator Events (potential to attract
tourists)
Community Events (for mainly CT public)
CT Iconic Events
CT Incubator Events
CT Leverage Events
Bidding/Internatio
nal
Community
ABSA Cape Epic
Cape to Rio
Creative Economy
Conference
Convention Bureau
bidding assistance
Khayelitsha Festival
Big Concerts
Food and Wine Festival
World Design Capital
Peace Laureates Event
Festive Season Sub-Council
Events
Cape Argus Pick n Pay Cycle
Tour
Cobra's Events
Chelsea Flower Show
Direct approaches to
the City
Gugulethu Festival
Cape Town Fashion Week
Stormers Events
Tourism Indaba
English Premier
League Clubs
Kite Festival
Cape Town International Jazz
Festival
Minstrels Tweede Nuwejaar
Sports and Tourism
Exchange
National Government
Departments
Military Tattoo
Design Indaba
Gun Run
Edinburgh Festival
National Sports
Federations
Minstrels other marches
J&B Metropolitan
Lion of Africa Open
CHAN 2014
Mayoral Community
Activation Events
Mining Indaba
Cape Town Carnival
MAWLID 1434
Mother City Queer Party
Cape Town Tens
Mamre Festival
National Sports Teams
(Bafana, Springboks, Protea's)
Sunshine D/Polar Ice cream
Big walk
Toy Run
Old Mutual Two Oceans
Marathon
Discovery Big walk
Community Chest Festival &
Twilight run
The Loeries
PSL Clubs
Voice of the Cape Festival
World Economic Forum, Africa
Forum
Switch-on of the Festive
Lights
Police Day
Cape Town Marathon
Mitchelsplain Festival
Le'Ormains Queens Plate
Carols at Kirstenbosch
Navy Festival & Airshoow
Events Calendar
Single City Calendar, managed by the Events Department
• Minstrels
• New Years Day
Test
• MAWLID 1434
• Suidoosterfees
• Le Ormains
Queens Plate
• J&B Met
• World
Paediatric
• Mining Indaba
• Red Hot CP
• Design Indaba
• PSL Soccer
• Infecting the
City
• CT Carnival
• OMTOM
• Cape Epic
• PnP Cape
Argus
• Human Rights
Day
• Metallica
• Cape Town
International
Jazz Fest
• Design Week
• Ice Hockey
World Cup
• World
Economic
Forum
• Small Towns
• Justin Bieber
• Bruce
Springsteen
• Chelsea Flower
Show
• Youth Day
• African Fashion
Week
• World Gym for
Life
May
June
July
• Nelson
Mandela
Lecture
• Womens Month
• PSL Soccer
starts
• Heritage Day
• Cape Town
Marathon
• Transport
Month
• Gun Run
Sept
Oct
• Lion of Africa
Open
• Discovery Big
Walk
• Kite Festival
• Diwali Festival
• Military Tattoo
• Mitchelsplain
Festival
Jan
Feb
March
Nov
Apr
Aug
• Switch on of
the Lights
• Blue Flag
Beach Fest
• Reconciliation
Day
• Malay Choirs
• Kite & Windsurf
World Cup
Dec
Event Support
•
Application Process
•
90 days before the Event
•
Guidelines available
Support with a Financial
Transfer Mechanism
• Annual Budget
• Special Events
Committee
Types of Partnerships
Sponsor
Host City
Commercial Partnership
Event Organiser
Coordinator or City Services
Enabler
Support with No financial
Transfer Mechanism
• Letter to the
Executive Mayor
Event Bidding
City may wish to Bid for Events
City will screen for Events and develop a long-term Calendar
Decision making process through Special Events Committee
Responsible Department to budget for the Event in the
applicable financial year.
Event Permit
•
Events Permits are required
•
City Events By-Law
Inter-governmental Coordination
An Information sharing
forum will be established
Event Activities
The following activities occur at Events as part of the
Marketing program:
Hospitality
Ticket Distribution
Guest list and Invitation management
Event Marketing
The following activities may take place in support of events as
part of the financial transfer:
Event Services
• Compliance
with
applicable
Legislation
• Safety at
Events
• Alignment
with Strategic
objectives
Sub-Councils
• Initiates
Events
• Initiates Bids
• Provides
functional
Content
• Project
manages
function
specific
events
City Service Departments
City Hosting Departments
Role of City Structures
• Local support
to Events
• Compliance
with
applicable
laws
Implementation
Immediate upon approval be Council.
Thank You, Dankie, Enkosi
Questions?