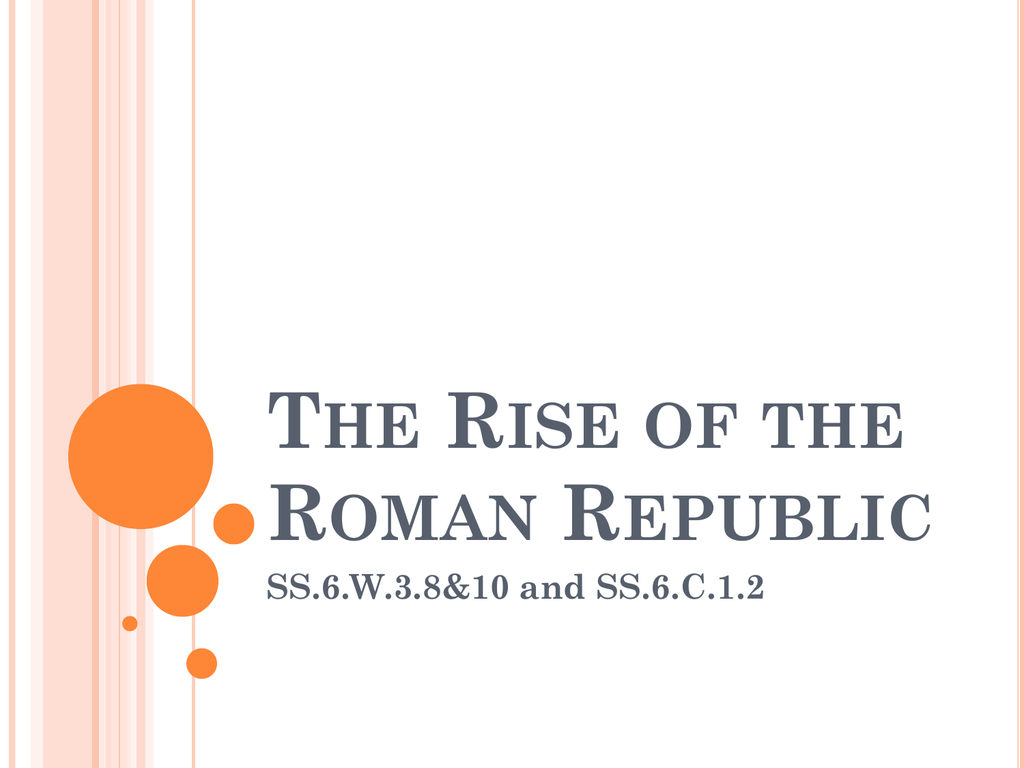 THE RISE OF THE
ROMAN REPUBLIC
SS.6.W.3.8&10 and SS.6.C.1.2
ROME UNDER ETRUSCAN RULE






Between 616 and 509
B.C.E., the Etruscans ruled
Rome.
During this time, Roman
society was divided into 2
classes.
Patricians: upper-class,
usually wealthy landowners
Plebeians: lower-class,
mostly peasants, laborers,
craftspeople, and
shopkeepers
The word plebeians comes
from the plebs, which means
many.
Plebeians made up about
95% of Rome's population.
THE PATRICIANS CREATE A REPUBLIC




Over time, the patricians
came to resent Etruscan
rule, and in 509 B.C.E.,
they revolted and drove
out the last Etruscan king.
They created a republic
where elected officials
work for the interests of
the people.
Most of the power was in
the hands of the Senate,
an elected body of 300
patricians who served for
life.
2 elected leaders, called
consuls, shared command
of the army.
THE PLEBEIANS REBEL



In the early republic,
patricians held all the
power, and because laws
were not written down, they
often changed or interpreted
them to benefit themselves.
Angry over their lack of
power, in 494 B.C.E., the
plebeians marched out of
Rome and camped on a
nearby hill refusing to come
back until their demands
were met.
Without the plebeians, the
patricians feared that the
army would be helpless if an
enemy struck Rome, so they
compromised,
THE PLEBEIANS GAIN EQUALITY





The patricians agreed to let
the plebeians elect officials
called Tribunes of the Plebs.
Other rights came to the
plebeians slowly.
In 451 B.C.E., the plebeians
demanded that laws be
written down so the
patricians could not change
them at will.
In 367 B.C.E., a law was
passed saying that 1 of the 2
Roman consuls had to be a
plebeian.
Finally, in 287 B.C.E., the
plebeians gained the right
to pass laws for all Roman
citizens.