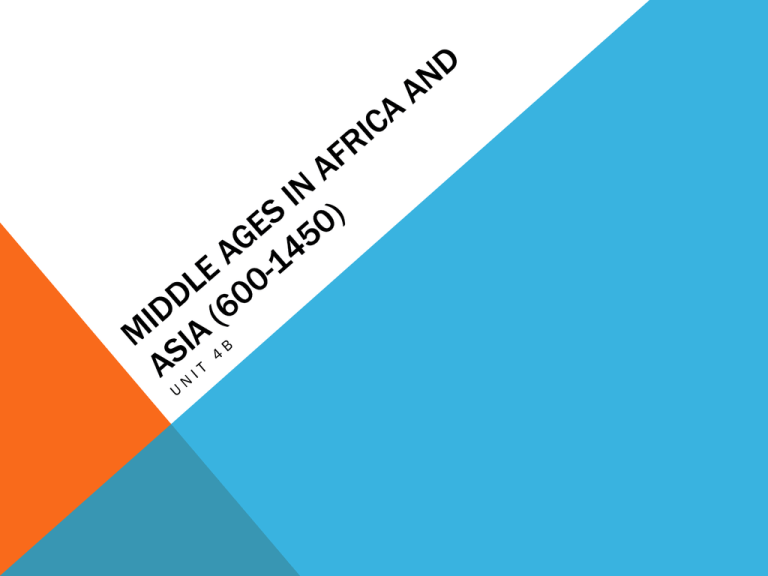 MONGOLS
1. ONE OF THE GREATEST EFFECTS OF MONGOL INVASIONS ON THE
ISLAMIC WORLD WAS WHEN THE MONGOLS CAPTURED BAGHDAD AND
ENDED SELJUK TURK RULE. THEIR CONTROL FELL APART BECAUSE
THEY COULD NOT RULE THE DISTANT REGION, ALLOWING THE OTTOMAN
TURKS TO COME TO POWER.
2. DISTANCE WAS A MAJOR FACTOR THAT LIMITED THE ESTABLISHMENT
OF THE MONGOLIAN CIVILIZATION IN THE MIDDLE EAST.
3. ONE OF THE MAJOR GENERALIZATION ABOUT THE MONGOLS DURING
THE MIDDLE AGES WAS THE SPREAD ACROSS EURASIA TO BECOME
ONE OF THE LARGEST EMPIRES IN HISTORY.
ISLAM
1. GROWTH OF COMMERCE AND TRADE IN EAST AFRICA, NEW ARAB
TRADING SETTLEMENTS EMERGE ALONG THE EASTERN COAST OF
AFRICA, AND NEW LANGUAGE BLENDED FROM BANTU AND ARABIC ARE
THE EFFECTS OF THE SPREAD ISLAM.
2. THE WAYS THAT ISLAM INFLUENCED LAW AND GOVERNMENT IN
MUSLIM SOCIETIES, WERE THROUGH REGULATING FAMILY LIFE AND
BUSINESS MATTERS, REGUIRED A TAX TO HELP THE POOR AND TAX TO
HELP THE POOR.
3. ALGEBRA, MEDICAL ADVANCES AND ASTROLABE WERE DEVELOPED IN
THE ISLAMIC CALIPHATES.
4. MUSLIMS BROUGHT WEALTH TO THE PEOPLE IN ASIA AND NORTH
AFRICA, THROUGH THEIR EXTENSIVE TRADE NETWORK.
ISLAM CONTINUE
5. THE GEOGRAPHIC LOCATION OF THE CALIPHATES AFFECTED TRADE IN
THE INDIAN OCEAN BY CONTROLLING TRADE IN MUCH OF THE
NORTHWESTERN INDIAN OCEAN AND THE ARABIAN SEA.
6. THE PURPOSE OF THE QADIS AND IMAMS IN ISLAMIC GOVERNMENT
WAS TO INTERPRET LAWS.
7. ABBASID CALIPHATE WAS TO BAGHDAD AS WAS FATIMID CALIPHATE TO
CAIRO.
CHINA
1. THE TECHNOLOGICAL ADVANCES THAT BEGAN IN TANG OR MING CHINA
WERE; TRIGONOMETRY, GUNPOWDER AND MAGNETIC COMPASS.
2. KUBLAI KHAN RULED OVER THE CHINESE PEOPLE WITHOUT BRUTALITY
FROM 1279 AND LAYED A FOUNDATION FOR THE PEOPLE HE
CONQUERED IN A GRAND EMPIRE.
RELIGION
1. THE CHARACTERISTICS OF THE RELIGION SIKHISM ARE; KHALSA, THE
FIVE K'S, MONOTHEISTIC AND GURU NANAK DEV.
2. THE MAIN WAY THE SOCIETIES OF ISLAM AND HINDU CAME TOGETHER
DURING THIS ERA WAS THROUGH INVASIONS.