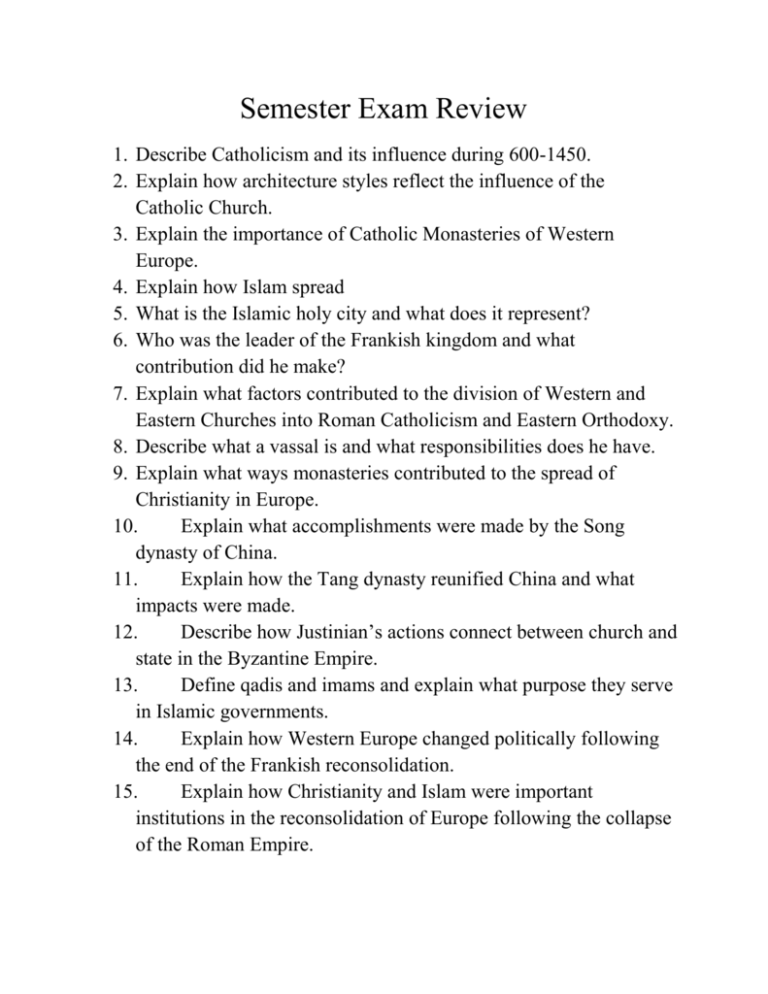 Semester Exam Review
1. Describe Catholicism and its influence during 600-1450.
2. Explain how architecture styles reflect the influence of the
Catholic Church.
3. Explain the importance of Catholic Monasteries of Western
Europe.
4. Explain how Islam spread
5. What is the Islamic holy city and what does it represent?
6. Who was the leader of the Frankish kingdom and what
contribution did he make?
7. Explain what factors contributed to the division of Western and
Eastern Churches into Roman Catholicism and Eastern Orthodoxy.
8. Describe what a vassal is and what responsibilities does he have.
9. Explain what ways monasteries contributed to the spread of
Christianity in Europe.
10.
Explain what accomplishments were made by the Song
dynasty of China.
11.
Explain how the Tang dynasty reunified China and what
impacts were made.
12.
Describe how Justinian's actions connect between church and
state in the Byzantine Empire.
13.
Define qadis and imams and explain what purpose they serve
in Islamic governments.
14.
Explain how Western Europe changed politically following
the end of the Frankish reconsolidation.
15.
Explain how Christianity and Islam were important
institutions in the reconsolidation of Europe following the collapse
of the Roman Empire.
16.
Explain why West African kingdoms like Ghana and Mali
were successful during the Post-Classical period.
17.
Explain how the spread of Islam brought political changes to
Southwest Asia.
18.
Explain how the revivals of Confucian teachings by Tang
leaders affect women.
19.
Explain the common belief held by Jews, Christian and
Muslims.
20.
Explain what feature of Arab policy was used to conquer
peoples facilitated the spread of Islam.
21.
Explain what church teachings followed the golden rules,
pillars of faith, eightfold rituals and holy sacraments.
22.
Explain how calligraphy and arabesques developed as artistic
traditions in the Islamic world.
23.
Explain what Chinese technological innovations contributed
to the spread of goods and ideas from China.
24.
Explain how the advances of the Muslim world preserve for
future generations.
25.
Explain why 1215 is a significant historical year.
26.
Explain what the nobles were required to provide serfs under
the manorial system.
27.
European feudalism. Make a class structure pyramid
showing the three social classes. Explain the role of each.