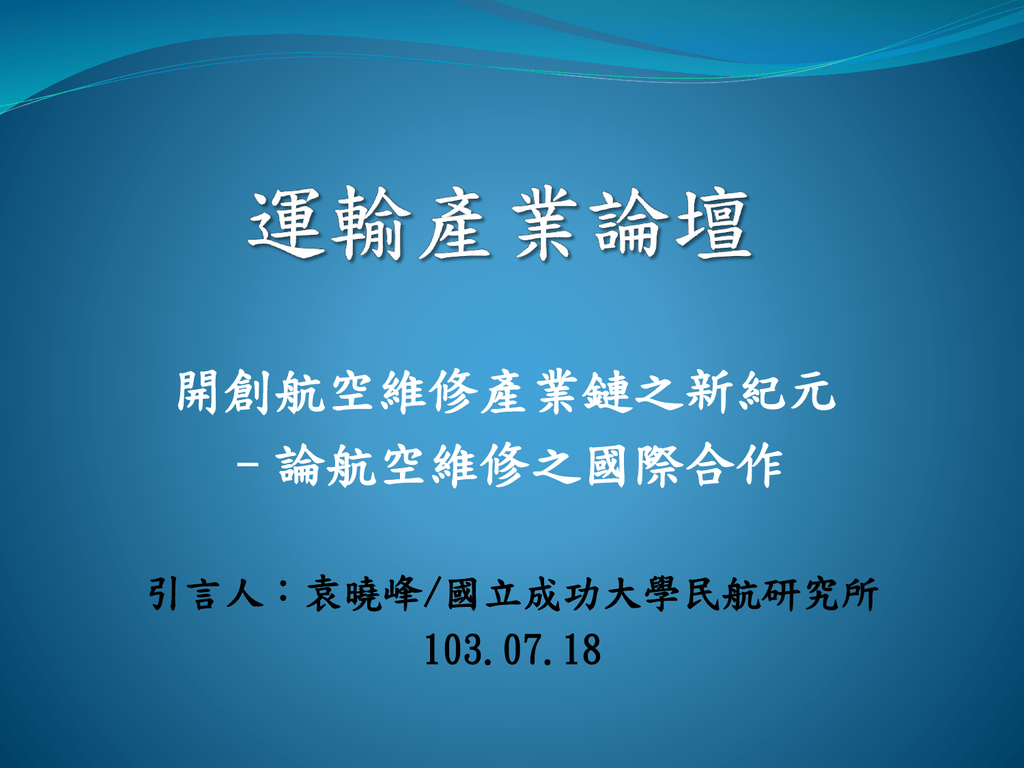 開創航空維修產業鏈之新紀元
–論航空維修之國際合作
引言人:袁曉峰/國立成功大學民航研究所
103.07.18
Present Status
Source:ICF, Boeing
27,000
Source:ICF, Boeing
(Asia / Pacific)
2,400
Source:ICF, Boeing
Single Aisle Aircraft
• Continue to dominate the world's
fleet, including the new 737 MAX
and A320neo airplanes.
• Boeing predicts that "Asia Pacific"
will receive 36 percent of the new
single-aisle airplanes.
• Low-cost carriers (LCC) in Asia
will further expend the outsourcing
market.
Source:Boeing
(Asia)
The 6850 aircraft in 2013 generate an MRO market of $16.4B which
accounts for 28% of global MRO spend ( $59B ), and will raise to
$26.5B by 2022 .
Asia Pacific has the highest
MRO market growth by 2023
Source:ICF, Boeing
MRO's Developing Trend
Engine
Rolls-Royce is strong in
aftermarketing, with 48% of their
fleet covered by their TotalCare or
CorporateCare service offerings.
Pratt & Whitney provides engine
maintenance, material supply
management, and line maintenance
services on a broad range of engine
models.
GE/EVA service center for GE-nx
Manufacturer dominance !!
Source:ICF, Boeing
Source:Lufthansa Technik
Component
• The small and medium widebody
airplane accounts for 45% of the
total world airplane over the next
20 years, including Boeing 787 and
777 and Airbus A350 and A330.
Technology in new aircraft gives
OEMs an opportunity to penetrate
market from high licensing fees
charging by the manufacturer.
Source:Boeing
Where is the niche?
• Single-aisle passenger
airplane maintenance
• Engine repair and
maintenance
• Component OEM
Key:
International Collaboration
What do we have?
• Excellent Geographic Position
• Strong technical capacity
• Relatively low labor cost
• Governmental support?
(official proclaimation; preference on land acquisition,
tax, loan, landing fee, etc.)
Create a value proposition around flexibility and speed,
providing the same quality of service at a lower price.
Thank you for listening!