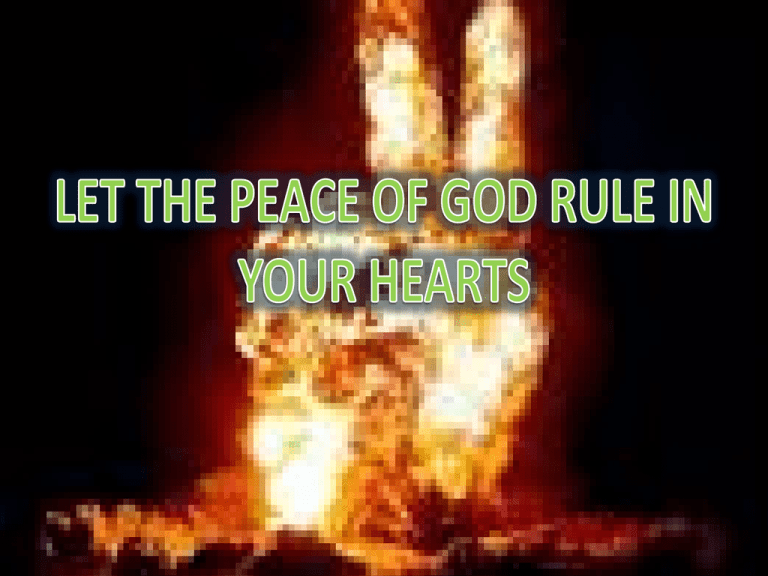 • Joh 14:27 "Peace I leave with you, My peace I
give to you; not as the world gives do I give to
you. Let not your heart be troubled, neither
let it be afraid.
• WHAT ROBS ME OF HAVING PEACE?
• CAUSES US TO BE USELESS.
• Jg 7:2 And the LORD said unto Gideon, The people
that are with thee are too many for me to give the
Midianites into their hands, lest Israel vaunt
themselves against me, saying, Mine own hand
hath saved me.
• 3 Now therefore go to, proclaim in the ears of the
people, saying, Whosoever is fearful and afraid, let
him return and depart early from mount Gilead.
And there returned of the people twenty and two
thousand; and there remained ten thousand.
• Re 21:8 But the fearful, and unbelieving, and
the abominable, and murderers, and
whoremongers, and sorcerers, and idolaters,
and all liars, shall have their part in the lake
which burneth with fire and brimstone: which
is the second death.
• Joh 14:1 ¶ Let not your heart be troubled: ye
believe in God, believe also in me.
• GUILT IS PRODUCED BY THE REALIZATIONTHAT
WE HAVE SINNED. ROM 3:23, 1 JN 3:4, 5:17.
• GOD HAS GIVEN US GUILT TO HELP US BE
AWARE OF SIN. LK 15:17-18.
• TRAGICALLY MANY DO NOT FEEL BIBLICAL
GUILT BECAUSE THEIR HEARTS ARE
HARDENED.
• JESUS GIVES THE ANSEWER.
• 2Co 5:21 For he hath made him to be sin for us, who knew no
sin; that we might be made the righteousness of God in him.
• Ro 5:6 ¶ For when we were yet without strength, in due time
Christ died for the ungodly.
• 7 For scarcely for a righteous man will one die: yet
peradventure for a good man some would even dare to die.
• 8 But God commendeth his love toward us, in that, while we
were yet sinners, Christ died for us.
• 1Jo 4:9 In this was manifested the love of God toward us,
because that God sent his only begotten Son into the world,
that we might live through him.
• 10 Herein is love, not that we loved God, but that he loved
us, and sent his Son to be the propitiation for our sins.
•
•
•
•
•
•
REMISSION-MT 26:28
REDEMPTION 1 PETER1:18-19
JUSTIFICATION ROM 5:8-10
RECONCILIATION 2 CO 5:14-18
SALVATION EPH 2:1
HOWEVER WE MUST RESPOND TO GOD'S
SAVING HAND.
•
•
•
•
•
•
•
IF YOUR NOT A CHRISTIAN
BELIEVE JN 3:16, 8:24
REPENT ACTS 3:19, 17:30-31
CONFESS FAITH IN JESUSROM 10:9-10
BE BAPTISED ACTS 2:38, MK 16:16
THEN WHEN WE SIN
REPENT ACTS 8:22, CONFESS 1 JN 1:8-9, JAMES
5:16, AND PRAY, ASKING GOD TO FORGIVE HIM
LK:11:10, ACTS 8:22-23
• Ps 103:12 As far as the east irom the west, so far hath he
removed our transgressions from us.
• Heb 8:12 For I will be merciful s fto their unrighteousness,
and their sins and their iniquities will I remember no more.
• 1Ti 1:12 ¶ And I thank Christ Jesus our Lord, who hath
enabled me, for that he counted me faithful, putting me into
the ministry;
• 13 Who was before a blasphemer, and a persecutor, and
injurious: but I obtained mercy, because I did it ignorantly in
unbelief.
• 14 And the grace of our Lord was exceeding abundant with
faith and love which is in Christ Jesus.
• 15 This is a faithful saying, and worthy of all acceptation, that
Christ Jesus came into the world to save sinners; of whom I
am chief.