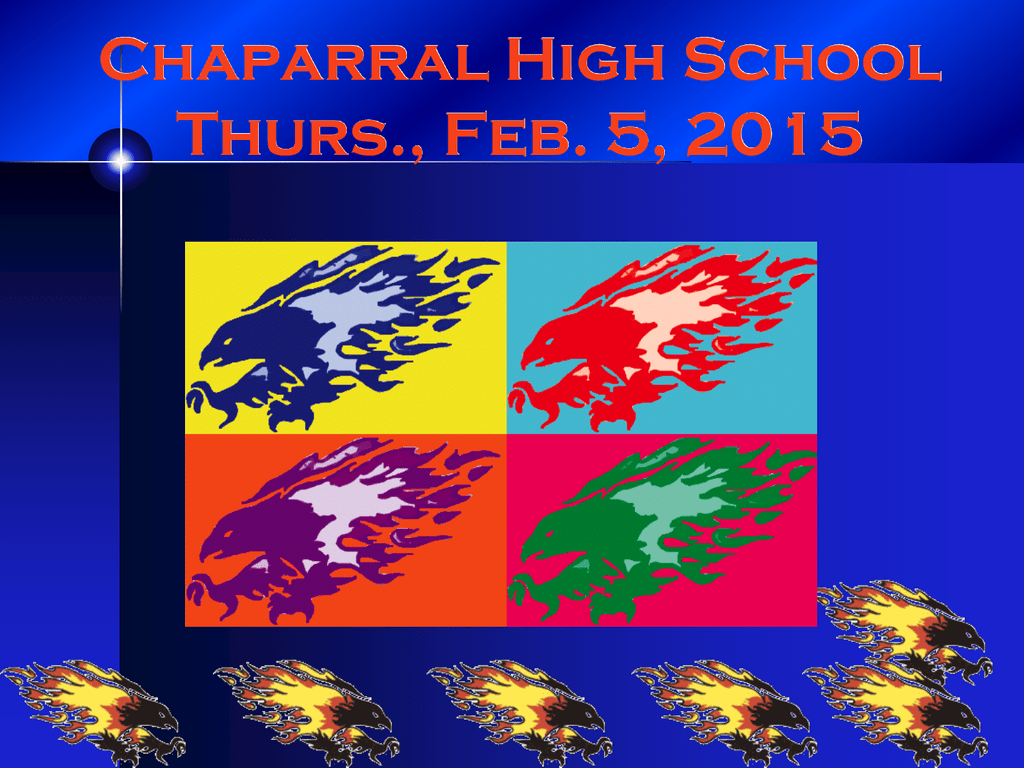 Chaparral High School
Thurs., Feb. 5, 2015
Informational Meeting
for Girls Sand
Volleyball Meeting in
J600 today Thurs., Feb.
5th, @ 2:30 pm
Do you have tests on
Friday in your math or
science class? Maybe you
don't have a test but you
need help! Either way,
come for free tutoring –
… YES, that's free
tutoring by students in
any Math or Science.
Today, Thurs., during 5th
lunch and after school in
room E212, Ms. Hecht's
room.
Final regular season
basketball game
"Senior Night" is
tomorrow, Fri., Feb. 06
- HOME vs Pinnacle
All girls and boys trying out
for tennis, your green cards
are due to coach LeDuc and
Alcott by Friday, Feb. 6th.
Make sure to get all your
forms turned into the office.
…
…Girls try-outs will begin
Monday Feb. 9th @ 2:40 on
the tennis courts.
Boys try-outs will begin
Tuesday, February 16th @
2:40 on the tennis courts.
International Club is
collecting elementary
school supplies for our
Sister City, Alamos,
Mexico. Needed are:
pencils, erasers, paper,
crayons & glue!...
…The box is in the
library. Note
NEW deadline: Tue.,
Mar. 31! Please!
Please! Please
donate supplies!
A Cinderella Affair…will be
accepting New and gently used prom
dresses, wraps & costume jewelry.
This organization helping to make
prom affordable for all Phoenix Area
high school Junior and Senior girls.
They are invited to a boutique in the
spring where they shop for a dress
and accessories for free…
…There will be 2 donation
boxes on the grounds for the
month of Feb. Please help
every girl feel like a princess
this year and donate. YOU
can make a difference. Tax
donation slips are available on
the boxes.
SENIORS! The Scottsdale
Community College Open House
Tour is Fri., Feb 20, 9:30-1 pm.
Learn about exciting
academic/career opportunities.
Transportation & lunch
provided. To reserve your spot,
sign up by Fri., Feb. 6 in College
& Career Ctr.
Imagine having a fun, highpaying job that lets you use your
creativity to make people look
good! EVIT is currently
accepting applications for their
fall Cosmetology program. See
your counselor for details.
Not sure what you want to do
after high school, sign up in the
guidance office and take the
ASVAB test on Tue., March 3rd
at 7:45 am in J600. The ASVAB
is the most widely used multipleaptitude test battery in the
world. …
… As an aptitude test, the
ASVAB measures your
strengths, weaknesses, and
potential for future success. The
ASVAB also provides you with
career information for various
occupations and is an indicator
for success.
ALL students going on the
California Museum/ Disney
trip must attend a brief lunch
meeting in Warner's room
G206 Fri., Feb. 4th. If you
don't have a lunch just stop
by sometime Friday.
Travel to Costa Rica during Spring
Break 2016! Mr. Leinwohl is
running his Costa Rica adventure
again! YES That's 2016, just about
a year from now. Zip-line through
the rain forest, relax on the beach
after hiking on a volcano, fall
asleep to the sounds of howler
monkeys in the trees!
…Reserve your space before
this incredible ecology trip to
Costa Rica is filled!
See Mr. Leinwohl in F-120 for
more information. Family
information meeting on
Thursday, 2/19/2015 at 6 PM in
Mr. Leinwohl's room.
Remember everyone
DRIVE SAFELY
and
ALWAYS Buckle up!