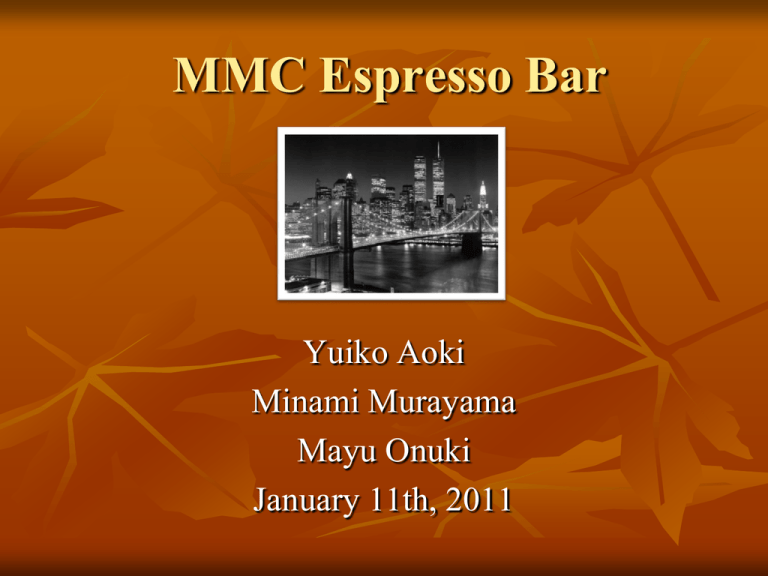 MMC Espresso Bar
Yuiko Aoki
Minami Murayama
Mayu Onuki
January 11th, 2011
Agenda







About MMC Espresso Bar
Communication styles
Religious/ethnic differences
Work practices & work space
Suggestion for interviews
Study training
Application
About MMC
Espresso Bar
Communication Styles
<American Staff>
 Result is good
 Honest
 More words better
 Express your idea
 Self explanatory
<Japanese Staff>
 Hou-Ren-Sou
 "Yes man"
 Vague
 Read between the
lines
Religious/Ethnic Differences

Sensitivity to religious or ethnic differences

We are flexible to religious and national
holidays such as Christmas, O-Bon(お盆),
Chinese New Year, etc.
Work Practices & Work Space





Differences between Japanese and
foreign work practices and the
organization of work space
Cubicle work spaces
Leave office at 17:00p.m. sharply
No work on weekends and no overwork
time
Free dress code
Suggestion For Interviews






How to make the best impression at an
interview with a Western interviewer
Eye contact
Do not be vague
Punctuality, be on time
"Thank You" and letters
Dress codes
Study Training

How to be aware of the various meanings
that touch, posture and gesture, timing
and pace, tone of voice, facial expressions,
and eye contact have for people of
different culture

We will hold a study training at the
beginning of the year
Application

Please log-in to our website and we will
give out employment notice
http://www.mmc-espresso-bar.com
Thank You For Listening!