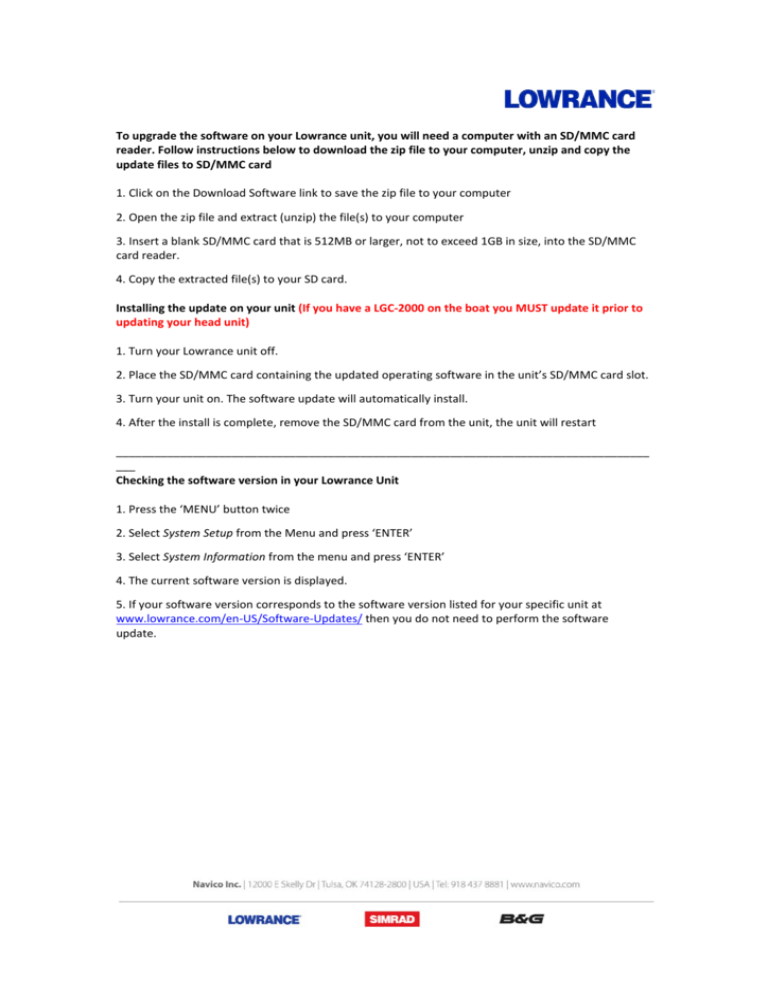 To upgrade the software on your Lowrance unit, you will need a computer with an SD/MMC card
reader. Follow instructions below to download the zip file to your computer, unzip and copy the
update files to SD/MMC card
1. Click on the Download Software link to save the zip file to your computer
2. Open the zip file and extract (unzip) the file(s) to your computer
3. Insert a blank SD/MMC card that is 512MB or larger, not to exceed 1GB in size, into the SD/MMC
card reader.
4. Copy the extracted file(s) to your SD card.
Installing the update on your unit (If you have a LGC-2000 on the boat you MUST update it prior to
updating your head unit)
1. Turn your Lowrance unit off.
2. Place the SD/MMC card containing the updated operating software in the unit's SD/MMC card slot.
3. Turn your unit on. The software update will automatically install.
4. After the install is complete, remove the SD/MMC card from the unit, the unit will restart
___________________________________________________________________________________
___
Checking the software version in your Lowrance Unit
1. Press the 'MENU' button twice
2. Select System Setup from the Menu and press 'ENTER'
3. Select System Information from the menu and press 'ENTER'
4. The current software version is displayed.
5. If your software version corresponds to the software version listed for your specific unit at
www.lowrance.com/en-US/Software-Updates/ then you do not need to perform the software
update.