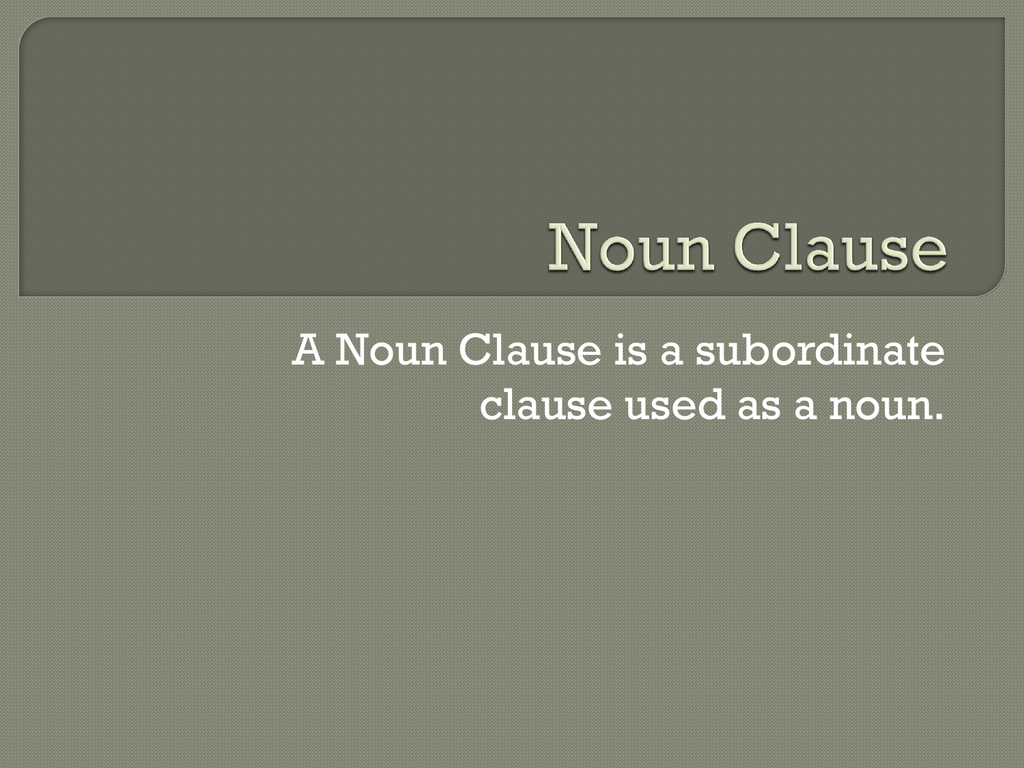 A Noun Clause is a subordinate
clause used as a noun.
1.
2.
3.
As a Subject
As the Object of the Preposition
As a Compliment
1. Predicate nominative
2. Direct object
3. Indirect object
What Mary Anne did was brave and
earned her praise from everyone.
The entire Noun Clause comes before the
main verb or predicate of the sentence
and is therefore the Subject of the
sentence.
He checks the ID cards of whoever visits.
The Noun Clause follows a Preposition.
The winner will be whoever runs fastest.
The entire Noun Clause follows the main
verb or predicate of the sentence and is
therefore called the "noun in the
predicate" or Predicate Nominative. It
explains the subject of the sentence.
She finally discovered what the answer
was.
The entire Noun Clause in this sentence
follows the verb and does not refer to the
subject of the sentence. In this case, the
Noun Clause receives the action of the
verb or shows the results of the action. It
answers "Whom?" or "What?" after the
action verb.
The clerk should tell whoever calls the sale
prices.
A Noun Clause will begin with one of the following
eight words.
1.
2.
3.
4.
5.
6.
7.
8.
That
What
Whatever
Who
Whoever
Whom
Whomever
How
*Note that some of these words are the same as
Adjective Clause signal words.
1.
We moved to Massachusetts and did not
know what we would find there.
2.
What surprised me first were the
yellowish green fire engines.
3.
I had thought that fire engines were
always red.
4. Our neighbors said that this color kept
the fire engines from being confused
with other large, red trucks.
5. My sister Michelle made another
discovery at the bowling alley.
6. The grapefruit-sized bowling balls with
no holes weren't what she was used to!
7. Whoever can knock down the pins with
one of those bowling balls must be an
expert.
8. We learned that this sport is called
candlepin bowling.
9. Later on, I was pleasantly surprised by
the delicious baked beans.
10. Someone should give whoever
invented Boston baked beans an award.
11. Now, after we have lived in New
England for a year, both Michelle and I
are happy in our new home.