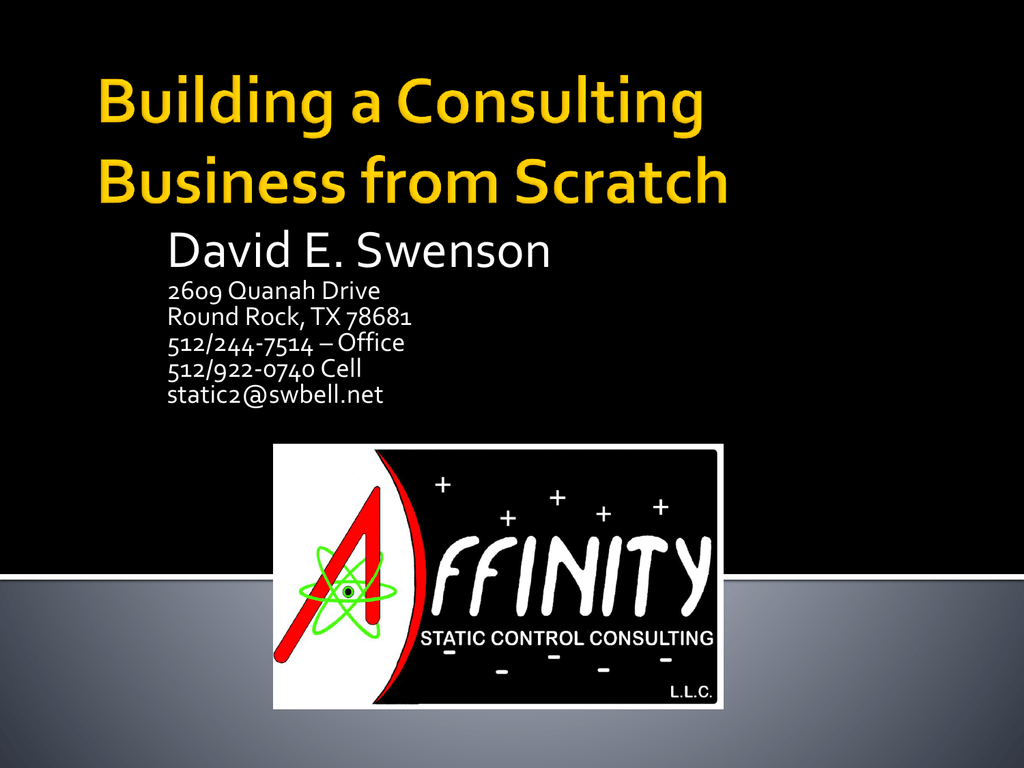 David E. Swenson
2609 Quanah Drive
Round Rock, TX 78681
512/244-7514 – Office
512/922-0740 Cell
[email protected]

One who gives professional advice or services
 Not always considered a good thing but the service
provided may be important and save a client lots of $$

Generally an independent contractor
 But can be associated with a larger group

The advice or service provided is not available
within the organization – or at least not a price
they want to pay (time and money)
 This is important to understand – the potential client
would not be talking to you if they did not need
something you can provide – it also helps to establish
what you can charge

First question:
 Do you have a regular paying job?
 Keep it as long as you can.

Second Question:
 Do you have an expertise that is in limited supply
in the market area you intend to work in?
▪ If not, try to keep the regular job as long as you can

If you want to become a consultant, will you
be in competition with your current or recent
employer?
 Are you intending to do work that is similar to




what you were doing for an employer?
Will they help you or give you assistance?
Send you work?
Give you leads?
Sue you for breach of contract or breach of a
confidentiality agreement?

Is your consulting idea outside of or different
than what you are doing now?
 What is the basis of your expertise?
▪ A passion or hobby that you know well?
 Do you have credentials to support your expertise?
 Are you going to continue your education in order
to obtain expertise and possible credentials?

Forming a consulting company
 Sole Proprietorship
 Corporation
 Partnership
 LLC

Might need help from an attorney and an
accountant to establish your company
 You can do this yourself if you want to spend the
time (it will be lots cheaper)

Establish a banking account
 Separate from your personal account(s)
 Learn "Quick Books" or some other accounting program

Obtain an Employer Identification Number (EIN)
 Prepare a W-9 to give to your clients


Obtain a number from Dun & Bradstreet
Obtain a CCR –Central Contractor Registration
(for government work https://www.bpn.gov/ccr/ )
 CCR registration is stopping the end of May 2012
 SAM number replaces it – System for Award Management

Long time dream to be my own boss
 Or nearly so –
 Work for wife – she is the CEO

Until this consulting business started I
didn't know I needed supervision 24/7



Able to retire during a downsizing effort at
3M
Able to continue work in an area that was
part of my normal routine
Continuing involvement in a US industry
association for over 30 years – served as
president and many other positions
 Well known in small industry
 Helped develop multiple industry standards

Even being well known in an area or (small)
industry does not guarantee instant success:
 Known in a small circle but (as I found out) not so
well outside of that circle
 Most business comes from outside of the known
circle
 The inner circle does help with referrals

Creates a need to become known to a
broader audience

Web Site is critical
 Becoming or staying "published" helps to keep
your name up on search engines

Other Social Media
 May work for you – depends on who you need to
reach

Advertising
 Depends on what you need to push
 Use media that reaches the intended audience



Brochures
Business Cards
Industry events
 Trade shows
 Conferences
 Panels
 Industry Associations – get involved






Prepare operational plans for a facility to
control static electricity in their processes
Conduct audits to 2 industry standards (US
and International)
Material testing
Process troubleshooting
Training
Expert witness

Hopefully an inquiry to your consulting firm
will result in a request for a formal proposal or
quote:




Introduction
What you intend to do for the client
When you can deliver
How much it will cost
▪ including an itemized list of anticipated expenses with a
clause to allow revision if expenses change – airfare
 Your company terms

Establish a file for each client or potential client:
 Much of the work you get may well be repeat business
so treat your customers well – you want them to
come back to you
 Prepare reports like you are writing a best seller
▪ Reports reflect directly on the amount of care you have put
into the work you have done
▪ Be sure of the facts, figures, charts, graphs, calculations,
details and terminology in all reports
▪ Have someone else read all reports to assure clarity and accuracy –
including spelling and structure


Maintaining customer records is important
Keeping track of expenses is critical
 You need to deduct all you can legally deduct

Keeping up with your income and taxes will
(maybe help) keep you out of jail

No matter what your consulting job consists
of you will need some form of workspace:







Office facility – desk, storage and file cabinets
Computer(s)
Printers
Fax (maybe not, but still comes in handy)
Phone system
Copier
Vehicle?



Workshop?
Lab?
Technical equipment?

Best to separate from your living space if you
can (keep peace in family)

Can you find out what others in similar
businesses charge?
 Without violating any laws!

Will you have multiple rates for different
activities?
 Sometimes necessary to reduce a standard rate to
get certain work
 Charging for travel time seems objectionable to
most clients

Hourly or daily rates
 Need to establish both

Managing travel costs
 Depending on your business, travel is a burden to
most clients
 Keep good records of all travel expenses and get
reimbursed for all that you can – direct deduction

Prepare invoices as soon as possible after
work is completed
 Make sure you find out the proper way to submit
invoices for each client
 Find out normal payment time for each client so
you know when to expect payment
 Love your clients that pay quickly
▪ There are many that take a long time to pay ( it is very
tough when the payment time is over 45 days)
▪ Your expenses will be due before you get paid

Keep a separate folder for all payments
received
 Makes it easier at Tax time

Keep a separate folder for your travel
expenses
 Same reason

Keep track of other business expenses and
deductions monthly
 Keep yourself reimbursed
Additional form used for office Expenses

Be prepared for total immersion
 Be prepared to work longer hours than you ever
did when you were working for a paycheck
 Be prepared for less time off
 Be prepared to enjoy work more than
ever before

Establishing a consulting business is
incredibly rewarding
 You will be busier than you have ever been in your
life if you are fortunate
Any Questions?