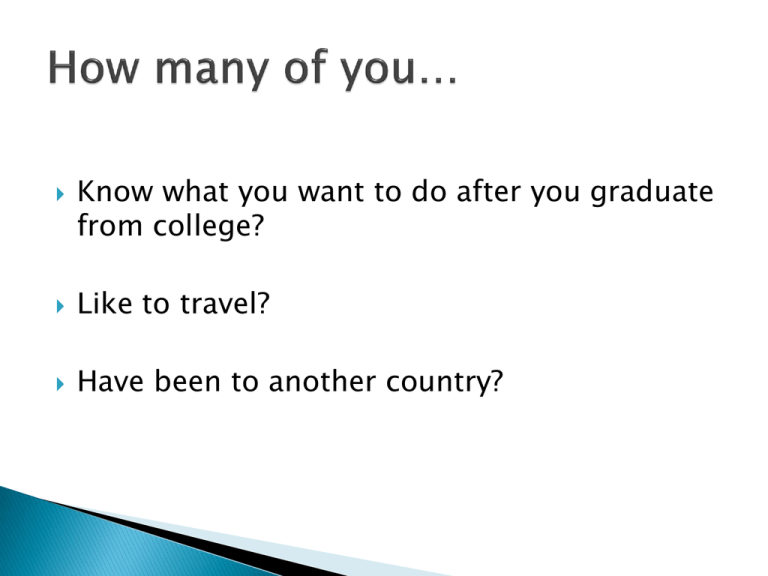 
Know what you want to do after you graduate
from college?

Like to travel?

Have been to another country?


Would like the opportunity to fly to work each
week?
Knew there were jobs where you could to fly
to work each week?

Know anyone who is a "Consultant"?

Understand what a 'Consultant' actually does?
Global Consulting
Michael J. Vasicek
May, 2014

Northwood University graduate
◦ MBA: Business Management
◦ BBA: Business Management

Global Consultant
◦ Accenture

Traveled to 32 countries
◦ Global Entry, Sky Priority, 68 Passport Stamps, 6 Visas

Giving professional advice

A firm or person with expert
knowledge/resources to execute a role or
division of business

Consulting is across all fields of business
◦ Software, Six Sigma, Accounting, Cooking, Interior
Decorating, etc.
Just to name a few…

Accenture

McKinsey & Company

IBM

Deloitte

Tata Consulting Services

KPMG

Back Office Associates

Bain & Company

Judge Group

PwC

Ernst & Young

The Boston Consulting Group

Working with an international client

Providing professional advice at an
international level

Traveling to foreign sites to provide on-site
support and management

Relocating under a Work Visa or Work Permit

Becoming a expatriate

Complete a degree in your field of interest

Get as much work experience as you can

Become a SME (subject matter expert)

Network and identify key individuals
◦ People who work at Fortune 500 firms
◦ People who work for major consulting firms

Build relationships
◦ Ask for entry level positions

Worked full-time during my college tenure

Heavily involved in the community
◦ Community Business Committees
◦ Non-Profit Board of Directors
◦ Volunteered often

Attended business conferences, Chamber of
Commerce events, etc.

Recruited by an Accenture Manager

Campus Speakers/Events

DECA or similar organizations
◦ Attend conferences/workshops

Community Committees
◦ MDBA – Midland Downtown Business Association
◦ MyPros – Midland Young Professionals
◦ Bay City Players Marketing Committee

Board of Directors
◦ Bay City Players

Quickly became an SME in my area of work

Asked for additional work

Drafted proposals for work efficiency changes

Offered assistance where issues arose

Asked for travel opportunities

Management Consulting
◦ Project Management
 Served on 9 Projects

Global Testing SME/Data Project Manager

International work experience:
◦ Brasil, China, India, The Netherlands and Belgium

Certifications
◦ SAP Bootcamp
◦ ISTQB – Global Testing Certification
Michael J. Vasicek 王思科
vasicekmj@yahoo.com
+1 989 859 4341
www.linkedin.com/in/michaelvasicek
Become Global, Not Just Local.