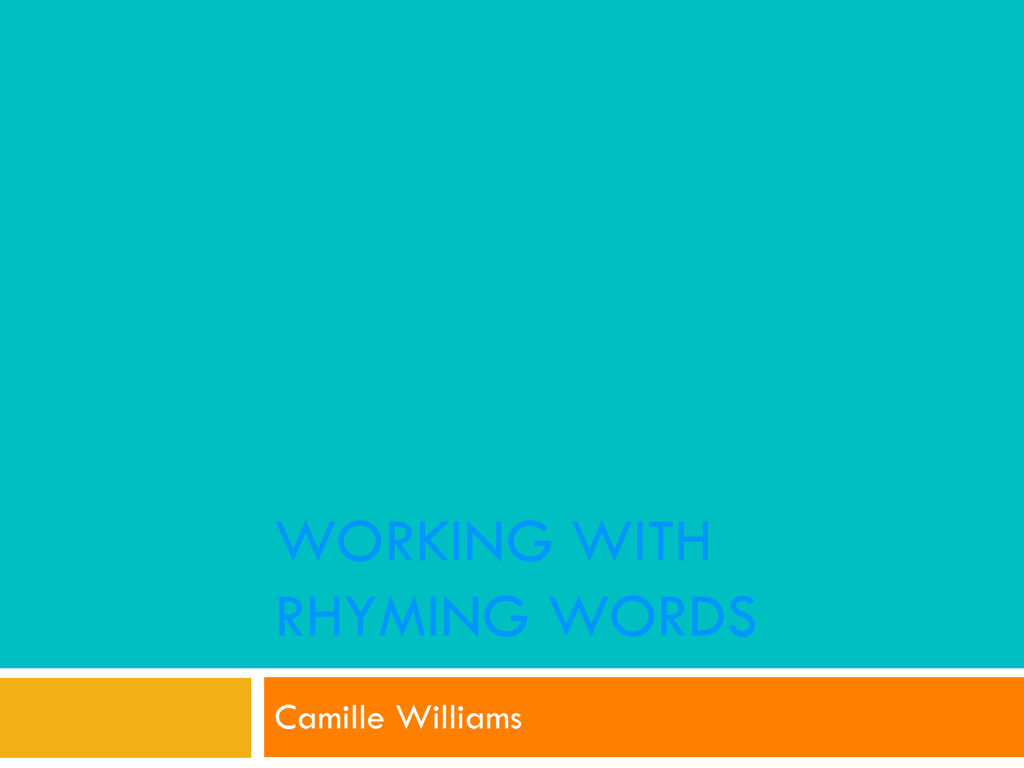 WORKING WITH
RHYMING WORDS
Camille Williams
CLICK THE SUN TO
CONTINUE THE QUIZ
http://1.bp.blogspot.com/_qGVu72kMvmM/S824bAPJLo
I/AAAAAAAAA7Q/iwPl3g_1IGo/s400/SunCartoon%2B(
1).jpg
PICK THE PICTURE THAT RHYMES
WITH THE WORD AT THE TOP
OF THE PAGE
CAT
http://fc02.deviantart.net/fs47/f/2009/196/5/6/
Cartoon_bat_by_Sephiroth6969.jpg
http://icons.iconarchive.com/icons/fasticon/nature/256
/Blue-Flower-icon.png
TREE
http://dclips.fundraw.com/zobo500dir/bee3_mimoo
h_01.jpg
http://ed101.bu.edu/StudentDoc/current/ED101sp1
0/firstof7/images/cartoon%20fish%202.jpg
DOG
http://www.monkey-pictures.net/monkeycartoon.jpg
http://www.howtodrawguide.com/wpcontent/uploads/image/how-to-draw-animals/draw-afrog/howtodrawafrog-4.jpg
KING
http://www.clipartguide.com/_thumbs/13
86-0904-2517-3825.jpg
CORRECT!
KING
RING
I'M SORRY, TRY AGAIN!
KING
DOES NOT RHYME WITH
EGG
HERE IS A CHART OF THE RHYMING WORDS WE
WORKED WITH
THIS WORD RHYMES
CAT
TREE
DOG
KING
WITH THIS WORD
BAT
BEE
FROG
RING
YOU DID GREAT!
TRY AND THINK OF SOME MORE RHYMING
WORDS WE CAN WORK WITH!