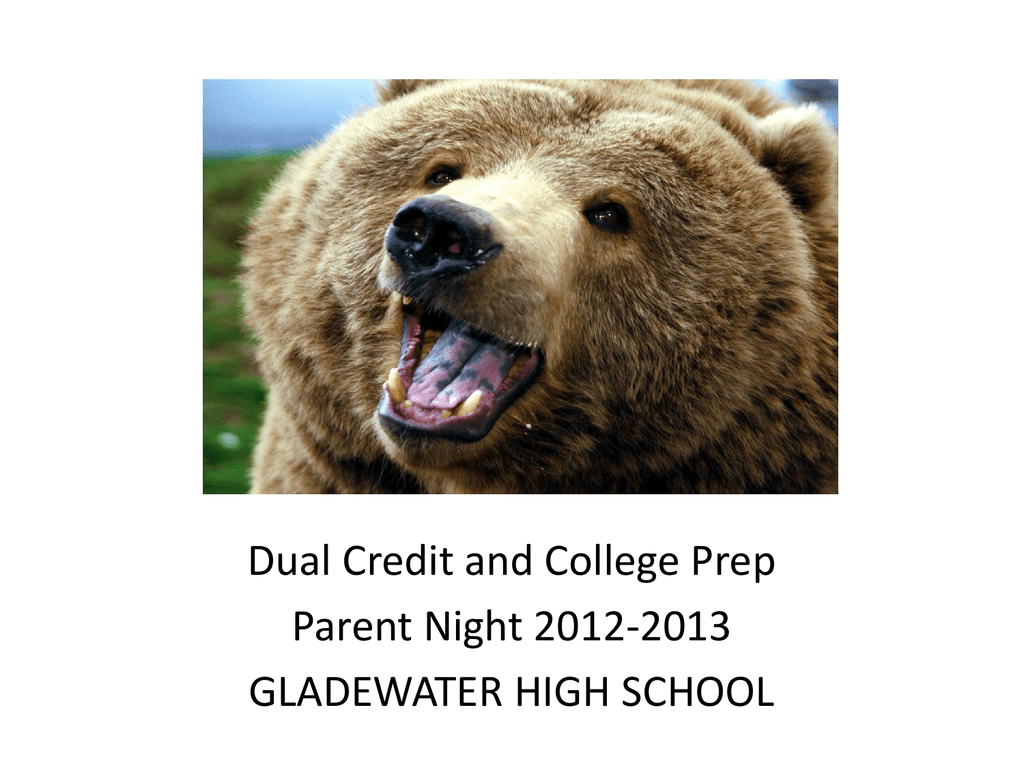 Dual Credit and College Prep
Parent Night 2012-2013
GLADEWATER HIGH SCHOOL
Dual Credit
• Dual Credit means taking a college class and
receiving high school and college credit for the
class.
• Students may take academic and/or career and
technology dual credit classes.
• Students can take dual credit courses to meet
Distinguished Achievement requirements, to get
ahead in high school, to get ahead in college or
for many different reasons.
Dual Credit
• Students must make a 70 or better to receive
COLLEGE credit for a dual credit course.
• Students will receive high school credit ONLY
for a D (60-70) in a dual credit course.
• Failure to maintain a C (70 or above) will
result in a schedule change into a high school
course for the second semester.
• A, B or better (80 or above) is required for the
Distinguished Achievement Program.
Students must have FOUR advanced
measures.
Dual Credit Transfer
• State supported colleges and universities in the
state of TEXAS must accept dual credit courses if
the student makes a 70 or above.
• However, sometimes the student has taken a dual
credit course that is not required for her major.
In this case it will count for an elective.
• Private colleges should be contacted by the
STUDENT to inquire about dual credit transfer.
Eligibility Requirements
• To take a course as a senior, students must
simply meet the college entrance
requirements.
• To be eligible as a junior, student must have a
GHS GPA of a 90 or above AND meet the
college entrance requirements.
• In addition, ALL Kilgore College students must
have a current (within 5 years) Meningitis
vaccine.
Eligibility Requirements
• TAKS test: 2200 or better on English and math
with a 3 or better on the essay OR
• Quick THEA or ACCUPLACER
• Seniors not taking dual credit but going to college
after high school have the same requirements for
attending a Texas college, university or technical
college. Even if you are THEA exempt you may
have to take a placement exam for math
placement. Contact your college for additional
information.
Eligibility Requirements
• Students taking summer school courses or
WEB courses must plan to take the Quick
THEA, THEA or Accuplacer at Kilgore College
this spring. We will not get TAKS Scores back
in time to register students for the courses.
Classes will likely be full before TAKS courses
come in.
• Fall semester courses offered on our campus
can wait for TAKS scores.
Courses for Juniors
• U.S. History 1301 and 1302 and Music
Appreciation and Govt 2306
• These classes are offered in the GEDCO
building on alternating days.
• It is suggested that students take both classes
each semester, but not required.
• If students do not take both courses each
semester they must pair the class with
Reading Applications and Study Skills.
Courses for Seniors
• English 1301 and 1302 and Govt 2305 and HGD
• English, Government and HGD are at the GEDCO
building on alternating days.
• Students may pair dual credit and advanced
classes.
• Students who do not pair two dual
credit/advanced courses must pair their one
course with Reading Applications and Study Skills.
Other Courses
• Statistics is available as a Web course. Students
enroll as in a GHS course for the fall semester.
They are prepared for the course by a GHS
teacher. Students enroll in the KC class second
semester and are facilitated by a GHS instructor.
Success has been high for this course. Students
must meet requirements for KC before school
starts in August. KC tuition is required second
semester and a textbook is required first
semester.
Other Classes
• Environmental Science, Environmental Biology,
Astronomy, Psychology, Sociology, College
Algebra and Trig are also available as Web
courses. Students will list Dual Credit Course 1 or
2 as their course for their schedule. We assign
them to a GHS teacher for that class period. They
have time during the school day to work on the
course. It is ultimately up to the student to
monitor their progress and complete their work
for the course.
Other Courses
• Students may, of course, take any courses
available at Kilgore College, with approval
from the GHS Counseling/ Principal office.
• These courses may be taken as web courses or
students may go to a Kilgore College campus
to take the course(s). This includes summer
courses.
Career and Technical Dual Credit
Courses
• Students may also take Welding and Auto
Mechanics. Occasionally Welding is offered at
GHS. However, it is usually necessary for our
students to travel to KC to take these courses.
• Welding is a two hour course and Auto
Mechanics is a four hour course.
• These courses are a little more expensive than
traditional college courses.
COST
• Cost for Dual Credit courses for the fall
semester for in district students is $115 for
regular courses. There is an additional fee for
web courses and for lab fees. Kilgore College
has the right to raise tuition.
• Students are responsible for purchasing their
textbooks.
• Transportation is the responsibility of the
student if the class is not offered at GHS.
ADDITIONAL INFORMATION
• Students who are planning to take summer dual
credit courses and/or web courses in the fall
should plan to take the THEA or ACCUPLACER as
soon as possible. We will not get their TAKS
scores back in time to get them registered for
their classes before they fill up.
• Students taking courses on the GHS campus in
the fall can wait on TAKS scores.
To Register
• The first step in registering for dual credit
courses is to apply for admission. Students
who are currently enrolled in a dual credit
course do NOT have to reapply.
The Application
• Go to Kilgore.edu
• Complete the Apply Texas application
• You will have to create an account first. Please
make sure that you remember your log in and
password.
• Step 2 is to complete the application.
• Remember that this is a two step process and
will take about an hour.
Early Admission Form
• You must complete an early admission form
for EACH semester, summer 1, summer 2, fall
and spring (we will complete spring in
November).
• Course names and codes are on the Kilgore
website (Kilgore.edu). Go to available courses
to search. Turn this form in to your counselor.
This is what actually gets you registered.
Meningitis Vaccine
• You must provide proof of a Meningitis
Vaccine within the last 5 years in order to
enroll in college in the state of Texas. This will
start for dual credit students this summer.
Your Receipt
• Once Kilgore College has received your
application, your early admission form, has
validated that you have met your testing
requirements and has proof that you have taken
your meningitis vaccine, they will send you a
receipt in the mail for your courses.
• YOU ARE NOT ENROLLED UNTIL YOU PAY FOR
YOUR CLASSES. If you do not pay by the deadline
you will be taken out of your classes and will have
to re-enroll. You may loose your place in web
classes.
Payment
• You may go to the Business Office at the Kilgore
or Longview campuses to pay.
• You may also pay by credit or debit card online at
Kilgore.edu.
• Go to Campus Connect. Your log in is your social
security number and your password is your birth
month and date (unless you have changed it). Go
to Student Information, Review Account and Pay
by FACTS.
Remember
• You must make a B or better for Distinguished
Achievement.
• You must purchase your books.
• If you do not pay by the deadline you will be
taken out of the class and will have to reenroll.
Remember
• These are college classes. They require
STUDYING. Students should expect to attend
class, do work and study. If they do not do so,
they can expect a poor or failing grade.
• Dual credit grades, like regular college grades
remain on the college transcript forever.