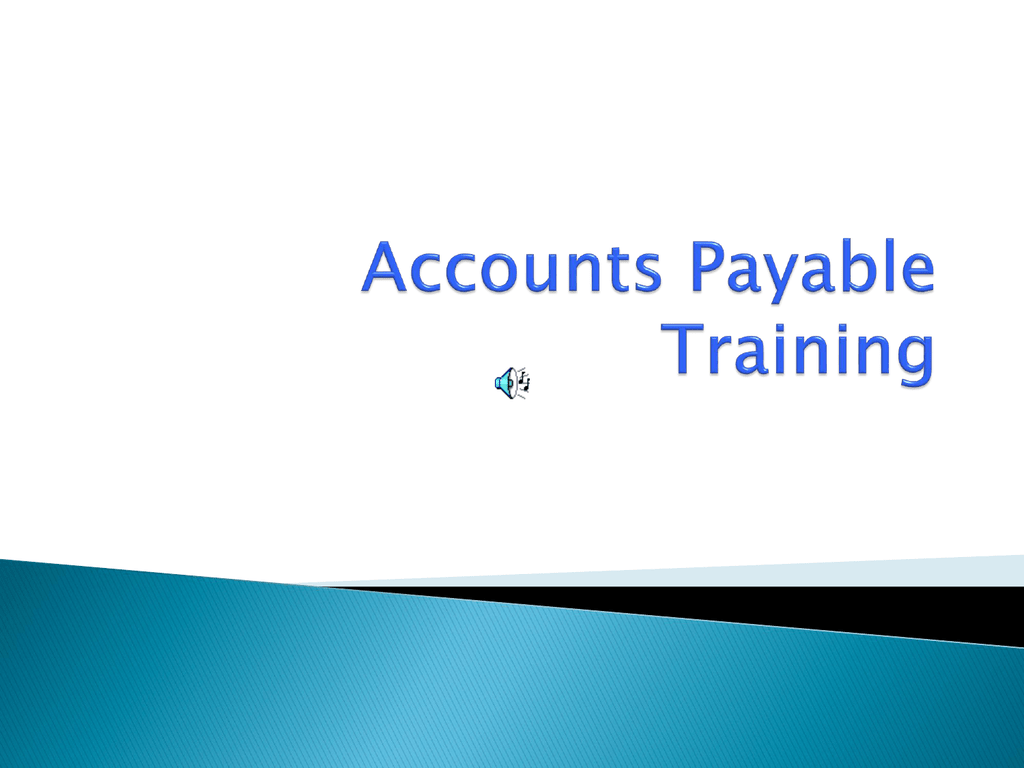 Marcy A. Flores
Assistant Comptroller & Director of Accounting
[email protected]
Ext. 4192
Judy Murdoch
Accounts Payable Specialist III
[email protected]
Ext. 3951
Vilma Castillo
Property Management
[email protected]
Ext. 2713

Funding Sources

Purchasing Guidelines

Expense Object Codes

Controlled & Capitalized Object Codes


State - Education and General (E&G)
Local – Student Fee Accounts
Indirect Cost Accounts
Local Accounts (all others)
Restricted Accounts

Account Numbers
Range (1xxxxx – 19xxxx; 87xxxx – 879999)

Voucher Numbers
Begin with zero

Strict Guidelines
State guidelines and law must be followed
and show direct benefit to the University

Account Numbers
Range (2xxxxx, 3xxxxx; 4xxxxx; 5xxxxx; 6xxxxx)

Voucher Numbers
Begin with five

Strict Guidelines
Texas A&M University System Policies and
Regulations must be followed and show direct
benefit to the University

Reviewing Each Payment Request
◦
◦
◦
Items to be included on a payment request
Invoices / Receipts
Required State Documentation



State of Texas Prompt Payment Law
30 day rule
Interest (4.25% of unpaid balance)
Disputed payments (21 days)
Vendor Information
W-9
Vendor and Employee Payments
Direct Deposit


Advance Payments
Prepayment Certification
Advertising
Original Tear Sheet of Advertisement


Alcoholic Beverages
Unallowable State Expenditure
With approval on local funds
Alumni Activities
State funds may not be used for the support
or maintenance of alumni organizations or
activities.


Auxiliary Enterprises
State funds may not be used for support of
auxiliary enterprises.
Charitable Organizations
State agency may not provide money,
goods or services to a charitable
organization.

Conference Registration Fees
Advance payment (6 weeks in adv)
Required information on payment request:
Name of person attending;
Full name of conference;
Dates of conference;
Reason for prepayment (certification);
Agenda.



Employee Certification/Licensure
Job-related
Employment of Retirees
30-day rule (contact payroll)
Flowers, Floral Arrangements, and Plants
Unallowable State Expenditure
(donation in lieu of flowers not allowed regardless of fund source)

Food Purchases
State funds (Code 4050)
(Food purchase with State funds are very limited.)
Example of allowable expenditure: Nursery School
Required documentation: purpose clearly stated.
Local funds
Code 6339 – Other than Business Meals
Code 6340 – Business Meals
Required documentation: Names of attendees and
purpose of business meeting.

Gifts and Awards
State Funds ($100.00 ceiling)

Honoraria or Speaking Fees
Contract ( all expenses included)
A&M System Employee
(contact payroll)

Memberships/non-professional organizations

Memberships/professional organizations
All memberships must be approved by the
Assistant Comptroller & Director of Accounting


Moving Expenses
Process all payments through payroll.
Notary Fees
Employees not required to be bonded.
http://www.sorm.state.tx.us/Risk_Management/Bonds_and_Insurance/notary_forms.php

Professional Services
Accountant
Architect
Engineer
Land Surveyor
Physician
Registered Nurse



Recruitment of Students
Unallowable State Expenditure
Speakers
A&M System Member
Subscriptions


Taxes – Federal and State
Exempt from most federal and state
Tips and Gratuities
Unallowable State Expenditure
Object Codes
Remember The 5 W's

Who?
Who will be using it?

What?
What is it and what is it being used for?

Why?
Why are we purchasing it?

When?
When will it be used?

Where?
Where will it be used?









Travel
3000
Supplies & Materials 4000
Utilities
5000
Telecommunications 5100
Fees
5200
Consultant Services 5350
Professional Services 5400
Maintenance & Repair 5500
Other Services
5600
-
3415
4899
5039
5199
5259
5399
5499
5555
5699
There's More!!!!
Non Capitalized Furn. & Equipment
5799
Non Inventoried
5774
Rental & Leasing
Scholarships
Grants
Other
Items Purchased for Resale
5700 5750 -
5800
5900
6000
6200
6900
-
5899
5929
6049
6450
6999

4050 – Food Purchases (Research, Seminars, Teaching)
To record payment for the purchase of food used in a
research, seminar or teaching capacity. This code does
not include purchase of food for student activities,
business meals (6340) or animals purchased for
immediate slaughter for food. (Ex: Walmart, HEB, etc.)

4051–Not Used


6338 – Catering Services
To record payment for catering or other food services provided
by any external vendor. Examples: Sodexho, Linda's Main Street
Café, Young's Pizza (when catering)
6339 – Food Purchases (not business meals)
To record payment for the purchase of food. This includes
purchase of food for student activities other than room and
board. Excludes business meals (6340), food research,
seminars, teaching (4050) or animals purchased for immediate
slaughter for food. ( Ex: Walmart, HEB, Lydia's Pizza Hut, etc.
(not allowed on state accounts)
Should be used to capture
TRUE Office supplies
such as:
 Pens, pencils,
paperclips, rubber
bands
 Paper, envelopes, post
its, index cards
 Folders, notebooks
 Calendars, tape,
calculator ribbon
Should NOT include
items such as:
 Stapler, hole punches,
rubber stamps,
nameplates, rulers,
blank video tapes,
easels (4085)
 Diskettes, computer
toner, printer
cartridges, cd's (4020)
 Printer (5760)
 Surge Protector (4090)
Should include items used for janitorial purposes
such as:







Disinfectant
Disposable gloves
Paper Towels
Any Cleaning Solutions
Air Filters
Napkins & Paper Plates
Light Bulbs (not 4076)







This code should be used
to capture TRUE Research
expenses such as:
DNA Samples
Test Tubes
Jars or Viles
Venom
Tags for Wildlife
Microscope
Slides
Thermometer
Covers
Not used for
items
such as:
•Freezers (5752)
•Ice Chests (5752)
•Books (5765)
•Chemicals (4040)
•File Cabinets
(5750)
•Deer Feed (4055)




4014 – Supplies Ammunition
Should be used strictly for ammunition
4030 – Fuels and Lubricants
Should be used for items such as: grease, oil, antifreeze and fuel
additives. Should not be used for Gasoline (4036) Diesel (4037)
or Propane (4038)
4040 – Chemicals & Gases
Should be used for items such as: dry ice, oxygen, liquid
nitrogen, refrigerant gases etc.
4055 – Farm, Ranch and Nursery Supplies
Should include animal feed, veterinary drugs, hay, block salt, and
halters. Does not include fertilizer (4056) or pesticides(4058)

4076 – Building Supplies and Materials
Includes countertops, breaker boxes, electrical outlets, lumber, door
locks, paint etc.
4080 – Fabric and Linens
Includes blankets, pillow cases, fabric for theatre costumes, This
does not include uniforms (5755) or t-shirts for camp participants
(5641)

5211 – Membership Dues
Includes all Business, Technical and Professional Organizations
Must be approved by Asst. Comptroller & Dir. of Acct. (Marcy
Flores)
5213 – Membership Dues Other – NOT USED
5215 – Employee Training
Registration Fees; Includes payment of registration or other
associated fees for seminars and conferences attended by
state employees. Must include names, dates, itinerary for
event and no acronyms can be used
5217 – Employee Training – Tuition – Not Used


5767 – Purchase of Animals
Used to record payment for purchase of animals,
cadavers, birds, fish, mammals, reptiles, rabbits
and insects, dead or alive
5840 – Rental of Motor Vehicles
To record payment for the rental or lease of motor
vehicles. Example: Renting a vehicle to transport
non employees.
Controlled (at any cost)
Object
Code
Property Item
More Description
5775
Hand Guns
All Hand Guns
5775
Rifles
All Rifles
Controlled ( $500.00 - $4,999.99)
Object
Code
Property Item
More Description
5780
Stereo Systems
Stereo Systems
5781
Cameras
Cameras &Digital Cameras
5782
VCR's & Televisions
VCR's, Televisions, DVD, Camcorders
Computers; Data Projectors
Desktop & Laptop Computers; Digital Projectors (used with
computer)
Printers
Non-portable
5787
5788

Items that are required to be reported to State
Comptroller

Must know who is responsible for the item

Must know where the item is at all times

Single unit cost is $5,000 or more
◦
◦
◦
◦
Do
Do
Do
Do
not include cost of extended warranty
not include maintenance agreements
not include parts listed separately
include freight and installation cost
Object
Code
Property Item
More Description
8410
Motor Vehicles – Passenger Car
Mini-Vans, Cars, Full Size Vans
8415
Motor Vehicles – Other
Trucks, SUVs, Buses, Golf Carts, Motorcycles, Trailers, All terrain
8420
Classroom Teaching Equipment
Lecturns, Chalkboards, Globes, Stands, Gym Equipment, Hurdles
8421
Office Furnishings and Equipment
Bookcases, Cradenzas, Cabinets, Desks,
8422
Medical, Scientific, and Laboratory
Equipment
Oscilloscopes, Spectophotometers, Cetrifuges, Chromatographs, All Med/Sci/Lab
equipment
8423
Artifacts/Historical Treasures
Works of Art, Collections
8424
Other Institutional Furnishings and
Equipment
Printing Machines,Projectors, Stereo Syst, Cameras, TV, VCR, DVD, Camcorder, GPS
Equipment, Hand Guns, Rifles, Appliances
8425
Shop and Industrial Equipment
Wagons, Conveyer Syst, Tractors, Machinery, Drills, Gin Mach., Grinders, Lathes,
Milling, Forklifts, Saws, Lifts, Shears, Textile Tools
8426
Marine Equipment
Dept Finders, Buoys, Radar
8430
Aircraft
Helicopter, Jet, All Aircraft
8435
Computer Equipment
Servers, Desktops, Laptops, Drives, Printers, Scanner, Smartboards, Monitors, Docking
Station, Rack, Shelving, Chassis, Mainframe
8440
Software, no license agreements or upgrades
All Software
8445
Telecom Equipment
Call Distributors, Fax Machines, TTVN Equipment, Teletypes
8455
Purchase of Boats
Boats, Boat Motors & Accessories, Ferries, Canoes



Tagging required by State regulations
Tag number needs to be assigned and adhered
within ten days
Will be on department physical inventory




Expendit: State of TX Purchase Policies and Procedures Guide
https://fmx.cpa.state.tx.us/fm/pubs/purchase/index.php
The Texas A&M University System Policies and Regulations
http://tamus.edu/offices/policy/index.html:
Texas Government Code
http://www.statutes.legis.state.tx.us/?link=GV
Internal Revenue Service Forms and Publications
http://www.irs.gov/formspubs/
Judy Murdoch
Accounts Payable
ext 3952
Vilma Castillo
Property Management
ext. 2713
Questions?