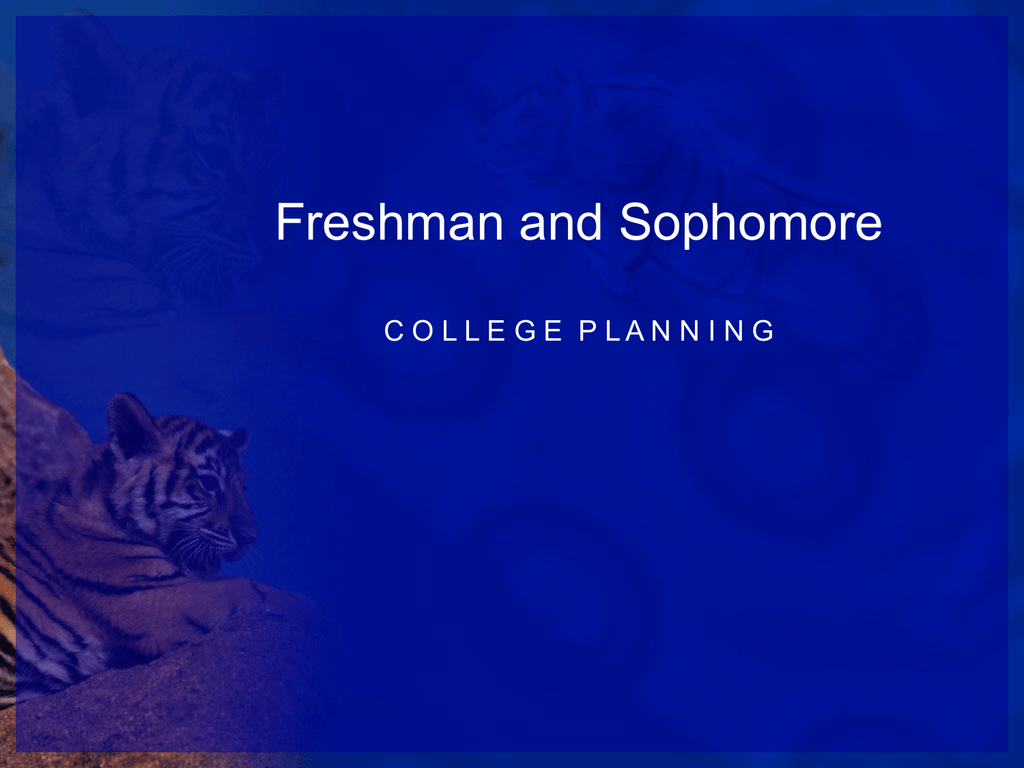 Freshman and Sophomore
C O L L E G E P LAN N I N G
College Admissions Timeline
9th Grade Fall Semester (Freshman Only – For automatic
admission to Texas A&M (Top 10%), students must graduate on the
Distinguished Graduation Plan.)
•
•
•
Create a four-year high school plan taking into consideration student goals
and ambitions.
• Look at college admission requirements for ideal colleges. It's never
early to plan.
Begin discussing future career options.
Get involved in extra curricular activities – have a balance (one athletic, one
academic.)
9th Grade Spring Semester
•
•
•
•
Meet with school counselor to discuss 10th grade course options.
• Adjust four-year high school plan as needed to reflect change in goals.
Maintain involvement in extra-curricular activities.
Prepare for End of Course Exam(s). (This is required for graduation.)
Begin Academic Resume
College Admissions Timeline
10th Grade Fall Semester
•
•
•
Modify four-year plan to reflect new goals.
• Ensure you are taking rigorous classes to prepare a strong academic
resume for college admissions.
Take PSAT seriously in order to begin preparing for Junior PSAT and
ACT/SAT.
Continue involvement in extra curricular activities and begin taking
leadership roles.
10th Grade Spring Semester
•
•
•
•
•
Meet with counselor to begin planning rigorous junior year curriculum.
• Consider CCTE courses as an option for electives.
Attend college and career fairs to begin exploring college admissions
requirements.
Tour college campuses as apart of family travel.
Run for leadership positions with clubs and organizations.
Update your Academic Resume
Big Future
• Utilize www.bigfuture.collegeboard.com to plan college
application process.
GPA Calculations
GPA Calculations
Current Admission Requirements
University of Texas
Austin
Baylor University
University of Texas
El Paso
50% GPA
Top 7% Automatic
Admissions
Top 10% Automatic
Admissions
3.2
50% Range for
SAT & ACT Scores
M: 580 – 710
R: 540 – 670
W: 540 – 680
ACT: 25 – 31
M: 570 – 680
R: 560 – 660
W: 530 – 640
ACT: 24 – 29
M: 420 – 530
R: 390 – 490
W: Not Listed
ACT: 17 – 22
Deadline
October 15th
February 1st
November 1st
First Year Retention
92%
73%
Not Listed
% of students
receiving needbased financial aid
92%
60%
88%
Top 3 Undergrad
Majors
Biology/Biological
Sciences,
Business/Commerce
and Science/Liberal
Studies
Biology/Biological
Sciences,
Marketing/Marketing
Management,
Psychology
Criminal
Justice/Safety
Studies, Multidisciplinary Studies,
Psychology
FAFSA: Free Application
for Federal Student Aid
• www.FAFSA4Caster.ed.gov.
• Mimics the FAFSA
• Apply in January or February (March if Necessary) of
senior year.
• Application is based on previous years' taxes.
Question & Answer
Thanks for coming!