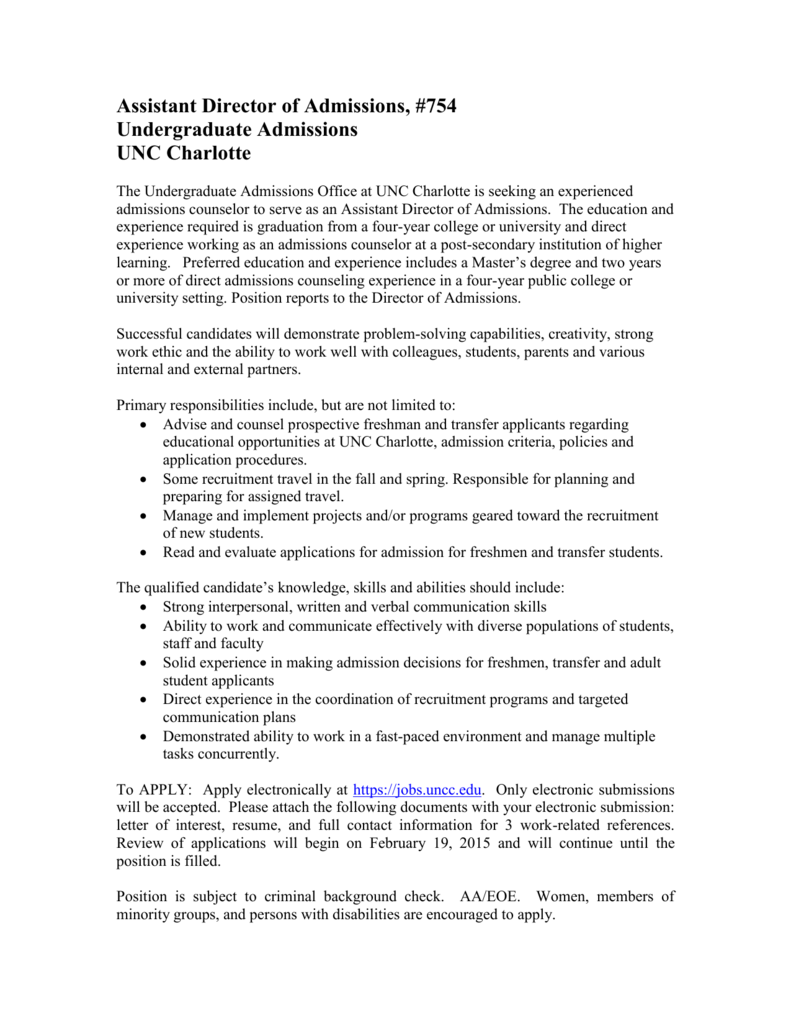 Assistant Director of Admissions, #754
Undergraduate Admissions
UNC Charlotte
The Undergraduate Admissions Office at UNC Charlotte is seeking an experienced
admissions counselor to serve as an Assistant Director of Admissions. The education and
experience required is graduation from a four-year college or university and direct
experience working as an admissions counselor at a post-secondary institution of higher
learning. Preferred education and experience includes a Master's degree and two years
or more of direct admissions counseling experience in a four-year public college or
university setting. Position reports to the Director of Admissions.
Successful candidates will demonstrate problem-solving capabilities, creativity, strong
work ethic and the ability to work well with colleagues, students, parents and various
internal and external partners.
Primary responsibilities include, but are not limited to:
 Advise and counsel prospective freshman and transfer applicants regarding
educational opportunities at UNC Charlotte, admission criteria, policies and
application procedures.
 Some recruitment travel in the fall and spring. Responsible for planning and
preparing for assigned travel.
 Manage and implement projects and/or programs geared toward the recruitment
of new students.
 Read and evaluate applications for admission for freshmen and transfer students.
The qualified candidate's knowledge, skills and abilities should include:
 Strong interpersonal, written and verbal communication skills
 Ability to work and communicate effectively with diverse populations of students,
staff and faculty
 Solid experience in making admission decisions for freshmen, transfer and adult
student applicants
 Direct experience in the coordination of recruitment programs and targeted
communication plans
 Demonstrated ability to work in a fast-paced environment and manage multiple
tasks concurrently.
To APPLY: Apply electronically at https://jobs.uncc.edu. Only electronic submissions
will be accepted. Please attach the following documents with your electronic submission:
letter of interest, resume, and full contact information for 3 work-related references.
Review of applications will begin on February 19, 2015 and will continue until the
position is filled.
Position is subject to criminal background check. AA/EOE. Women, members of
minority groups, and persons with disabilities are encouraged to apply.