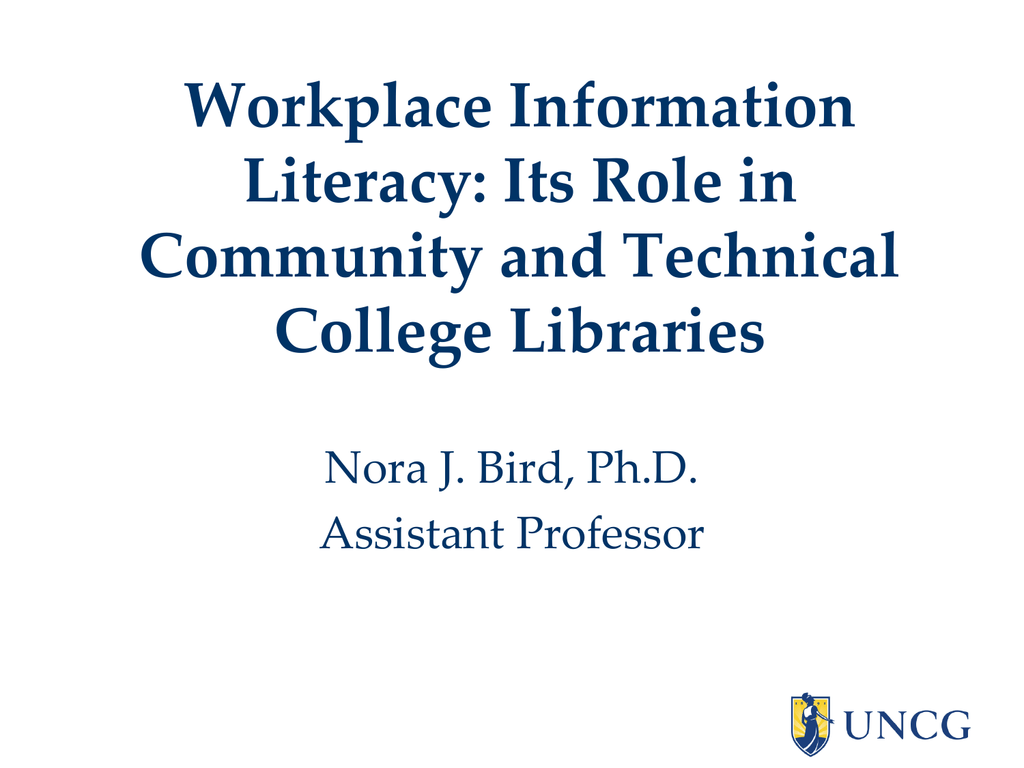 Workplace Information
Literacy: Its Role in
Community and Technical
College Libraries
Nora J. Bird, Ph.D.
Assistant Professor
AGENDA
• Intentions
• The context: community colleges,
technical schools, and proprietary schools
• Why?
• Information seeking – information literacy
• Methods and some preliminary results
Intentions
• Research with the nails showing
• It's Friday
• It's the day before Spring Break
• Let's have some fun!
Context
• A clip from the NBC program Community
What is not shown in small clip
• Students working on Basic Skills to
complete GED
• ELL adults
• Middle and Early college students
• Vocational students
Context
• Some stats:
– There are over 1,100 community technical
colleges in the United States
– Had their beginnings in 1901
– Over 62.5 million students enrolled in 2008;
many more since then due to recession
– Site of basic vocational education and
retraining for many American workers
North Carolina
• 58 different colleges
• Primarily county funded
• Most have more than one location
• SACS requires a library on every physical
site
• Some have only one MLS librarian
Technical schools
• Often incorporated into community
colleges, example Forsyth Technical
Community College
• In some states technical colleges are a
separate network.
• For-profit proprietary technical schools
(example ITT Tech) have experienced
great growth in the past few years
– Extended programs
– Extended reach
Locale for Workforce
Development
• Programs include:
–
–
–
–
–
Aircraft repair
Plumbing
Nursing
Dental hygienist
Biotechnology technician
Enjoying New Attention
Pledges
• National – 5 million new CC graduates by
2020
• California – 1 million
• Gates Foundation money
• Private-public partnerships
Even in North Carolina
Information Seeking
• Robert Taylor – based on work in the
workplace but with researchers.
• In Seeking , 2nd ed., Carol Kuhlthau's work
with school children was extended to
knowledge workers like lawyers and
financial analysts
Informed Learning
• In Informed Learning, Christine Bruce
posited a model she calls the Six Frames
for Informed Learning.
• "What should we teach and how, so that
our students will use information
successfully, creatively, and responsibly in
their journey as life long learners?"
Generic, Situated,
Transformative
• GeST frames can be applied to the
community and the workplace
Information Literacy
• According to many definitions, the
information literate person "must be able
to recognize when information is needed
and have the ability to locate, evaluate,
and use effectively the needed
information." (American Library
Association, 1989).
Skilled Blue-Collar Work
Workforce literacy
Vs.
Workplace Information Literacy
Annemaree Lloyd
• Information literacy landscapes: Information
literacy in education, workplace, and everyday
contexts
• Her title says it all. Context is essential to
the process. There is no universal
information literacy.
• The focus has been on academic
information literacy.
And some preliminary results
METHOD
Research Question
• What role do libraries play in workplace
information literacy development?
Well actually…
A different purpose
• We wanted to describe what a community
college librarian does. We did it for a
• And the question we asked was:
Please estimate the percentage of your
library instructional program or efforts
provided for technology courses in
comparison to overall instruction?
Later on
We realized:
The answers are difficult to interpret.
But some results
• Only 14% of the respondents said that
more than one-quarter of their
information literacy efforts were focused
on vocational classes.
In other words:
• Not enough!
Top Four Skills Covered in IL Classes
60
50
40
30
Core/Transfer
Vocational
20
10
0
Special resources for the
topic
Evaluating resources
Citation writing
Plagiarism
The primary objectives for your instructional classes
60%
50%
40%
30%
20%
10%
0%
To support instructor's
objectives
To write research paper
Demonstrate use of
library databases
Transfer
To gain job
understanding
Vocational
To learn more about
profession or subject
major
Mixed Methods Build a Frame
Focus Groups
• Confirmed the impression that vocational
programs are underserved.
• "I don't know many people who have
HVAC degrees... If HVAC approached me
to do an [information literacy class] I'd
have to get familiar enough to be able to
answer subject-specific questions. That's a
mammoth job."
• "For our instructors, as I said, and I think
it's usage and I think their comfort level
with us. Yeah, they may know how to do
that, but the ones [instructors] who come
back all the time believe that we do a
better job –they don't try to do our job for
us, just like we don't teach English but we
show how to facilitate doing work in
English or in Nursing. I think that they
see us as professionals in the same way
that they are."
•
"We led a session on our staff development
day where people can choose to take our
workshop at the library, and the
information technology people loved it
because in NC Live there's a place you can
go where you work on certain cars. The
depth of the knowledge is for real people,
it's not just academic. Yeah, I think the
workplace and the fact that we have older
students could be developed."
Connecting Theory and Practice
• Working with Michael Crumpton, Assistant
Dean for Administrative Services, as a research
partner
• Interacting with community college librarians in
grant writing and research
• UNCG was among a select group of 119
universities and colleges nationwide to be
recognized by the Carnegie Foundation for its
2008 Community Engagement Classification.
FUTURE WORK
• Follow-up survey on vocational IL classes
– What are the "Instructor's Learning
Objectives"
• Librarian-Vocational Instructor
collaboration observation
• Continuing education for community
college librarians (IMLS 2011 grant
application)
In Summary
• Community colleges and their libraries
serve a broad range of needs, including
vocational/technical programs
• The specifics of workplace information
literacy for "blue-collar" workers is
understudied.
• Studying pedagogy for that vocation
might yield results.
Bibliography
Bruce, C. (2008). Informed learning. Chicago: Association of College
and Research Libraries.
Kuhlthau, C. C. (2004). Seeking meaning: A process approach to library
and information services. Westport, CT: Libraries Unlimited.
Lloyd, A. (2010). Information literacy landscapes: Information literacy
in education, workplace, and everyday contexts. Oxford, UK:
Chandos Publishing.
Lloyd, A. and Williamson, K. (2008). Towards an understanding of
information literacy in context: Implications for research. Journal
of Librarianship and Information Science, 40(1), 3-12.
Taylor, R. S. (1985). Value-added processes in information systems.
Norwood, NJ: Ablex Publishing Corporation.
Acknowledgments
• Michael Crumpton
• Research Assistants: Mendy Ozan and
Tim Williams
• Community college librarians across
North Carolina and the U.S.