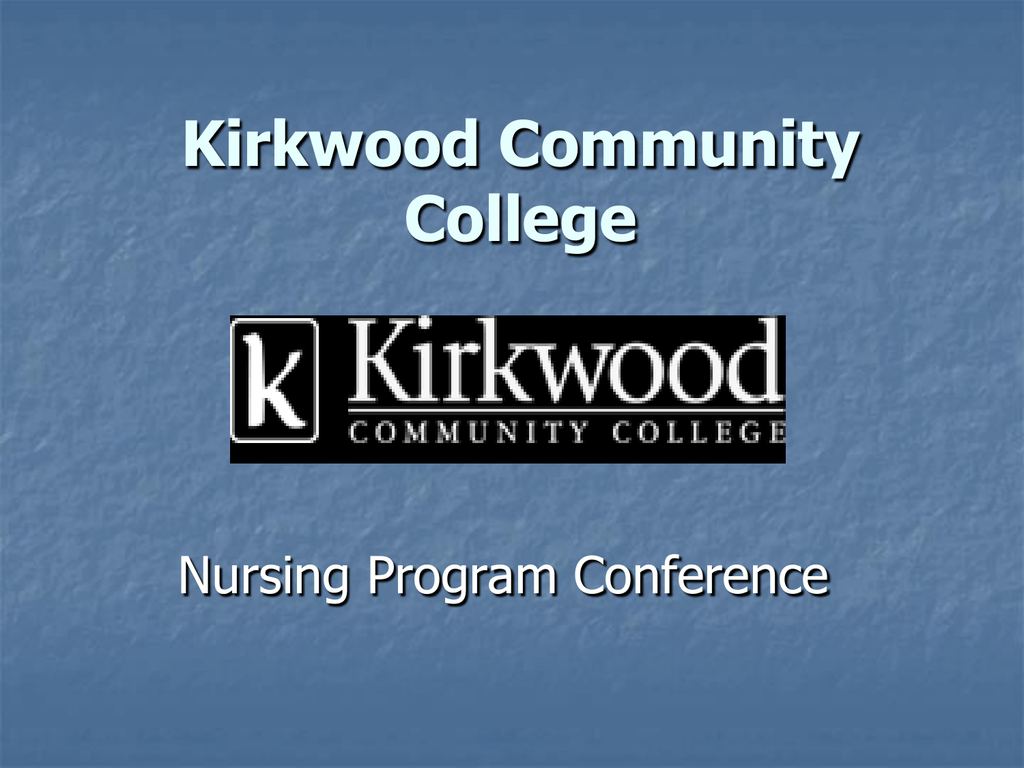 Kirkwood Community
College
Nursing Program Conference
Nursing Career Ladder

Nurse Aide

75 hour course includes theory, lab and clinic

Does not follow traditional semester offerings
Builds confidence
 Exposes you to nursing
 The CNA is a program prerequisite in the fall of 2011
For More Information Please Contact the Simulation
Center at (319) 398-5438
For more information on Criminal background Checks
prior to the CNA, please go to the Simulation Center –
2nd floor of Linn Hall

Practical Nursing



First 2 ½ semesters
of program
Leads to PN licensure
eligibility
Employment:




Long Term Care
Hospitals
Home Care
Dr. Office
Associate Degree Nursing



Total of 5 semesters
(2 ½ PN, 2 ½ ADN)
Leads to RN licensure
eligibility
Employment





Hospitals
Long Term Care
Home Health
Clinics
Community Health
Bachelor of Science (BSN)




KCC program articulates
(transfers) to all Iowa BSN
programs.
Mt. Mercy, University of
Iowa, Upper Iowa
University
Expands opportunities
There are courses that can
be taken at KCC toward a
BSN, a brochure is available
Master's Degrees






Clinical Nurse Specialist
Administration
Education
Informatics
Anesthetist
Midwife
Doctorate in Nursing

Research

Nurse Practitioner

Administration

Education
Kirkwood's Nursing Program
What to Expect
Application Process
Complete an application
Attend a Program Conference
Complete Placement Testing
4. Complete ATI TEAS
5. Complete Prerequisites
1.
2.
3.
Complete An Application

Apply online www.kirkwood.edu

Indicate Nursing AAS or PRE BSN
Advising


Completed on a walk-in basis in the
Nursing office in 117 Linn Hall
Individual Advising Appointments available
Call Nursing Department for appts.

398-5563
Attend a Program Conference

You're here!

Did you sign in?

You will receive a
follow up letter in
about 2 weeks
Take a Placement Test
(This is a requirem



Computerized test of
reading, writing and
math
Minimum scores
required for advising
and course placement
COMPASS test
available at KCC;
Cedar Hall, 2055:
Testing Center, ph #
398-5456



Degree and Course
option available
Math Score of 50
(Compass), 18 (ACT),
or C- in a college
math course, required
for nursing
acceptance.
Scores within the past
3 years
TEAS (Test of Essential
Academic Skills)




4 exams: Reading, Mathematics, Science,
and English
Required Composite Score of 64.7,
effective 7/1/11 for Version V
Advising for Enrichment Coursework
available at Kirkwood
Used as part of admission criteria
Prerequisites – Day Program

Professional Roles in Health Care: (students are
required to pass TEAS exam prior to enrollment)

Communication in the Health Care
Environment (students are required to pass TEAS exam
prior to enrollment)




Nutrition
CNA certification and Registry
Anatomy & Physiology I OR Anatomy
Anatomy & Physiology II OR Physiology
Prerequisites- Eve/Wkend;

Professional Roles in
Health Care (students are
required to pass TEAS exam prior
to enrollment)

Communication in the
Health Care Environment
(students are required to pass TEAS
exam prior to enrollment)




Nutrition
CNA certification and
Registry
Anatomy & Physiology I
Anatomy & Physiology II







General Psychology
Composition I
Intro to Sociology
Developmental
Psychology
Fund of Communication
Microbiology
Humanities Elective
Nursing Application



Foundations I: will vary according
to application date and TEAS
score
Foundations I E/W: Fall and
spring admission
Transitions to Associate Degree
Nursing: according to admission
and transfer policy
Associate Degree Nursing
Admission Transfer Students

Students seeking admission to the
Associate Degree level from a program
other than Kirkwood, will be required to
submit a letter of reference regarding
theory, clinical, and overall student
conduct from the chair of the transferring
institution. The letter should include the
student's eligibility to continue on to the
AD level of the transferring institution.
Associate Degree Admission



Preadmission requirements :
For transfer students and those who have
completed their PN education greater than
one year ago:
LPN Step exam composite score of 66.4


LPN step to success course
GPA of 2.5 is required for admission
Clinic Requirements







Current CPR Card for the Health
Care Provider or Professional
Rescuer
Current physical: Within 1 year
Immunization record on file
(Includes Hepatitis B, DtaP,
Varicella)
TB test (initial 2-step) – yearly
OSHA training - yearly
Proof of Health Insurance
Proof of Mandatory Reporter
Training of Dependent Adult and
Child Abuse
Criminal Background Check






Criminal Background check - National FBI
check required prior to any clinic rotation.
Available through Kirkwood's Human
Resource office
Child, dependent adult and sex offender
abuse registry checks
Clinical Facilities reserve right to refuse
student
Depending on offense, Board of Nursing
may deny application for license.
Anticipated drug testing in the future.
This is required in addition to the CNA
requirement
Tattoos and Piercings

WHILE IN CLINIC:


No visible tattoos
Only 1 stud type
earring per ear
Day Program





New section each
semester – fall, spring
and summer
Lecture 2 - 3 days a week
Lab hours vary
Clinic hours on Tuesday,
and Wednesday, or
Thursday and Friday
5 semesters
Evening/Weekend Program







All Prerequisite and general education
courses must be completed first
New section each fall, spring
Number of clinic and lecture
hours same as day program
Lecture 2 - 3 evenings a week
Lab hours on Saturday or Sunday
Clinic hours on Saturday and Sunday,
occasional weekday clinic possible
5 semesters
Practical Nurse Only Program





Same prerequisite requirements as day program
New section begins each spring
Must reapply for Associate Degree program
Same application list as day program, those on
this list, given opportunity to enter PN program,
or wait for ADN program.
Clinic hours on Thursday and Friday
Graduate As
Practical Nurse



Must have at least 2.0 GPA in nursing
curriculum (Foundations of Nursing I and
II) to graduate
Receive a Practical Nurse diploma
May apply to take licensure exam and
become a Licensed Practical Nurse
Progression to A.D.N.



Must have a GPA of 2.5 to
enter ADN Curriculum
Only courses required for
the PN program included in
the GPA Foundations of
Nursing I & II and
prerequisite courses
Transfer grades are included
Progression to ADN


If GPA not met, students must retake
courses to improve GPA and then reapply
for ADN program once GPA successfully
attained
Students in Foundations of Nursing II,
automatically progress to the AD level if
all requirements met (except PN only
section)
Course Grade Requirements



B- in all nursing technical courses
Pass all clinical rotations
If requirements not met
Need to apply to re-enter through Nursing
Department

Nursing Grading Scale




A
AB+
B
93-100
90-92
87-89
84-86




BC+
C
C-
80-83(passing)
78-79
75-77
73-74
Nursing is Complex



The faculty are here
to assist you.
College 101
Being in the nursing
program takes
commitment of time and energy.
Some things you should
know

You will need to be flexible with your
schedule




Some clinic locations are not announced until
the week prior to start
Day or Evening clinics possible throughout
program
Nights and Weekends possible during
preceptorship
Clinics are held in 7 county area.
General Rule of Thumb


1 hour class or clinic
=
4-6 hours of study time
Weekly Time Commitment



4 hours of lecture
12 hours of clinic
4-6 hours of study
per hour of class
=
64-96 hours of study
Helpful Information




Full-time is considered 12 credits;
summer is 9 credits
Financial aid usually requires
students to be at least
half-time which is 6 credits
Keep in close contact with Financial
Aid office to make best use of
available money
Scholarships – Found on the
Kirkwood website
Thanks For Being Here
 We
look forward to learning with
you!!
Admission Checklist




Fill out the Admission Criteria Checklist –
will hand in PINK carbon copy today
Three-part form – write firmly
Return white copy to Nursing Department
Office, 117 Linn Hall once all requirements
are met
Keep YELLOW copy for your records
We're Here to Assist






Nursing Department Office
117 Linn Hall
Open
M & F from 8-5
T, W, Th from 8-6
LeAnn Parker, Office Coordinator
398-5563
Brenda Vacek Office Coordinator
319-398-4989
General Advising is conducted through
the Nursing Department Office
Coordinators
Questions?