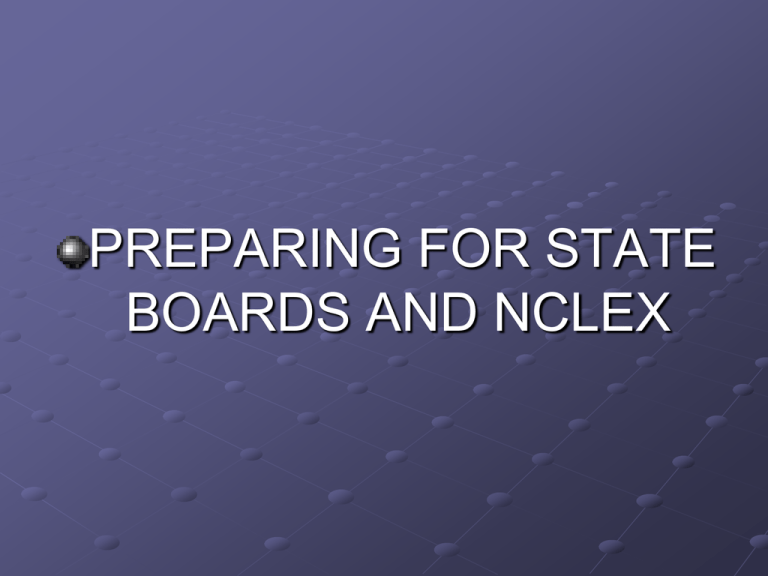 PREPARING FOR STATE
BOARDS AND NCLEX
NCLEX REVIEW
ALL AUGUST GRADUATES ASSIGNMENT:
PN COMPUTER LAB – MUST COMPLETE
NCLEX REVIEW BY JULY 28th. PLAN 2-3
DAYS AT END OF CLINICAL ROTATIONS OR
IF YOU HAVE AN AVAILABLE DAY THIS
SUMMER.
DECEMBER GRADUATES – YOU WILL HAVE
THIS REVIEW IN DECEMBER . YOUR
ASSIGNMENT IS UNDER MODULES IN PNV
1914.
REGISTRATION FOR RINEHART &
ASSOCIATES NCLEX REVIEW
www.nclexreview.net
DATES GIVEN –
JULY 11, 12, 13 at ICC, Belden Campus
NEED TO KNOW ASAP IF YOU PLAN TO
ENROLL. MRS. DIANN SLOAN WILL BE
HERE ON JUNE 20TH AT 10AM. WIA
WILL PAY COST.
COST - $225. TAKE BROCHURE TO
YOUR WIN CASEWORKER ASAP.
DECEMBER GRADUATES – One will be
offered in November or December.
AVAILABLE BOOKS
PN EXAM CRAM .ORDER ONLINE AT
www.nclexreview.net
Practice Questions and Answers.
FORMATTED LIKE NCLEX-PN, CD-ROM
INCLUDED
OTHER SOURCES:
www.monster.com
www.barnesandnoble.com
www.healthcareerconcepts.com
www.nursing-review.com
APPLICATIONS TO TAKE STATE
BOARD EXAMS. FOR ANY ADDITIONAL
QUESTIONS, LOG ONTO
www.msbn.state.ms.us go to Licensure –
Exams. Deadline to apply July 11th.
SINCE 1994, GRADUATES ARE
REQUIRED TO TAKE A CAT RATHER
THAN A PAPER AND PENCIL TEST.
Sandra Bates, Director of State Health
Cluster Programs and the State Board of
Nursing recommend that the graduate
nurse be exposed to at least 3,000 test
questions prior to State Board.
You are responsible for completing
application and sending required fee to sit
for Boards. $60
We are responsible for supplying you with
copy of transcript, proof of completion of
program. Your IV certification has to be
sent in separately. Give me a $20 check
of Money Order to Mississippi Board of
Nursing along with page 4, Expanded
Role.
Instructors will not sign off on your
application process until all requirements
are met.
Deadline to register for Criminal
Background Check (fingerprinting) July
29th. Must use credit card to pay $75 fee.
A BON representative will be here on
August 5th at 9:00am to conduct the
fingerprinting. Bring 2 picture IDs.
Your Comprehensive Predictor (Mock
Boards) will be given at 10:00 on July 28th.
Practice for Pinning Ceremony will follow.
Turn in your IV Certificate and fee and
$5.00 transcript fee on July 28th.
You must clear all holds at NEMCC.
You must either complete NCLEX Review
or complete review on campus (2-3 days)
If you have to repeat exam, you are
responsible for re-application.
You must wait 46 days before re-applying.
3 times before proof of additional
education. Repeat NCLEX review is
normally recommended.
No time limit after graduation before taking
Boards. However, asap is recommended.
Quickest method is by registering online
and using a credit card payment to set up
application.
Testing is done at Silva Learning Center,
Tupelo, MS
Cannot work except in Aide position until
licensed.
205 question limit on computer aided test.
Computer will stop at unspecified time. 5
hours allowed. You will receive notification
in 48 hours via the website.
It is your responsibility to renew your
license every 2 years, notify State Board
of Nursing of any change in address,
marital status. DO NOT LET YOUR
LICENSE LAPSE. LPNs renew on odd
number years. Your license will not be
due for renewal until December 31, 2015.
RNs on even number.
Your employer will require a copy of
license.
Make sure that Expanded Role – IV
certification in on the website the day you
receive your licensure.
Can I work in another state with my MS
License?
Compact License
ENTRY LEVEL SKILLS
NATIONAL LEAGUE OF NURSING
STATES "LPNs ARE CONCERNED WITH
BASIC THERAPEUTIC REHABILTATIVE
AND PREVENTIVE CARE FOR PEOPLE
OF ALL AGES AND DIVERSE
CULTURES IN VARIOUS STAGES OF
DEPENDENCY…THE PRIMARY ROLE
OF THE LPN IS TO PROVIDE NURSING
CARE FOR CLIENTS EXPERIENCING
COMMON
WELL-DEFINED HEALTH PROBLEMS IN
STRUCTURED HEALTHCARE SETTINGS.
THE LPN NEED TO DEMONSTRATE
COMPETENCIES (ENTRY LEVEL SKILLS) IN:
ASSESSMENT: COLLECTS DATA ABOUT
BASIC PHYSICAL, EMOTIONAL SPIRITUAL
AND SOCIOCULTURAL NEEDS OF THE
CLIENTS;USE KNOWLEDGE OF NORMAL
VALUES TO IDENTIFY DEVIATIONS
DOCUMENTS DATA COLLECTIONS
COMMUNICATES FINDINGS.
PLANNING:
CONTRIBUTES TO THE DEVELOPMENT
OF NURSING CARE PLANS;
PRIORITIZES NURSING CARE NEEDS;
ASSISTS IN REVIEW AND REVISION OF
NURSING CARE PLANS.
IMPLEMENTATION
PROVIDES NURSING CARE; TEACHES
CLIENTS, COLLABORATED WITH TEAM
MEMBERS;COMMUNICATES EFFECTIVELY.
EVALUATION:
SEEKS GUIDANCE AS NEEDED;MODIFIES
NURSING APPROACHES BASED ON
EVALUATION OF NURSING CARE
MEMBER OF THE DISCIPLINE:
COMPLIANT WITH NURSING
STANDARDS AS OUTLINE IN NURSE
PRACTICE LAW. IS A CLIENT
ADVOCATE; CONTINUES EDUCATION
BY PARTICIPATION IN CEU
OPPORTUNITIES; ADHERS TO
NURSING CODE OF ETHICS
MANAGING/SUPERVISING:
MANAGES OWN ACTIVITIES AS WELL AS
SUPERVISING DELEGATED DUTIES TO
UNLICENSED HEALTHCARE
PROVIDERS OR OTHERS UNDER
SUPERVISION.
POLITICAL ACTIVISM:
IS AWARE THAT AS A NURSE HE/SHE
AFFECTS NURSING AND HEALTHCARE
THROUGH POLITICAL, ECONOMIC AND
SOCIETAL ACTIVITIES
AS A MEMBER OF THE HEALTHCARE
TEAM:
WORKS UNDER THE SUPERVISION OF
AN RN, TO PROVIDE CARE TO THE
CLIENT UNDER THE DIRECTION OF
THE DOCTOR, NURSE PRACTITIONER
OR OTHER PRIMARY CARE PROVIDER.
LPNs USUALLY SUPERVISE
UNLICENSED PERSONNEL
AS YOU TRANSFORM FROM STUDENT
NURSE TO LPN, BE REMINDED:
BE ORGANIZED, USE TIME
MANAGEMENT TECHNIQUES.
MAINTAIN CONFIDENTIALITY. ENSURE
THAT UNLICENSED PERSONNEL ARE
AWARE OF IMPORTANCE.
TAKING AND TRANSCRIBING ORDERS.
YOU WILL REPORT TO THE ONCOMING
NURSE CRITICAL CRITERIA ON THE
CLIENTS UNDER YOUR CARE. TAKE
NOTES WHEN YOU ARE RECEIVING
REPORT UPON ARRIVAL FOR YOUR
SHIFT.
YOU WILL ALSO BE RESPONSIBLE
FOR ACCEPTING ORDERS FROM THE
PHYSICIAN, NOTIFYING MD OF CLIENT
STATUS AND RECEIVING NEW
ORDERS, TRANSFERRING THE ORDER
TO THE MEDICATION
ADMINISTRATION RECORD,
NOTIFYING THE PHARMACY OF NEW
MEDICATION ORDER.
The unit secretary may transcribe the
order after they are written, but the RN or
LPN must enter orders on the patient
record. The RN usually communicates
with the MD, but the LPN may be asked or
required to on any given occasion.
Most facilities use computer systems to
notify other departments of new orders.
Stay current on any changes within your
workplace.
Be flexible.
Due to the nursing shortage, many
opportunities will be available to you.
Always leave a job on good terms if at all
possible. Know the requirements, hours,
benefits, vacation time, salary prior to
accepting the position.