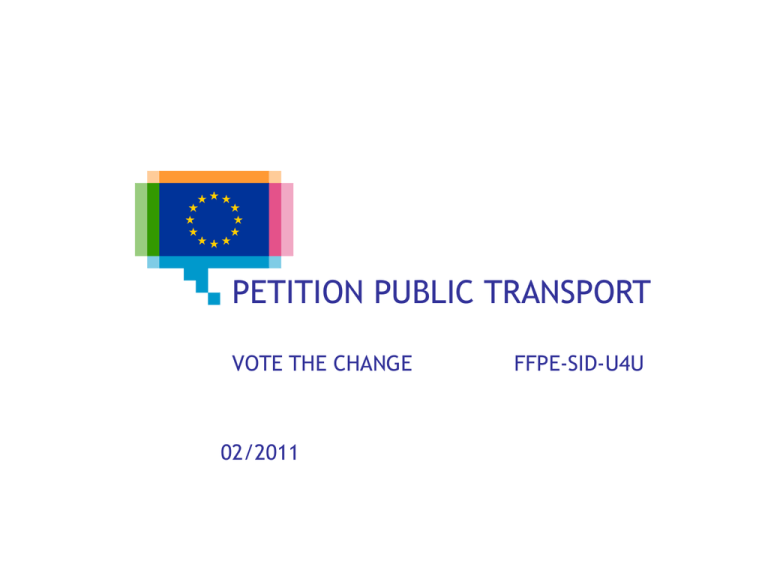 PETITION PUBLIC TRANSPORT
VOTE THE CHANGE
02/2011
FFPE-SID-U4U
TODAY'S SITUATION IN LUXEMBOURG FOR COMMUTERS
•For Luxembourg CITY > JOBKAART free for personnel (cost
for COM = value = 16.7 EUR/month/person)
•For Luxembourg COUNTRY > OEKOPASS 45 EUR/month
already includes CITY > no interest in jobkaart
• For abroad: international ticket includes border tax and
all Luxembourg country (for Belgians)
> no interest in jobkaart
CONCLUSION: JOBKAART USEFUL ONLY FOR PEOPLE
LIVING IN LUXEMBOURG CITY
TODAY'S SITUATION IN LUXEMBOURG
•Luxembourg's government provides a scheme (M PASS)
with reduced ticket prices covering Luxembourg COUNTRY
for Administrations.
•A yearly renewable convention has to be signed with
Transport Ministry.
• Costs depends of quantities ordered : if more than 200
M Pass: 320 EUR/year = 26.7 EUR/month
TODAY'S SITUATION IN BRUSSELS
Commission reimburses to the civil servants:
• 50% of MONTHLY ticket up to 60 km (city and train)
under the condition to give up parking place.
• MAX VALUE REIMBURSMENT is 137 EUR*50% = 68
EUR/month
• A PARKING SPACE AT COM. COSTS > 68 EUR/month.
•CONCLUSION: For Luxembourg, a M PASS is CHEAPER
that what colleagues from Brussels can get,
than the parking space costs.
PROPOSAL LUXEMBOURG
• FREE MONTHLY COUNTRY TICKET (M PASS) with
condition to give up parking space.
• COST FOR COMMISSION =
Subsidy of the Lux Government = M-PASS 26,7
EUR/month by person (if order of 200 M-PASS
minimum) instead of presently 16.7 EUR.
CONCLUSION: M PASS would cost only 10 EUR/month
more than today jobkaart AND would be useful for all
colleagues commuting in Luxembourg country.
PETITION FOR FREE M PASS
• A PETITION for the purposes explained previous
slides was signed by 335 colleagues:
• ELECTRONIC: 123 signatures,
• PAPER : 212 signatures.
REQUEST LUXEMBOURG
Presently, the border ticket Kleinbettingen –
Sterpenich costs 34 EUR/month (similar situation for
France and Germany).
For international commuters , we would appreciate if
you could negotiate with the Luxembourg government
the possibility to use the M PASS up including the
border points.