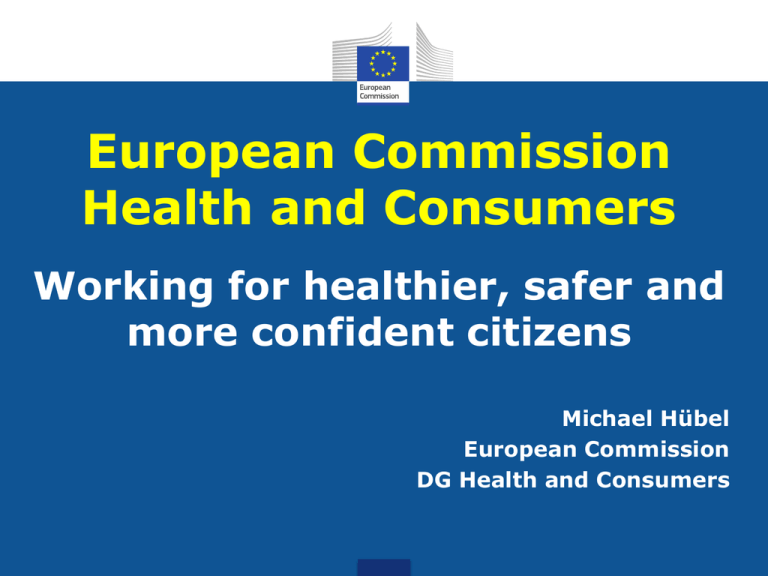 European Commission
Health and Consumers
Working for healthier, safer and
more confident citizens
Michael Hübel
European Commission
DG Health and Consumers
The European Union
28 Member States
24 official languages
Population:
+500 million
Budget 2014:
€142,6 billion
EU role in health
Exclusive competence
- customs union
- competition rules
- monetary policy for eurocountries
- conservation of marine
biological resources under
the common fisheries policy
- common commercial policy
- concluding international
agreements
Shared competence
- internal market
- social policy limited to the aspects
defined in the TFEU
- economic, social and territorial
cohesion
- agriculture and fisheries
- consumer protection
- transport
- trans-European networks
- energy
- area of freedom, security and
justice
- common safety concerns in public
health matters
-research
- technological development and
space
-development cooperation and
humanitarian aid
Principle of conferral
Principle of proportionality
Principle of subsidiarity
Supporting competence
-human health
-industry
-culture
- tourism
- education, vocational
training, youth and sport
- civil protection
- administrative
cooperation
Article 168 of the EU Treaty
"A high level of human health protection shall be ensured in the definition and
implementation of all Union policies and activities.
Union action, which shall complement national policies, shall be directed
towards improving public health, preventing physical and mental illness and
diseases, and obviating sources of danger to physical and mental health.
Such action shall cover the fight against the major health scourges, by
promoting research into their causes, their transmission and their
prevention, as well as health information and education, and monitoring,
early warning of and combating serious cross-border threats to health.
The Union shall complement the Member States' action in reducing drugsrelated health damage, including information and prevention."
The European Commission
PRESIDENT OF THE EUROPEAN
COMMISSION
José Manuel BARROSO
PROPOSALS
CONTROL
AUSTRIA
BELGIUM
BULGARIA
CROATIA
CYPRUS
CZECH REP.
DENMARK
ESTONIA
FINLAND
FRANCE
GERMANY
GREECE
HUNGARY
IRELAND
COLLEGE OF COMMISSIONERS
28 Members, nominated by the
Member States for 5 years
DIRECTORATES-GENERAL
ITALY
LATVIA
LITHUANIA
LUXEMBOURG
MALTA
NETHERLANDS
POLAND
PORTUGAL
ROMANIA
SLOVAKIA
SLOVENIA
SPAIN
SWEDEN
U.K
ADMINISTRATION
REPRESENTATION
Commissioners DG Health and Consumers
Commissioner for Health
Tonio Borg, Malta
Commissioner for Consumer Policy
Neven Mimica, Croatia
DG Health and Consumers
DG Health and Consumers is
working to…
•
…make Europe a healthier and safer place,
• where consumers can be confident that their
interests are protected
EMPOWER
CONSUMERS
PROTECT AND
IMPROVE
PUBLIC HEALTH
ENSURE EUROPE'S
FOOD IS SAFE
PROTECT THE
HEALTH AND
WELFARE OF
FARM ANIMALS
PROTECT THE
HEALTH OF
CROPS AND
FORESTS
©www.istockphoto.com
DG SANCO
Brussels
DG SANCO
Grange
FVO 'Food &
Veterinary
Office'
London EMEA
'European
Medicines Agency'
Stockholm ECDC
'European Centre for
Disease Prevention and
Control'
DG SANCO Luxembourg
EMCDDA 'European
Lisbon Monitoring
Centre for Drugs
and Drug Addiction'
Angers CPVO 'Community
Plant Variety Office'
Bilbao OSHA
'European Agency
for Safety & Health
at Work'
Luxembourg CHAFEA
'Consumers, Health and Food
Executive Agency'
Parma EFSA
'European Food Safety
Authority'
Staff – DG Health and Consumers
Luxembourg
95
Total number of staff: 1060
Grange,
176
Brussels,
781
34 nationalities
Average age: 44 years
Directorate Public Health –
Luxembourg
Directorate Health Systems
and Products - Brussels
Men
43%
Women
57%
Delegation
s (China,
USA,
Thailand,
Switzerlan
d, Russia
7
EU action on public health
©www.istockphoto.com
P
R
O
M
O
T
E
P
R
E
V
E
N
T
P
R
O
T
E
C
T
EU public health- Luxembourg
• Address health determinants and risk factors Promote healthier lifestyles
• Respond to disease outbreaks and health
threats
• Chronic diseases prevention and management,
notably cancer
• Address rare diseases
• Invest to tackle health inequalities
• Provide accurate health information and data
• Provide scientific advice and evidence
• Provide financial support – EU health
programme
Challenges
Increase in chronic
diseases prevalence
Fragile economic recovery
Ageing population
Pandemic and
Bioterrorism
Threats
Expanding EU –
Growing health
gaps
Globalisation
Migration and
Cross-border
Healthcare
Lifestyle
Related
Diseases
Rapid
development of
health
technologies
Healthy life years are not increasing with rise in life
expectancy
EU action on health determinants
- Tobacco
- Nutrition and
physical activity
- Alcohol and drugs
- Mental health
- Environment and health
- Social determinants and
health inequalities
The Strategy for Europe on Nutrition, Overweight
and Obesity-related Health issues (2007)
Nutrition and Physical
Activity in all policies
External Evaluation of
the Strategy:
- Efficiency proved
- Need to boost the work
High Level Group on
Nutrition and Physical
Activity
European Commission
Member States
Monitoring system
and evidence base
Private/public Stakeholders
WHO
EC Programmes/fundings
(Health programme,
Research programme)
EU Platform for Action on Diet,
Physical Activity and Health
18
EU Strategy on alcohol: Objectives
EU action against tobacco
Ex-smokers are unstoppable
Disease Group Specific Actions
• CVD: The EC supported the European
Society of Cardiology and the European
Heart Network, to develop the first
European Heart Health Charter designed to
prevent CVD)
• Cancer: Guidelines on screening,
European Partnership for Action Against
Cancer
• Mental health: European Pact for Mental
Health and Well-being
• HIV/AIDS: EC Communication on HIV/AIDS
(2009) and accompanying action plan
• Health workforce: Joint action for the EU
workforce for health
• European initiative on Alzheimer's disease
and other dementias
21
EU Summit on Chronic Diseases
3-4 April 2014
• Conference conclusions:
•
A. Strengthen political leadership to address
chronic diseases
•
B. Target key societal challenges
•
C. More efficient use of available resources
•
D. Strengthen the role and the involvement of
citizens, patients and the health and social sector
in policy development and implementation
•
E. Strengthen evidence and information
•
Coalition on chronic diseases
Health threats: Events coordinated in
Luxembourg
Pandemic influenza H1N1 (2009)
Icelandic volcano ash cloud (2010)
Fukushima nuclear accident (2011)
Germany E. coli O104:H4 outbreak (2011)
Breast implants – France (2011/2012)
Disease outbreaks – MERS (2013),
Polio (2014) etc
3 Scientific Committees
•  Consumer safety
 Health and environmental risks
 Emerging health risks
Composition: Independent scientists giving advice on
different issues related to the field of their
Committee
"Customers": EU policy areas, e.g. in Health and
Consumers, Environment, Enterprise, Energy, etc
Health Programme 2014-2020:
scope and objectives
Promoting
health
Encouraging
innovation in
health
Support MS to
improve the health
of EU citizens and
reduce health
Increasing
inequalities
the
sustainability
of health
systems
Protecting
citizens from
serious crossborder health
threats
Budget for 2014-2020:
€449.4 million
1)
Promote
health,
prevent
disease and foster supportive
environments for healthy lifestyles
2) Protect citizens from serious
cross-border health threats
3)
Contribute
to
innovative,
efficient and sustainable health
systems
4) Facilitate access to better and
safer healthcare for Union citizens
Find out more about public health
Subscribe to the
Health-EU
newsletter!
Follow us on Twitter
at @Health_EU
Follow Commissioner
Borg at @borgton
Thank you!