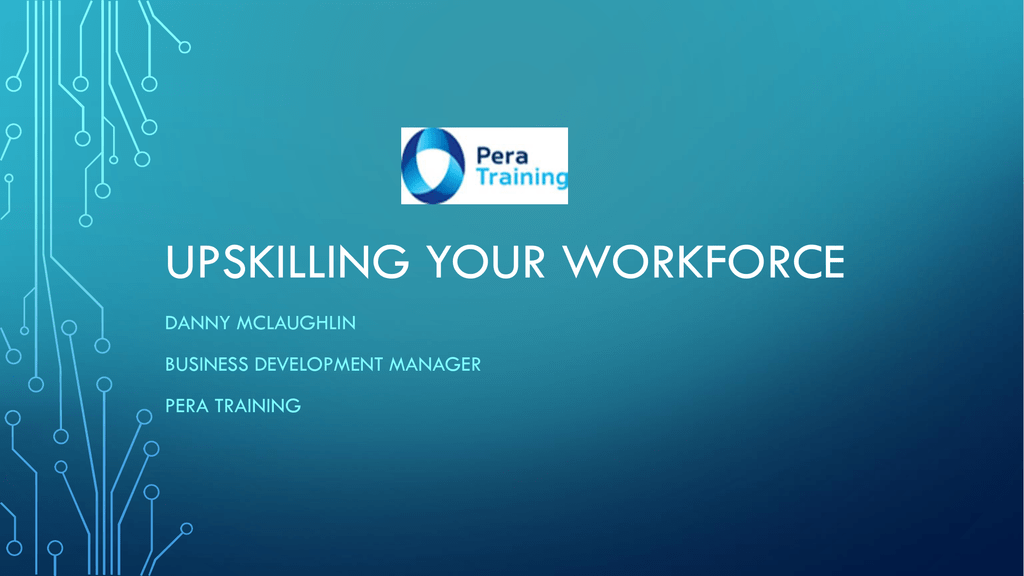 UPSKILLING YOUR WORKFORCE
DANNY MCLAUGHLIN
BUSINESS DEVELOPMENT MANAGER
PERA TRAINING
WHAT THE RESEARCH SHOWS…
• Small Business Survey of nearly 2,500 firms found that confidence
among small businesses has reached record highs (FSB research)
• Year-on-year gains seen across the whole of the UK with the index rising
from 35.7 in Q1 2014 to 39.7 in Q2 2014.
WHAT THE RESEARCH SHOWS…
DESPITE THIS…
• The survey also reveals a widening skills gap in the workplace.
• Now identified as a significant barrier to growth for small firms, almost
one third (29.9%) of those surveyed report skills shortages as
hampering growth.
WHAT THE SME EXPERTS SAY…
John Allan, National Chairman, Federation of Small Businesses, said:
• "As the labour market continues to tighten alongside the economic recovery, skills
shortages will continue to be an increasing concern for more businesses. While
this helps to boost the wage bargaining power of workers with the right skills, it
poses a risk to the momentum of economic growth and once again underlines a
long standing structural weakness in the UK economy.
WHO ARE
?
• We are now one of the largest providers in the UK of government funded and
commercially tailored training programmes.
• We work with organisations of all sizes to provide support that gives real
results to our clients.
WHO ARE
?
• Last year alone Pera Training trained more than 5,500 learners in 350 client
companies.
• Our diverse client list runs into the hundreds and includes global brands such
as Speedo, BMW, Jaguar Land Rover, AstraZeneca and Coca Cola
Enterprises.
HOW CAN
HELP?
SKILLS SUPPORT FOR THE WORKFORCE
• Brand new scheme to help improve the skills of employees in Small to
Medium-sized businesses.
• Upskill employees and plug skills gaps at NO COST
• Fully-funded by the European Social Fund.
BENEFITS TO EMPLOYERS…
• Improve the skills of your existing workforce.
• Increase staff retention and loyalty.
• Enhanced productivity and effectiveness.
• Flexible delivery – on your premises or off site depending on numbers.
• Fully funded training – save money on your training budget
BENEFITS TO EMPLOYEES…
• Learn new skills.
• Enhance your career prospects.
• Improve your performance.
• Progress to higher level training and qualifications.
• Range of job-specific courses on offer, from level 1 – 4.
HOW DO I QUALIFY?
ELIGIBILITY CRITERIA
• SME Businesses - up to 250 employees.
• Employees must be aged 19 or over.
• Work for 16 hours or more per week.
• Must meet UK residency criteria.
WHAT EMPLOYERS SAY…
P.Dobson, Sales Operations Director
"I have found the course beneficial on so many levels, from a personal point of view
it has reminded me of many basic tools and management techniques we forget
about in our busy working environment.
But the best thing about attending the course alongside my managers is the fact I'm
on board with them, we are all taking part, developing our relationship - director
to manager and manager to director. I understand what they are learning what's
involved and what they understand and struggle with. In turn this helps me coach
them into being better managers, thinking differently with alternative solution from
a business point of view."
ANY QUESTIONS…?