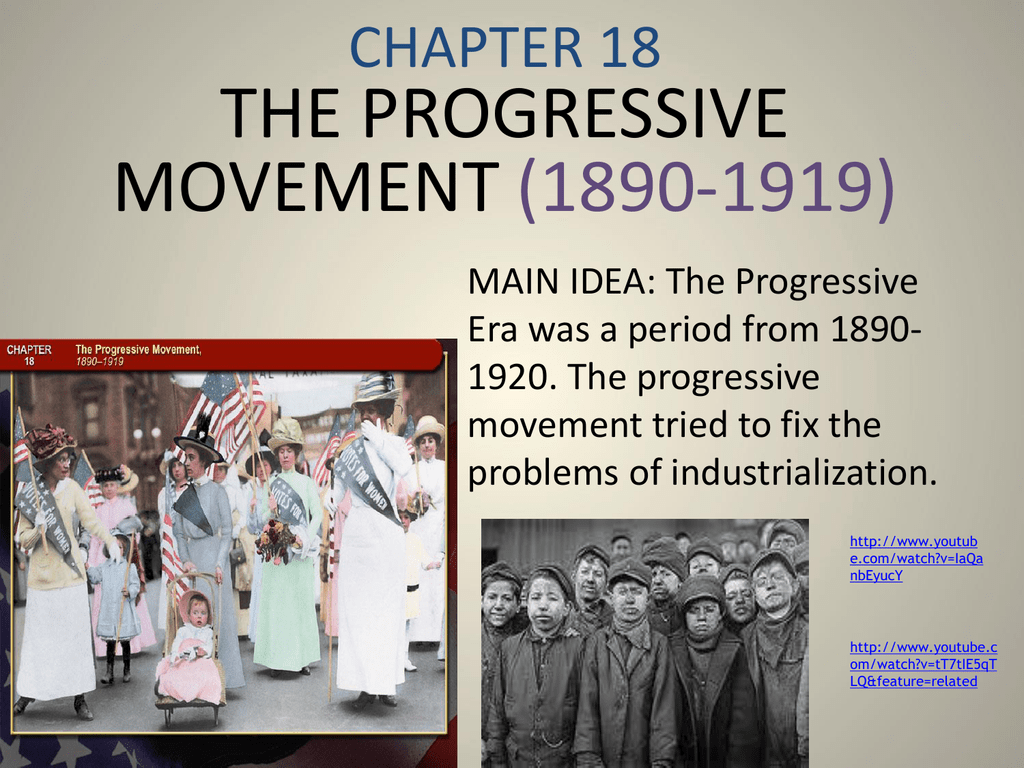 CHAPTER 18
THE PROGRESSIVE
MOVEMENT (1890-1919)
MAIN IDEA: The Progressive
Era was a period from 18901920. The progressive
movement tried to fix the
problems of industrialization.
http://www.youtub
e.com/watch?v=IaQa
nbEyucY
http://www.youtube.c
om/watch?v=tT7tIE5qT
LQ&feature=related
WHY IT MATTERS
• Industrialization changed American society. Cities were
crowded with new immigrants, working conditions were
often bad, & the old political system was breaking down 
These conditions gave rise to the Progressive movement.
Progressives campaigned for both political & social reforms
for more than two decades & enjoyed significant successes
at the local, state, & national levels.
* Many Progressive-era changes are still alive in the U.S. today.
* Political parties hold direct primaries to nominate candidates for
office
* The Seventeenth Amendment calls for the direct election of
senators
* Federal regulation of food and drugs began in this period
18.1 The Roots of Progressivism
MAIN IDEA: Progressivism was a diverse
response to the problems posed by
industrialism and modern life.
KEY TERMS
• Progressivism
• Muckraker
• Jacob Riis
• commission plan
• Robert La Follette
• direct primary
• Initiative
• Referendum
• Recall
• Suffrage
• Alice Paul
• Temperance
• Prohibition
• socialism
WHO WERE PROGRESSIVES?
* Progressive Era = era in American
history from about 1890-1920
* Progressivism = collection of
different ideas & activities about
how to fix the problems within
American society
* Disagreed on the solutions, but
agreed that gov should take a
more active role in solving
society's problems
* Gov needed to be fixed & made
more responsive to people before
other problems could be
addressed
* Progressives believed that they
could fix society's problems by
applying scientific principles to
society.
• Muckrakers = group of journalists who investigated social
conditions & political corruption
– Articles  public debate on social/eco problems
– Ex: Jacob Riis How the Other Half Lives = poverty,
disease, tenements, crime in NYC immigrant
neighborhoods
– Ex: Upton Sinclair
– Ex: Ida Tarbell – Exposed Standard Oil illegal practices
& monopoly
*WHO WERE THE
MUCKRAKERS?
THE JUNGLE – UPTON SINCLAIR
•
http://www.youtube.com/watch?v=kHF_BWfSPik
• His book draws national attention 
food and drug regulation by the
government
* Make gov more efficient to solve society's
problems – commission plans made experts,
not politicians run city departments
* The governor of Wisconsin, Robert La Follette,
criticized how political parties ran their
conventions  direct primary
* Three new reforms were introduced by
progressives to force state legislators to
respond to voter's concerns.
* 1. initiative = allowed a group of citizens to
introduce legislation and required the
legislature to vote on it
* 2. referendum = allowed proposed legislation
to be submitted to the voters for approval
* 3. recall = allowed voters to demand a special
election to remove an elected official from
office
* 17th Amendment = direct election of U.S.
Senators
* DEMOCRACY & PROGRESSIVISM
* The movement for women's voting rights was known as the
suffrage movement
*Suffrage = the right to vote
* Resistance: unfeminine/immoral, abolitionists, or not politically
active
* (NAWSA) National American Woman Suffrage Association
* Alice Paul & Carrie Chapman Catt
*19th Amendment (1920) = women can vote
*SUFFRAGE MOVEMENT
* Campaign against child labor
* Health & safety codes
* Building codes dealing with fire
hazards, unsafe machinery &
working conditions
* Workers compensation
* The temperance movement called for
the moderation or elimination of
alcohol
*  pressed for prohibition = laws
banning
manufacture/sale/consumption of
alcohol
* SOCIAL WELFARE PROGRESSIVISM
* Progressives focused on regulating big
business
* Gov. should break up big companies to
restore competition
* Creation of gov. agencies to regulate big
companies & prevent them from
abusing their power
* Socialism = idea that gov should
own/operate industry for the community as
a whole
* Eugene Debs led the American Socialist
Party & was the party's candidate for
president in the election of 1912
* Most progressives & most Americans
believed in the American system of free
enterprise
* PROGRESSIVES
vs. BIG BUSINESS
REVIEW: The Progressive Era 18901920
•
•
•
•
•
•
•
•
Progressivism was primarily a reaction against laissez-faire economics & it's emphasis was on
a more regulated market.
Progressives also believed that gov. could/should fix society's problems.
The Progressive Era marks a time when numerous laws & reform are passed to deal with
social & economic problems in favor of those struggling.
A muckraker is journalist who exposed social problems such as horrible living conditions,
bad working conditions, and political. corruption. After exposure, many times laws &
regulation would get passed as a result.
– Example: Upton Sinclair wrote "The Jungle," which exposed the dangerous and
uncleanliness of the meatpacking industry. His muckraking led to the passing of the
Meat Inspection Act.
– Jacob Riis wrote the book "How the other half lives" about the dirty & awful living
conditions of NYC's slum tenement housing.
Suffrage means "the right to vote."
After many years of struggle for women, and numerous failed attempts to pass women's
suffrage amendments, women were finally granted the right to vote by 1919.
In 1919, the amendment passed (barely).
Women were granted the right to vote through the 19th amendment in 1920.