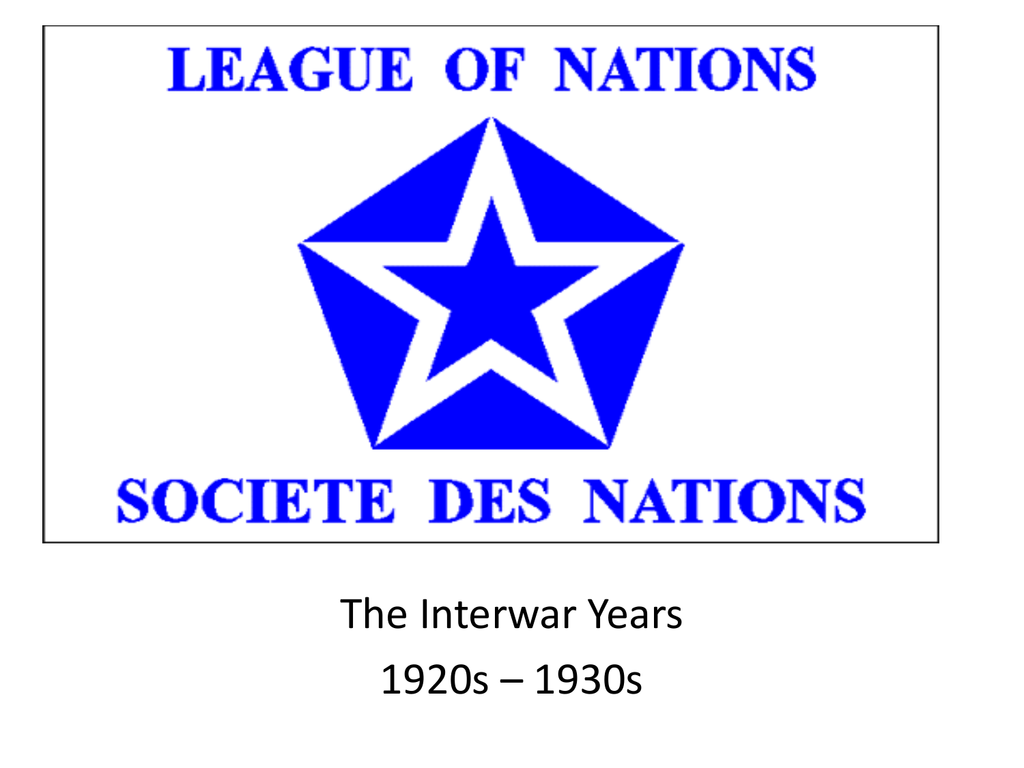 The League of Nations
The Interwar Years
1920s – 1930s
The Four Aims of the League of Nations
• Wilson wanted the League to be a kind of
'world parliament', where nations would sort
out their arguments.
• 4 Aims
– Stop wars
– improve people's lives and jobs
– Disarmament
– enforce the Treaty of Versailles
Organization of the League
ASSEMBLY (PARLIAMENT)
The League's main meeting,
held once a year.
All League nations could
attend.
Decisions only by
unanimous vote.
COUNCIL
Met 4-5 times a year and in
crises to solve international
disputes.
5 permanent members
(Br, Fr, It, Jap & Ger after
1926).
Permanent members had a
veto.
SECRETARIAT
Comprised of officials
who worked permanently
at Geneva – were
supposed to organize/
coordinate the different
function of the League
Too few secretaries to do
the work – slow and
inefficient
Conference of Ambassadors
Informal meetings of the more important countries.
Not part of the League, but often made decisions.
THE AGENCIES AND COMMISSIONS
MANDATES
COMMISSION
COURT OF
INTERNATIONAL
JUSTICE
15 judges meeting at the Hague in
the Netherlands.
Gave decisions on, e.g., fishing and
shipping disputes.
Only made decisions when asked.
Had no power to enforce decisions.
SLAVERY
COMMISSION
To abolish slavery.
Made sure that
League countries
were ruling their
colonies properly.
Administered
League-controlled
areas such as the
Saar and Danzig.
HEALTH COMMITTEE
To improve public health
world-wide.
INTERNATIONAL
LABOUR
ORGANISATION
Met once a year.
Invited government,
employers and
workers
representatives.
To improve working
conditions.
REFUGEES
COMMITTEE
To help refugees and
disaster victims.
Strengths
• Forty-two countries joined the League at the start.
• In the 1930s about 60 countries were members.
• All signed the 26 promises of the Covenant –
notably Article 10, in which nations promised to
keep the peace and help nations which were
attacked. This made the League seem strong.
• Britain and France were the main members, helped
by Italy and Japan; they were quite powerful
countries.
Strengths
• Community of Power: League publicly
declares a country is wrong, public opinion
forces it to stop
• Arbitration: League plays "referee between
two countries
• Trade Sanctions: Members of the League
agree not to trade with offending country
• Collective Security: League members agree to
back each other up in military conflict
Weaknesses
• The Assembly could only make a
decision by a unanimous vote (so it
never made any decisions),
• On the Council, all the permanent
members had a veto.
• The Secretariat was understaffed and
always in a terrible muddle. When
there was a crisis, no-one could agree.
Weaknesses
• Too much power to Europe: Britain, France and Italy
• These countries helped start WWI…why should the
League trust them not to start another war?
• Japan wanted a promise to oppose racial
discrimination – rejected
• Covenant – patronizing view of colonists – "civilized"
countries should take care people who couldn't
stand by themselves under the strenuous conditions
of the modern world.
Weaknesses
• The most powerful countries in the world were not
members.
– The USA did not want to join.
– The Russians refused to join – weren't asked. They
were Communists and hated Britain and France. In
1919 they set up the Comintern to spread
communist revolutions.
– Germany was not allowed to join – part of the
Treaty of Versailles.
– Without these three big powers, the League was
weak.