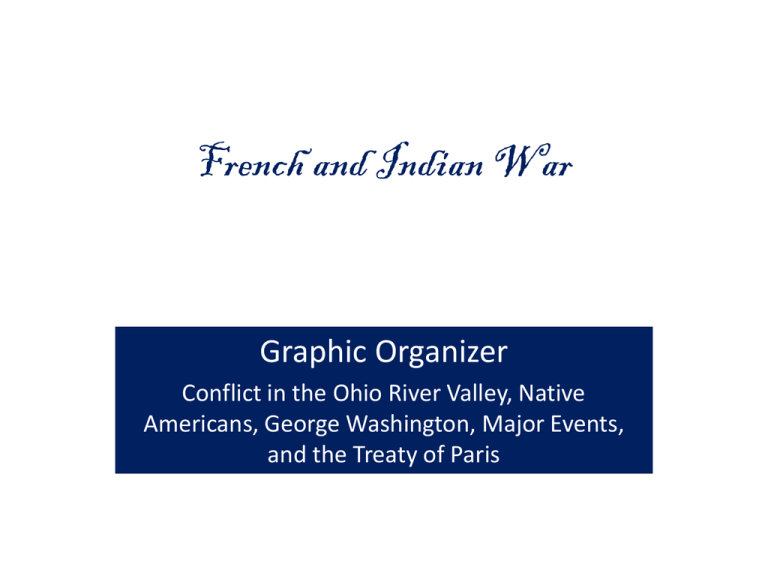 French and Indian War
Graphic Organizer
Conflict in the Ohio River Valley, Native
Americans, George Washington, Major Events,
and the Treaty of Paris
Conflict in the Ohio River Valley
• England and France both want this region for
settlement and trade purposes.
• 1740:English settlers along the Atlantic Coast
move over the Appalachian Mountains to
trade with Native Americans.
• France wanted to stop the English from
expanding westward.
Native Americans
• Native Americans first owned the land in the
Ohio River Valley.
• This group of people protected themselves by
choosing a side with the French and British.
– French were allies the Algonquins and the Hurons.
– British were allies with the Iroquois.
A Bold Young Leader
• George Washington was from Virginia and was
a land surveyor.
• Assigned by the Virginia governor to build a
fort in the Ohio River Valley.
• The French had already built a fort in the
same area. Washington launched a surprise
attack on the French and built a stockade
known as Fort Necessity.
• He proved to be successful under pressure.
Major Events
• French victories early in the war: Ft.
Dusquesne, Oswego, and William Henry.
• William Pitt becomes the new leader of the
British government and replaces many
generals.
• Britain becomes victorious and defeats the
French at Ft. Niagara, Ticonderoga, and
Captures Louisburg and Quebec.
Treaty of Paris
• 1763
• Marked the end of French power in North
America.
• Britain gained Canada and all French land east of
the MS River, except New Orleans. They also
received Florida.
• France kept only two islands in the Gulf of St.
Lawrence and the West Indies.
• Spain gained all French land west of the MS River
including New Orleans.