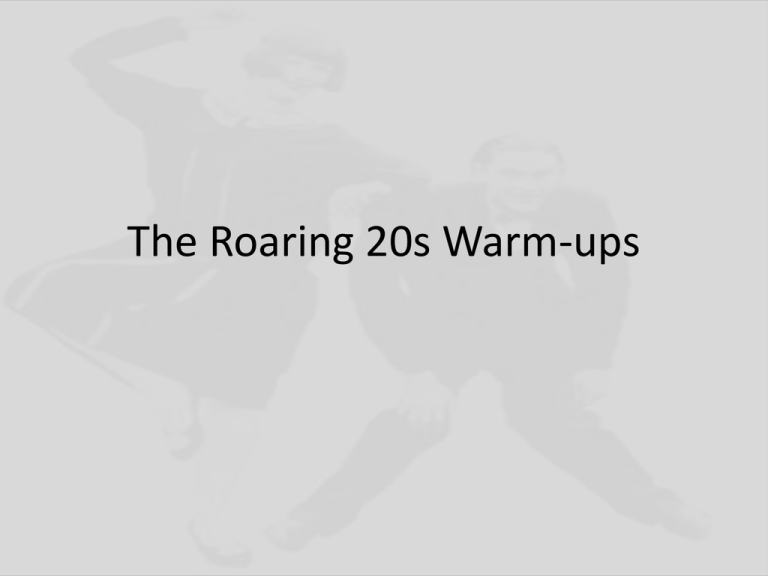 The Roaring 20s Warm-ups
• 11/27-28
• Warm up: President Calvin Coolidge once said
"The Business of America is America ." How
does this quote set the tone for the decade?
11/29-30
• Warm up: Should the government be able to
regulate and or ban substances such as drugs
or alcohol? Explain
WARM UP: IN WHAT WAYS DID MASS
MEDIA AND SOCIETY HIGHLIGHT THE
DIVISIONS IN 1920S AMERICAN
SOCIETY?
12/4-5
WHAT IS YOUR REACTION TO THE
STRANGE FRUIT SONG AND IMAGES?
Warm up: Langston Hughes' poem "Let
America be America again". What is his
perception of the American Dream?
(Turn in script)
WARM UP: HOW ARE WOMEN
PORTRAYED IN THE NOVEL "THE GREAT
GATSBY" HOW ARE THEY DIFFERENT
FROM PREVIOUS GENERATIONS?
http://ayjw.org/print_articles.php?id=732913
• F. Scott Fitzgerald has a unique and intriguing way of
portraying his three main female characters in his most
famous novel, The Great Gatsby. Daisy Buchanan, Jordan
Baker and Myrtle Wilson each represent a distinct
personality and different segment of society during the
Roaring Twenties. Even though all three women are a
product of this rebellious time in American history, they all
have different characteristics and are representative of
their individual levels in society. As the saga develops, the
women's lives cross in several different settings which
prove to be significant to the plot of the story. When the
novel comes to its abrupt conclusion, the reader realizes
the significance this era had on women of today. While
Daisy personifies an aristocratic woman of the time, Jordan
depicts a rebellious modern woman, and finally Myrtle
portrays a working class woman seeking a glimpse of high
society.