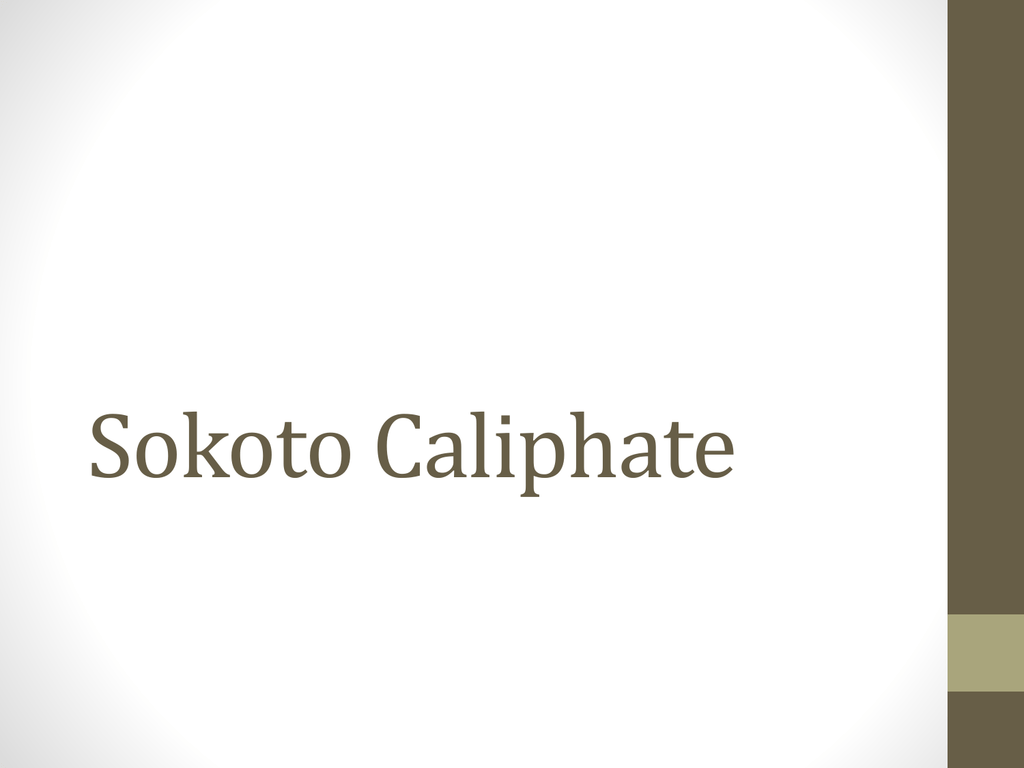 Sokoto Caliphate
Basically. . . …
Western
Sudan
Songhai
Borno
Collapsed
Who?
Usman Dan Fodio
Muslim scholar
Wanted to create a
strong Muslim nation
Angered by Hausa Kings
and their mixture of
Islam with other
cultures
Objective:
Restore
Muslim
Series of
world
reforms
Jihad
Revolution that
would overthrow
existing
authorities
And so. . . …
When Did It Exist?
• The Sokoto Caliphate began in 1804,
started by Usman dan Fodio.
• 1809 Muhammad Bello, Usman's
son, founded Sokoto, the capital.
• 1817 Usman died and Muhammad
Bello took over.
• The Oyo Calvary in Ilorin was
defeated in 1820.
• From 1808 to 1830, there was a period of
great expansion.
• 1837 the Sokoto Caliphate had a
population of around 10 million people.
• 1891 the Caliphate was at war with
Argungu.
• 1902 the British continued their
expansion into Nigeria and moved into
the Sokoto Caliphate.
People of
Sokoto
Caliphate
Key Information
• Islam was widespread in Sokoto
Caliphate.
• Arabic was used to control
relations with neighboring
countries.
• Relationships with the
Europeans were bad especially
during the fight for the
How did it rise?
• A revolution which swept across Bilad Sudan in 1817 lead to the
establishment of the Sokoto Caliphate.
What were the factors?
• 31 different emirates a united to become strong and
powerful
http://www.academia.edu/518525/Ibn_Khald
un_Cyclical_Theory_and_The_Rise_and_Fall_o
f_Sokoto_Caliphate_Nigeria_West_Africa
Decline
• Collapsed under pressure from colonialism that destroyed
traditional trading patterns.
• In 1904, the British brought the Caliphate system to an end
by invading.
http://nigerianwiki.com/index.php?title=Sokot
o_Caliphate
Importance
• Strong for political and religious power
Sources…
• Helen Chapin Metz, ed. Nigeria: A Country Study. Washington:
GPO for the Library of Congress, 1991.
• "Historical Dictionary." Sokoto Caliphate. History Today, n.d.
Web. 10 Mar. 2014.
• Mudasiru, Sheriff. "Sokoto Caliphate: It's Rise and Fall".
International Islamic University Malaysia. N.p, n.d. 10 March
2014. Web.