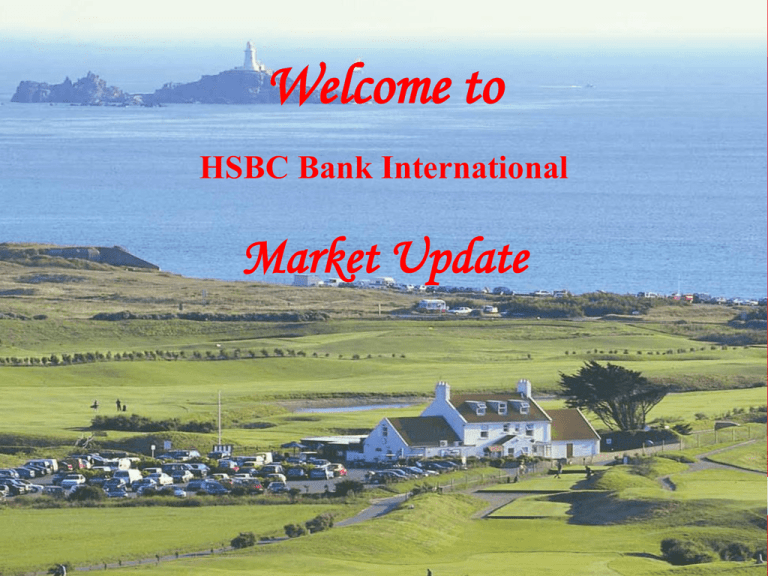 Welcome to
HSBC Bank International
Market Update
A Joined-up HSBC Premier Relationship
Home Bank
"A link to home life,
servicing home needs"
e.g. Mortgage,
collect rent, maintain
home, kids education
Host Bank
"A local account for
local needs"
e.g. Salary payments,
local payments &
expenses
Offshore Bank
"A reliable and convenient location
to protect and add value to your international wealth"
Why Offshore - Customer Benefits
► Reliability and Convenience - a reliable home to grow your
savings whilst your career takes you around the world
► Relevance - products and services designed for internationally
mobile customers
► English-speaking Relationship Managers based in Hong
Kong, together with 24/7 multi-lingual telephone banking and
award-winning internet banking
► Tax Efficiencies - depending on your circumstances, banking
offshore can have potential tax efficiencies
► Jersey – long-established and well-regulated offshore centre
Global Account View
Hong Kong
Offshore Jersey
UAE
UK
'Global Account View' would be linked to your account with HSBC Premier in Hong Kong
to enable a complete overview of your finances and enable free on-line transfers between
these HSBC Premier accounts.
Products and Services
► International wealth management advice & solutions – designed
for expats
► Major currencies: GBP, EUR and USD
► Current accounts & flexible fixed term savings accounts
► GBP credit / debit cards
► 24/7 Premier telephone & internet banking
► UK Mortgage expertise – Buy to Let / Residential
Member Get Member Scheme Recommend someone to HSBC Bank International
and share GBP500
Wealth Management
► Holistic wealth management approach
► Protection products
► Investment products
► Bespoke service tailored to your individual needs.
► European approach to financial planning and investing
Important Notes and Risk Disclosures
Issued by HSBC Bank International Limited. HSBC Bank International is a trading name of HSBC Bank International
Limited.
HSBC Bank International Limited is regulated by the Jersey Financial Services Commission for Banking, General
Insurance Mediation, Collective Investment Schemes & Investment Business. Licensed by the Guernsey Financial
Services Commission for Banking, Collective Investment Schemes & Investment Business and licensed by the Isle of
Man Financial Supervision Commission for Banking and Investment Business. HSBC Bank International Limited, Hong
Kong Branch is licensed by the Hong Kong Monetary Authority as an Authorised Institution in Hong Kong and registered
with the Securities and Futures Commission to conduct dealing in securities (Type 1) and advising on securities (Type 4)
regulated activities under the Securities and Futures Ordinance (Central Entity Number: AGH398).
The presentation has not been reviewed by the Securities and Futures Commission.
This presentation is prepared for information only. It shall not be capable of creating any contractual or legal obligations
on the part of the HSBC Bank International or any other HSBC Group company. Care has been taken to ensure the
accuracy of this presentation but HSBC Bank International accepts no responsibility for any errors or omissions
contained therein.
The material contained in this presentation and opinions expressed during the event do not constitute investment advice
to anyone or solicitation for the purchase or sale of any investment. The HSBC Bank International and HSBC Group
shall not be held liable for damages arising out of any person's reliance upon this information.
Investment involves risk and past performance is not indicative of future performance. Investors must refer to the
product literature for further details and the risks involved. The investment decision is yours but you should not invest in
investment product unless the intermediary who sells it to you has explained to you that the product is suitable for you
having regard to your financial situation, investment experience and investment objectives.
Your tax situation will depend on your personal circumstances and we recommend you obtain independent tax advice.
The contents of this presentation are confidential and may not be reproduced or further distributed to any person or
entity, whether in whole or in part, for any purpose.
©HSBC Bank International Limited.2010.All Rights Reserved.
Thank You!