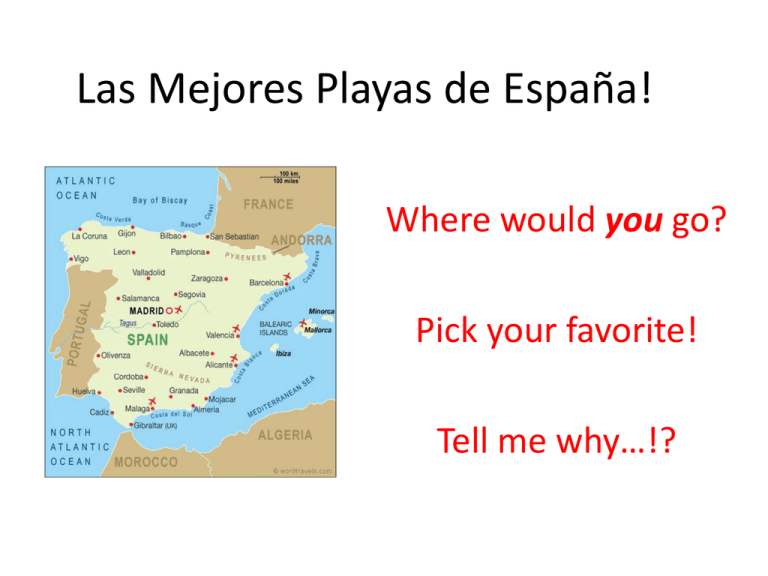 Las Mejores Playas de España!
Where would you go?
Pick your favorite!
Tell me why…!?
This is Sitges beach. Sitges is the nearest beach to Barcelona that is
worth going to. It is just 45 minutes from the city.
This Ses Illetes beach. According to viajar.com, Formentera is
the best Baleric Island for beaches, and Ses Illetes is the best
beach in Formentera.
Playa de las
Catedrales, in
Galicia, Spain.
Playa de las Catedrales, or the 'beach of
the cathedrals', is in the north-west of
Spain, in the region of Galicia. It is
famous for its rock formations, best
seen when the tide is low.
Playa del Silencio in Asturias, northern Spain.
This is Playa de Nerja, a beach in Andalusia, southern Spain.
The Andalusia region has a varied landscape, from golden beaches to beautiful
mountain ranges. There are great possibilities for most different sports as well,
from skiing in the Sierra Nevada to surfing at the coast of Cadiz, where you will
find ideal conditions as nowhere else in Europe.
This is Playa de Calella, in
Catalonia, not far from
Barcelona.
This is the beach in Benidorm, in the region of Alicante, not far from
Valencia.
Benidorm has the third highest number of hotel beds in Europe after London and Paris, catering
for thousands of northern Europeans in search of the cheap sun each year. You won't get a real
taste of Spain in Benidorm but you will get cheap and cheerful fun in the sun.
This is Cala Pola, Tossa de Mar, in Catalonia, near Barcelona and Girona.
La Manga del Mar Menor is a beach near Cartagena, in the south-east region of Murcia
in Spain.
'La Manga del Mar Menor' means 'the sleeve of the little sea'. It is a strip of land which divides
the 'mar menor' ('little sea') from the rest of the Mediterranean. There are some good golf
courses in the area.
This is the beach in Gijón, in Asturias,
northern Spain.
Gijón offers an attractive combination of seafaring flavor, heritage
buildings and modern urban development behind the beach.
This is Playa de L'Escala, in the north-east of Spain, not far from the French border.
Figueres, home to the Salvador Dali Museum is nearby, as is El Bulli in Roses,
voted the best restaurant in the world in 2006, 2007 and 2008.