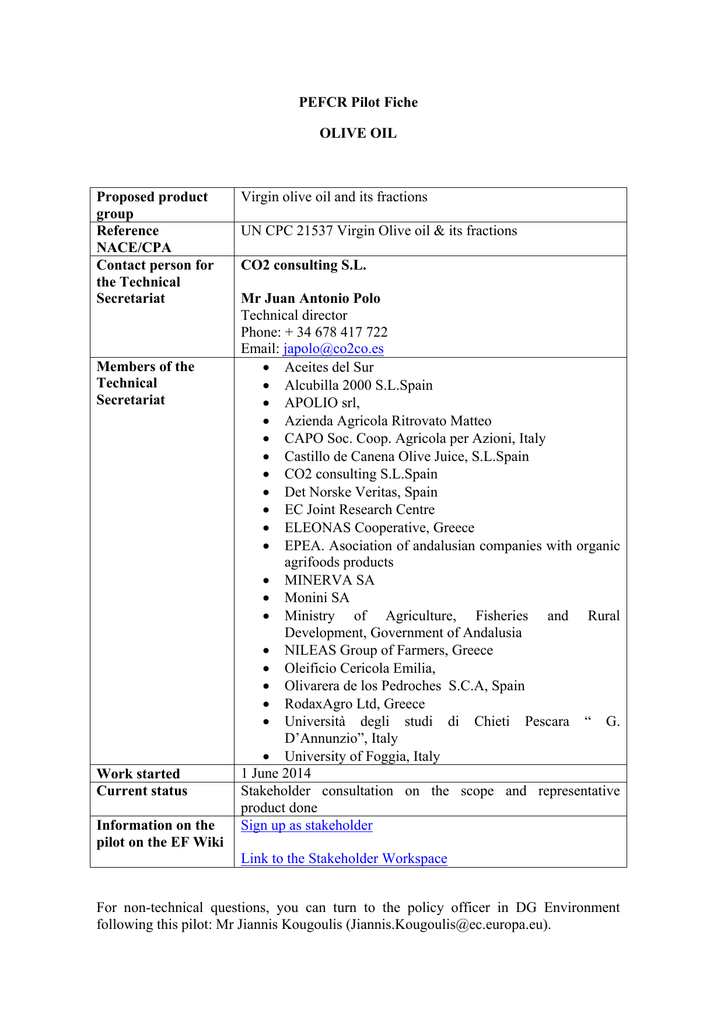 PEFCR Pilot Fiche
OLIVE OIL
Proposed product
group
Reference
NACE/CPA
Contact person for
the Technical
Secretariat
Members of the
Technical
Secretariat
Work started
Current status
Information on the
pilot on the EF Wiki
Virgin olive oil and its fractions
UN CPC 21537 Virgin Olive oil & its fractions
CO2 consulting S.L.
Mr Juan Antonio Polo
Technical director
Phone: + 34 678 417 722
Email: [email protected]
• Aceites del Sur
• Alcubilla 2000 S.L.Spain
• APOLIO srl,
• Azienda Agricola Ritrovato Matteo
• CAPO Soc. Coop. Agricola per Azioni, Italy
• Castillo de Canena Olive Juice, S.L.Spain
• CO2 consulting S.L.Spain
• Det Norske Veritas, Spain
• EC Joint Research Centre
• ELEONAS Cooperative, Greece
• EPEA. Asociation of andalusian companies with organic
agrifoods products
• MINERVA SA
• Monini SA
• Ministry of Agriculture, Fisheries and Rural
Development, Government of Andalusia
• NILEAS Group of Farmers, Greece
• Oleificio Cericola Emilia,
• Olivarera de los Pedroches S.C.A, Spain
• RodaxAgro Ltd, Greece
• Università degli studi di Chieti Pescara " G.
D'Annunzio", Italy
• University of Foggia, Italy
1 June 2014
Stakeholder consultation on the scope and representative
product done
Sign up as stakeholder
Link to the Stakeholder Workspace
For non-technical questions, you can turn to the policy officer in DG Environment
following this pilot: Mr Jiannis Kougoulis ([email protected]).