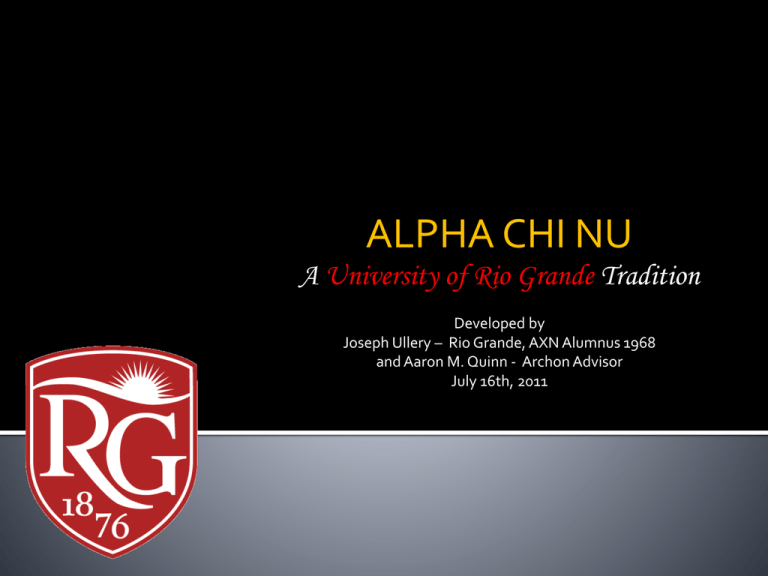 ALPHA CHI NU
A University of Rio Grande Tradition
Developed by
Joseph Ullery – Rio Grande, AXN Alumnus 1968
and Aaron M. Quinn - Archon Advisor
July 16th, 2011
 Founded 1958-59
 Thirteen original brothers
 Mission: To serve the University of Rio
Grande and promote brotherhood
 ONLY fraternity on campus without a
national chapter
 The history of Archon and Rio Grande
have been and forever will be linked
 TRADITION
Oldest fraternal organization on campus
Corresponds with University mission statement
Positive influence on surrounding community
 TRADITION
Service
Brotherhood
Excellence in life beyond the college years
SERVICE
 Past University Staff: Dean Brown, Bernie
Murphy, Bob Leith, Vince Hill
 University Board of Trustees and/or
Alumni Board : Kurt Williams, Larry
Guglielmi, Tom Davisson, Dean Brown,
 Largest organizational financial supporter
of the University
 Community: Bob Evans Farm Festival,
Archon Classic Golf Tournament, Apple
Festival Walk
DISTINGUISHED ALUMNI
 Joe Sebring – CEO John Morrell Meats
 Nick Kostis – Owner, Pickwick and Frolics
 Tom Davisson – Senior Vice President,
Sullivan University
 Joe Ullery – VP, Oncology Therapeutics
Network
 Bob Leith – PhD., Educator
 Ron Glover - Entrepreneur
 Are you looking to be a part of something
special?
 Do you want to reach your full potential in and
out of the classroom?
 Is a leadership role something you search out
instead of running away from?
IF SO…
 We want YOU to join our unique tradition
 We want YOU to be a part of service to humanity
 We want YOU to be a Brother!!!