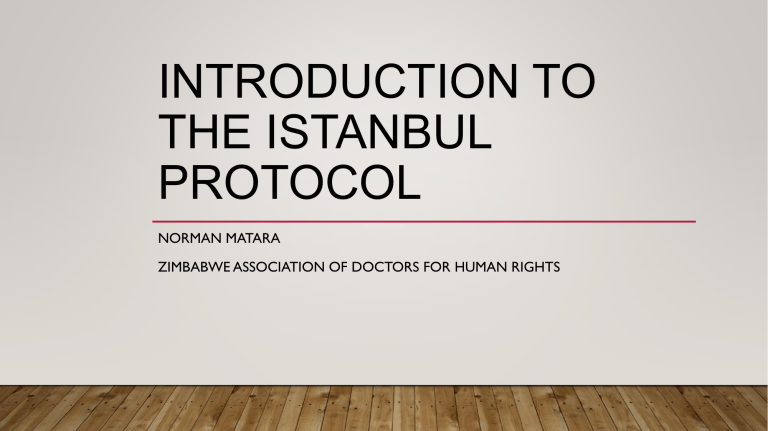 INTRODUCTION TO
THE ISTANBUL
PROTOCOL
NORMAN MATARA
ZIMBABWE ASSOCIATION OF DOCTORS FOR HUMAN RIGHTS
ISTANBUL PROTOCOL
• Torture and other forms of prohibited ill-‐treatment are recognised in international
law as both crimes which the state must prosecute and serious human rights
violations.
• Torture, by its very nature, is committed by those with power, often behind closed
doors.
• Victims face significant legal and practical barriers to achieve any form of redress,
including the difficulty of proving what has happened to them when much of the
information required is often in the hands of state authorities.
ISTANBUL PROTOCOL
• Before the Istanbul Protocol there was no single document setting out how to document and
investigate allegations of torture and its consequences.
• Developed over the course of three years by more than 75 forensic physicians, psychologists,
human rights monitors, and lawyers representing 40 organizations and institutions from 15
countries.
• In 2OOO, this ground-breaking resource was adopted as the United Nations' recognized
standard.
• Manual on the Effective Investigation and Documentation of Torture and Other Cruel, Inhuman
or Degrading Treatment or Punishment
• Contains internationally recognised standards and procedures on how to identify and document
symptoms of torture so the documentation may serve as valid and useful evidence in court
MEDICAL ETHICS
• There are very clear links between concepts of human rights and the well-established
principle of health-care ethics.
• It is a gross contravention of health-care ethics to participate, actively or passively, in torture
or condone it in any way.
• Health professionals with dual loyalties- particularly acute for health professionals working
with the police, military, other security services or in the prison system.
• Medical ethics v the law
• Conflict of 2 ethical obligations- The fundamental principle of avoiding harm must feature
prominently in consideration of such dilemmas
GENERAL CONSIDERATIONS FOR INTERVIEWS
• The broad purpose of the investigation is to establish the facts related to alleged incidents of
torture. Medical evaluations of torture may be useful evidence in legal contexts such as:
• (a) Identifying the perpetrators responsible for torture and bringing them to justice;
• (b) Support of political asylum applications;
• (c) Establishing conditions under which false confessions may have been obtained by State
officials;
• (d) Establishing regional practices of torture. Medical evaluations may also be used to identify
the therapeutic needs of survivors and as testimony in human rights investigations.
• The examiner should be prepared to do the following:
• (a) Assess possible injury and abuse, even in the absence of specific allegations by
individuals, law enforcement or judicial officials;
• (b) Document physical and psychological evidence of injury and abuse;
• (c) Correlate the degree of consistency between ex-amination findings and specific
allegations of abuse by the patient
• (d) Correlate the degree of consistency between individual examination findings with the
knowledge of torture methods used in a particular region and their common aftereffects;
• (e) Render expert interpretation of the findings of medical-legal evaluations and provide
expert opinion regarding possible causes of abuse in asylum hearings, criminal trials and
civil proceedings;
• (f) Use information obtained in an appropriate manner to enhance fact-finding and
further documentation of torture
PROCEDURAL SAFEGUARDS WITH RESPECT TO
DETAINEES
• Forensic evaluation of detainees conducted in response to official written requests by
public prosecutors or other appropriate officials.
• Detainees themselves, their lawyers or relatives, however, have the right to request a
medical evaluation to seek evidence of torture and ill-treatment.
• Each detainee must be examined in private- document presence of law enforcement
officers
• Medical evaluation of detainees should be conducted at a location that the physician
deems most suitable
DOCUMENTING THE BACKGROUND
• Psychosocial history and pre-arrest
• Summary of detention and abuse- detailed account of events, elicit summary information,
including dates, places, duration of detention, frequency and duration of torture sessions.
• Circumstances of detention- what time was it? Where were you? What were you doing?
Who was there? Describe the appearance of those who detained you. Were they military
or civilian, in uniform or in street clothes? What type of weapons were they carrying?
What was said? Any witnesses? Was this a formal arrest, administrative detention or
disappearance?
• Place and conditions of detention- what happened first? Where were you taken? Was
there an identification process (personal information recorded, finger-prints,
photographs)? Were you asked to sign anything? Describe the conditions of the cell or
room (note size, others present, light, ventilation, temperature, presence of insects,
rodents, bedding and access to food, water and toilet). What did you hear, see and smell?
• Methods of torture and ill-treatment- or each form of abuse, note: body position,
restraint, nature of contact, including duration, frequency, anatomical location and the
area of the body affected. Ask about condition at the end of each session
ASSESSMENT OF THE BACKGROUND
• Torture survivors may have difficulty recounting the specific details of the torture for several important
reasons, including:
• (a) Factors during torture itself, such as blind folding, drugging, lapses of consciousness, etc.;
• (b) Fear of placing themselves or others at risk;
• (c) A lack of trust in the examining clinician or interpreter;
• (d) The psychological impact of torture and trauma, such as high emotional arousal and impaired memory,
secondary to trauma-related mental illnesses, such as depression and post-traumatic stress disorder (PTSD);
• (e) Neuropsychiatric memory impairment from beatings to the head, suffocation, near drowning or starvation;
• (f) Protective coping mechanisms, such as denial and avoidance;
• Inconsistencies in a person's story may arise from any or all of these factors. If possible,
the investigator should ask for further clarification.
• When this is notpossible, the investigator should look for other evidencethat supports or
refutes the story.
REVIEW OF TORTURE METHODS
• a) Blunt trauma, such as a punch, kick, slap, whip-ping, a beating with wires or truncheons or falling down;
• (b) Positional torture, using suspension, stretching limbs apart, prolonged constraint of movement, forced positioning;
• (c) Burns with cigarettes, heated instruments, scalding liquid or a caustic substance;
• (d) Electric shocks;
• (e) Asphyxiation, such as wet and dry methods, drowning, choking or use of chemicals;
• (f) Crush injuries, such as smashing fingers or using a heavy roller to injure the thighs or back;
• (g) Penetrating injuries, such as stab and gunshot wounds, wires under nails;
• (h) Chemical exposure to salt, chilli pepper, gasoline, etc. (in wounds or body cavities);
• (i) Sexual violence to genitals, molestation, instrumentation, rape
• j) Crush injury or traumatic removal of digits and limbs;
• (k) Medical amputation of digits or limbs, surgical removal of organs;
• (l) Pharmacological torture using toxic doses of sedatives, neuroleptics, paralytics, etc.
• (m) Conditions of detention, such as a small or over-crowded cell, solitary confinement,
unhygienic conditions, no access to toilet facilities, irregular or contaminated food and
water, exposure to extremes of temperature, denial of privacy and forced nakedness
• (n) Deprivation of normal sensory stimulation,
• (o) Humiliation, such as verbal abuse, performance of humiliating acts;
• (p) Threats of death, harm to family, further torture, imprisonment, mock executions;
• (q) Threats of attack by animals, such as dogs, cats, rats or scorpions;
• (r) Psychological techniques to break down the individual, including forced betrayals, accentuating feelings
of helplessness, exposure to ambiguous situations or contradictory messages;
• (s) Violation of taboos;
• (t) Behavioural coercion, such as forced engagement in practices against the religion of the victim.
• (u) Forcing the victim to witness torture or atrocities being inflicted on others.
RISK OF RE-TRAUMATIZATION OF THE
INTERVIEWEE
• The presence of psychological sequelae in torture survivors, particularly the various
manifestations of PTSD, may cause the torture survivor to fear experiencing a reenactment of his or her torture experience during the interview, physical examination or
laboratory test.
• Explaining to the torture survivor what he or she should expect prior to the medical
examination is an important component of the process.
GENDER ISSUES
• Ideally, an investigation team should contain specialists of both genders, permitting the
person who says that they have been tortured to choose the gender of the investigator.
• More important when rape is suspected
REFERRALS
• Wherever possible, examinations to document torture for medical-legal reasons should
be combined with an assessment for other needs, whether referral to specialist
physicians, psychologists, physiotherapists or those who can offer social advice and
support. Investigators should be aware of local rehabilitation and support services.
• PSYCHOLOGICAL IMPACT OF TORTURE AND ILL TREATMENT
• COMPILING A MEDICAL AFFIDAVIT
•THANK YOU!!!!!