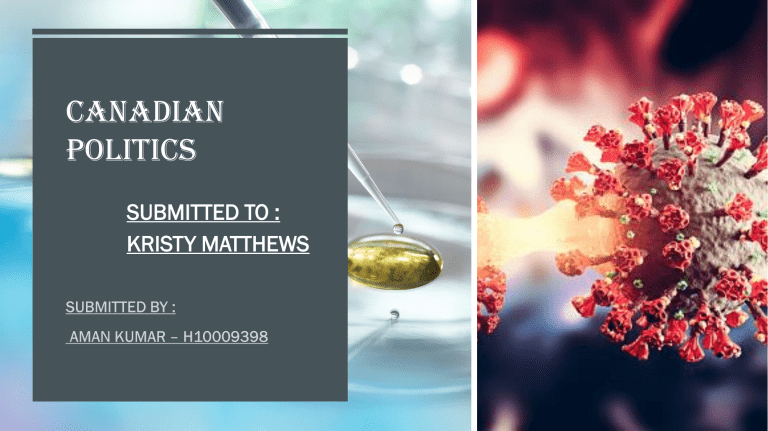 CANADIAN
POLITICS
SUBMITTED TO :
KRISTY MATTHEWS
NATIONAL
ECONOMIC
PRESSURE THAT
CANADA IS
FACING BECAUSE
OF THE COVID –
19 PANDEMIC
EMPLOYMENT IS SEVERAL HEAVILY
IMPACTED INDUSTRIES IN COVID 19
IMPACT OF COVID 19 ON EMPLOYMENT SECTOR OF CANADA
 Many of folks, international students face problem of job loss due to covid as everything is close or have some
restrictions regard social distance.
 During the pandemic, the services sector was more severely hit than the goods sector. Of the 2.7 million
employment decline in April 2020 compared with April 2019, 75.6% (over 2 million) of job losses were in the
services sector. Therefore, gender differences in employment losses were disproportionately driven by the
services sector. female employees in small firms were more severely affected than their male counterparts.
WHAT PARTS OF CANADA ARE
MOST AFFECTED BY
PANDEMIC ON EMPLOYMENT
 ONATARIO, IS THE MOST AFFECTED
PROVIENEC OF CANADA IN COVID 19.
AROUNND 400,000 PEOPLE WERE JOBLESS.
ONTARIOA HAS HIGHER IMMIGRANTS RATE S
WHICH MEANS IN MANY INTERANTIONAL
STUDENTS LOSS THEIR JOBS.
 HOWEVER, QUEBEC WAS 2ND MOST
THE FOLLLOWING GRAPH REFLECT THAT
THE PEOPLE LOSS THEIR JOBS MORE IN
ONATARIO FOLLOWING WITH QUEBEC.
AFFECTED PROVIENCE IN CANADA ABOUT
275,000 RESIDENCE LOSS THEIR JOBS
UNDER THE PANDEMIC WHICH INCLUDE
FEMALES MORE THAN MENS.
WHAT ARE THE IMPACT OF THE ISSUE ON CANADIAN SOCIETY.
 Canada bans entry to all non-resident also after some time Canada declare emergency in first state.
 Unemployment rater reached high of 13.7% all small business were shut down 95% of Canadian adopted
public health precautions. people don't have their daily expenses like rents ,grocery ,
 Due to self isolations pupils became lethargic ,spending more time on social media and in result they
weaken their eyesight and became cranky.
 Professional and personal life were mixed up after adopted work from home culture specially women
WHAT ACTION HAS BEEN TAKEN TO ADDRESS THE ISSUE BY THE GOVERNMENT
,INDIVIDUALS' COMMITTEES ,ORGANIZATIONS ,NONPROFITS , ETC. ?
First and foremost,
government prepared
vaccines for the general
public so that death rates
should be counter.
Authorities gave some
amount of money when there
were no jobs also , they give
permission to work full time
to international student
Some organizations also
came with helping hand by
providing groceries to the
people who cannot afford at
time.
On the individual level people
perform their duties by
following social distancing
,coming out for essential
work only , wearing masks
sanitizing themselves and
the place their living .
WHAT OBSTACLES ARE PREVENTING THIS ISSUE TO BE SOLVED

The upmost obstacle was this virus was spreading by touching
each other because of that it was very difficult to tackle.
moreover, vaccine was also not there.

At the end Government must restrict works because gathering
was the main issue which impacted the financial statues of
nation, government spending were more, and earning were less
which pressurize the government funds.

Government was first completely failed to handle the deaths of
people because the rate was very high.

Keeping people safe and healthy should be the primary
objective for employers getting back to work during this
health crisis, but in covid it is high risk for the people who
work to maintain health or prevent covid .
WHAT ARE MY PERSONAL
THOUGHTS ,FEELINGS ,
REACTIONS,
RECOMMENDATIONS ON THE
ISSUE

It was feels like hell because a large sum of people were dying. There is no such figure to describe the
people fell ill due to covid

The big amount of people got unemployed which was very sad because people don't have money for
their daily expanse

The atmosphere was full of fear but still trying to help others.