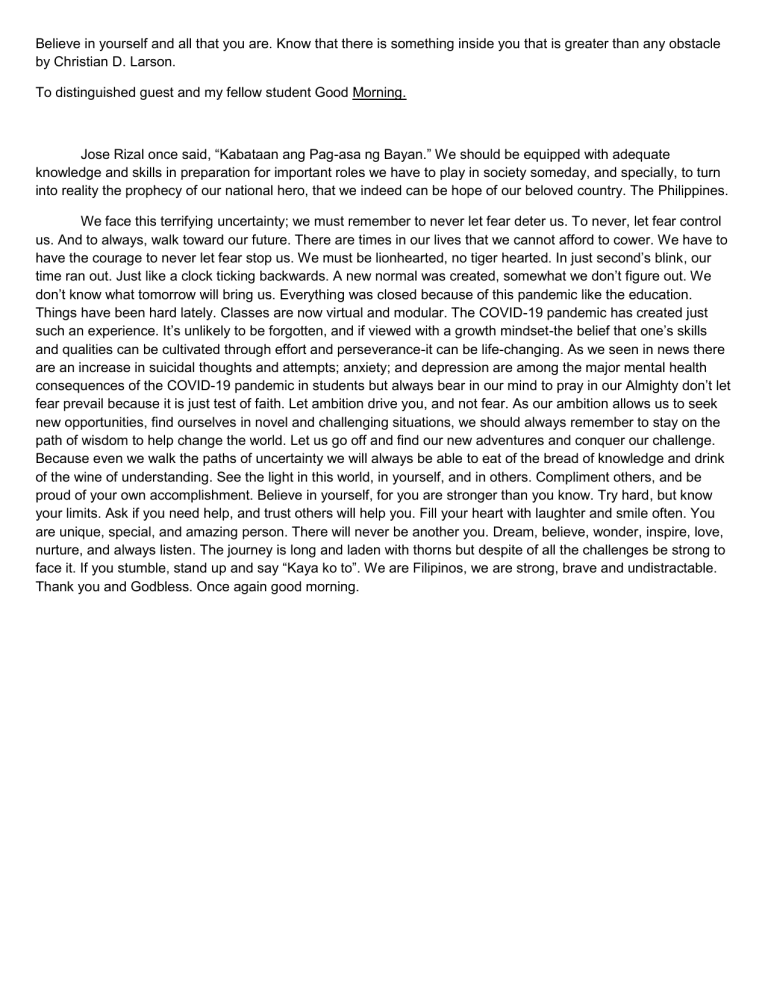 Believe in yourself and all that you are. Know that there is something inside you that is greater than any obstacle
by Christian D. Larson.
To distinguished guest and my fellow student Good Morning.
Jose Rizal once said, "Kabataan ang Pag-asa ng Bayan." We should be equipped with adequate
knowledge and skills in preparation for important roles we have to play in society someday, and specially, to turn
into reality the prophecy of our national hero, that we indeed can be hope of our beloved country. The Philippines.
We face this terrifying uncertainty; we must remember to never let fear deter us. To never, let fear control
us. And to always, walk toward our future. There are times in our lives that we cannot afford to cower. We have to
have the courage to never let fear stop us. We must be lionhearted, no tiger hearted. In just second's blink, our
time ran out. Just like a clock ticking backwards. A new normal was created, somewhat we don't figure out. We
don't know what tomorrow will bring us. Everything was closed because of this pandemic like the education.
Things have been hard lately. Classes are now virtual and modular. The COVID-19 pandemic has created just
such an experience. It's unlikely to be forgotten, and if viewed with a growth mindset-the belief that one's skills
and qualities can be cultivated through effort and perseverance-it can be life-changing. As we seen in news there
are an increase in suicidal thoughts and attempts; anxiety; and depression are among the major mental health
consequences of the COVID-19 pandemic in students but always bear in our mind to pray in our Almighty don't let
fear prevail because it is just test of faith. Let ambition drive you, and not fear. As our ambition allows us to seek
new opportunities, find ourselves in novel and challenging situations, we should always remember to stay on the
path of wisdom to help change the world. Let us go off and find our new adventures and conquer our challenge.
Because even we walk the paths of uncertainty we will always be able to eat of the bread of knowledge and drink
of the wine of understanding. See the light in this world, in yourself, and in others. Compliment others, and be
proud of your own accomplishment. Believe in yourself, for you are stronger than you know. Try hard, but know
your limits. Ask if you need help, and trust others will help you. Fill your heart with laughter and smile often. You
are unique, special, and amazing person. There will never be another you. Dream, believe, wonder, inspire, love,
nurture, and always listen. The journey is long and laden with thorns but despite of all the challenges be strong to
face it. If you stumble, stand up and say "Kaya ko to". We are Filipinos, we are strong, brave and undistractable.
Thank you and Godbless. Once again good morning.