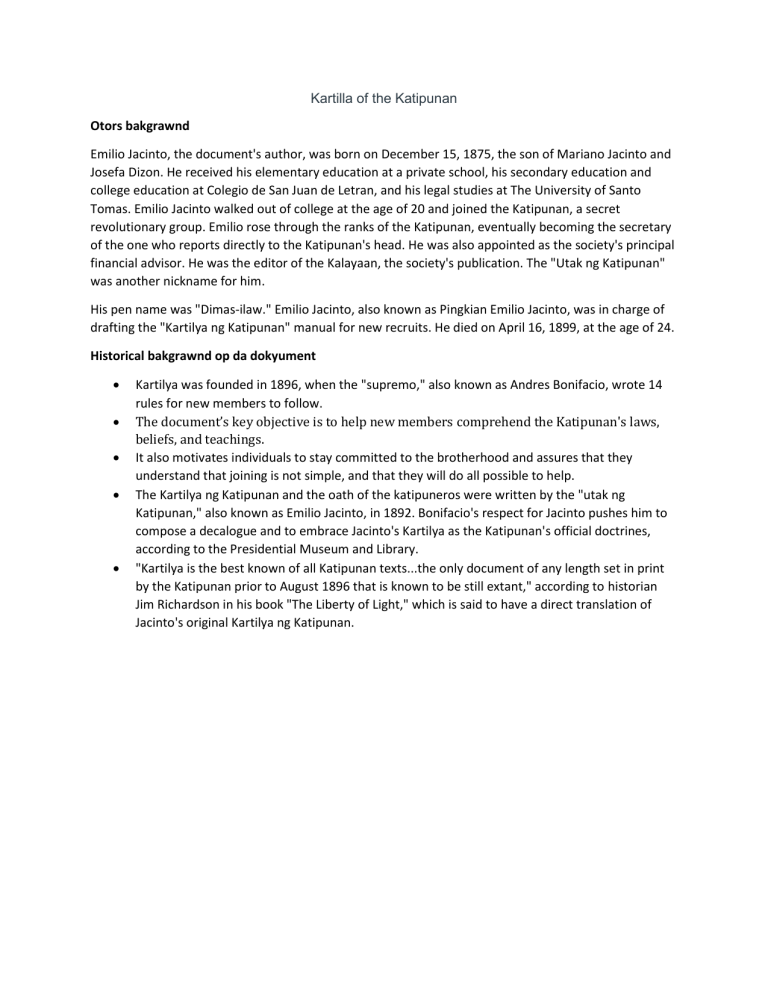 Kartilla of the Katipunan
Otors bakgrawnd
Emilio Jacinto, the document's author, was born on December 15, 1875, the son of Mariano Jacinto and
Josefa Dizon. He received his elementary education at a private school, his secondary education and
college education at Colegio de San Juan de Letran, and his legal studies at The University of Santo
Tomas. Emilio Jacinto walked out of college at the age of 20 and joined the Katipunan, a secret
revolutionary group. Emilio rose through the ranks of the Katipunan, eventually becoming the secretary
of the one who reports directly to the Katipunan's head. He was also appointed as the society's principal
financial advisor. He was the editor of the Kalayaan, the society's publication. The "Utak ng Katipunan"
was another nickname for him.
His pen name was "Dimas-ilaw." Emilio Jacinto, also known as Pingkian Emilio Jacinto, was in charge of
drafting the "Kartilya ng Katipunan" manual for new recruits. He died on April 16, 1899, at the age of 24.
Historical bakgrawnd op da dokyument





Kartilya was founded in 1896, when the "supremo," also known as Andres Bonifacio, wrote 14
rules for new members to follow.
The document's key objective is to help new members comprehend the Katipunan's laws,
beliefs, and teachings.
It also motivates individuals to stay committed to the brotherhood and assures that they
understand that joining is not simple, and that they will do all possible to help.
The Kartilya ng Katipunan and the oath of the katipuneros were written by the "utak ng
Katipunan," also known as Emilio Jacinto, in 1892. Bonifacio's respect for Jacinto pushes him to
compose a decalogue and to embrace Jacinto's Kartilya as the Katipunan's official doctrines,
according to the Presidential Museum and Library.
"Kartilya is the best known of all Katipunan texts...the only document of any length set in print
by the Katipunan prior to August 1896 that is known to be still extant," according to historian
Jim Richardson in his book "The Liberty of Light," which is said to have a direct translation of
Jacinto's original Kartilya ng Katipunan.