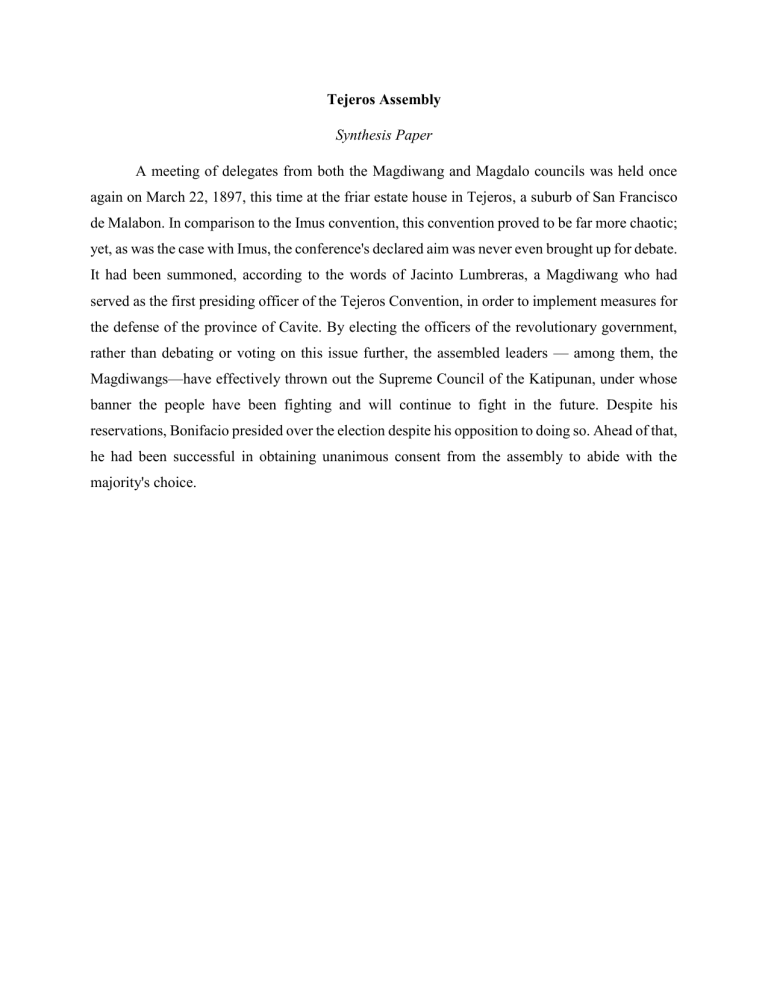 Tejeros Assembly
Synthesis Paper
A meeting of delegates from both the Magdiwang and Magdalo councils was held once
again on March 22, 1897, this time at the friar estate house in Tejeros, a suburb of San Francisco
de Malabon. In comparison to the Imus convention, this convention proved to be far more chaotic;
yet, as was the case with Imus, the conference's declared aim was never even brought up for debate.
It had been summoned, according to the words of Jacinto Lumbreras, a Magdiwang who had
served as the first presiding officer of the Tejeros Convention, in order to implement measures for
the defense of the province of Cavite. By electing the officers of the revolutionary government,
rather than debating or voting on this issue further, the assembled leaders — among them, the
Magdiwangs—have effectively thrown out the Supreme Council of the Katipunan, under whose
banner the people have been fighting and will continue to fight in the future. Despite his
reservations, Bonifacio presided over the election despite his opposition to doing so. Ahead of that,
he had been successful in obtaining unanimous consent from the assembly to abide with the
majority's choice.