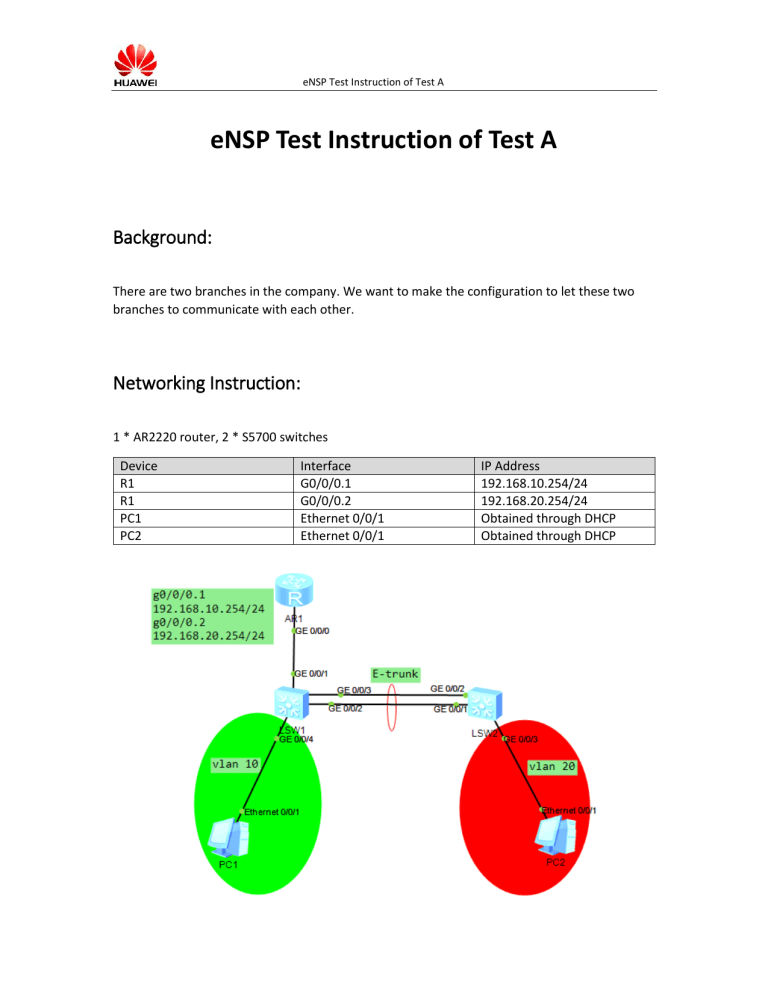 eNSP Test Instruction of Test A
eNSP Test Instruction of Test A
Background:
There are two branches in the company. We want to make the configuration to let these two
branches to communicate with each other.
Networking Instruction:
1 * AR2220 router, 2 * S5700 switches
Device
R1
R1
PC1
PC2
Interface
G0/0/0.1
G0/0/0.2
Ethernet 0/0/1
Ethernet 0/0/1
IP Address
192.168.10.254/24
192.168.20.254/24
Obtained through DHCP
Obtained through DHCP
eNSP Test Instruction of Test A
Note: Please follow the instruction to configure the device name, policy ID, pool name, etc. Do
not make the other naming by yourself. Otherwise you will get no point at that configuration.
Requirements:
1.
2.
3.
4.
5.
6.
7.
Configure IP addresses and names of network devices according to the addressing table
above. (10 points)
Create VLANs on switches: VLAN10 and VLAN20 on SW1 and SW2. Interfaces connected to
PCs should be added to the VLAN, respectively.(10 points)
Enable STP on all switches and configure them to work in STP mode.(5 points)
Create Eth-Trunk: Configure link aggregation with the name "1"on SW1 and SW2. Configure
this eth-trunk to work in static LACP mode and only allow VLAN10 and VLAN20 to pass. (10
points)
Configure router-on-a-stick to implement inter-VLAN between VLAN 10 and VLAN 20. (20
points)
(Tips: R1 has only one physical interface connected to SW1. Configure the interfaces as
trunk interfaces to transmit VLAN10 and VLAN20 packets. Configure different logical subinterfaces on R1 as the gateways of different VLANs. Create sub-interfaces on R1 and
configure IP addresses for sub-interfaces. Either sub-interface belongs to one VLAN,
respectively. )
Set R1 as DHCP Server to dynamically allocate IP addresses for PC1 and PC2. (30 points)
a) Create pool1 and pool2, both are global address pools.
b) R1 works as gateways of VLAN10 and VLAN20. Network segment of VLAN10 is
192.168.10.0/24. Network segment of VLAN20 is 192.168.20.0/24.
c) Set DNS 8.8.8.8
d) Lease time is 2 day for both pool1 and pool2.
Set R1 as telnet server, set password to huawei123 and set the password to be stored in
ciphertext. (15 points)
After all the configurations, PC1 can ping through PC2.